The Hummel Resource Guide is an information packed guide to help you authenticate, date, care for and value your Hummel figurine(s). The information in this guide is for anyone looking for information on their Hummel figurine. This guide provides knowledge and helpful tips for all levels of collecting.
This 19 page guide covers the following Hummel topics:
Hummel factory history
Detailed date guide
Cleaning your Hummel
Conditions issues and how to prevent them
How to store your Hummel
Hummel term guide
Using this guide can save you both time and money. Preserving your Hummel is a key to maintaining its value. Age and condition are two of the key factors when it comes to determining the value of a Hummel. This Humvmel resource guide has easy to use instructions on how to care for, clean, display and store your Hummel figurines. In addition I have included information on the history of Hummel, frequently used term guide, and a detailed date guide.
Below is a sample of what this Hummel Resource Guide has to offer:
Hummel Figurine Resource Guide Contents:
Chapter One: Hummel History
Chapter Two: How to Authenticate a Hummel Figurine
Chapter Three: Detailed Hummel Age Guide

1935 – 1949: (Trademark #1)
1950 – 1955: BEE V MARKS
1940 – 1959 The Full Bee: (trademark #2)
1960 – 1972 The Stylized Bee: (trademark #3)
1960 – 1963: The Large Stylized Bee
1960 – 1972: The Small Stylized Bee
1964 – 1972: The Three Line Mark (trademark #4)
1972 – 1979: The Goebel Bee or the Last Bee Mark (trademark #5)
1979 – Present: The Missing Bee Mark: (trademark #6, 7, 8 )

Chapter Four: How to Clean Your Hummel Figurine

Dusting or Light Cleaning
Heavy cleaning:

Chapter Five: Condition Issues and How to Prevent Them

Does your Hummel have a silvery sheen?
How do you prevent this?
What if this has already occurred?
Crazing:
How to keep your Hummel from discoloring

Chapter Six: How to Store Your Hummel
Chapter Seven: Hummel Terms
Purchase the Hummel Resource Guide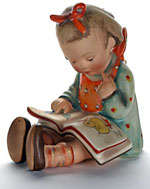 Note: This is an eBook, there is no hard copy version of this book.

Product Name: Hummel Resource Guide
Sale Price: $9.95
Original Price: $12.50

Frequently Bought Together
Hummel Resource Guide + Complete Hummel Value Guide
Sale Price: $17.95
Original Price: $24.95

Payments are securely processed by PayPal. An email with a download link for this product will be sent to you after you make the payment.