While the Royal Doulton company dates right back to the early 1800s, it wasn't until the 1900s, to be more specific the 1960's that this well-known china company bought the rights to Royal Albert, a brand that focused purely on floral designs that commonly incorporated England's national flower, the rose. The iconic Royal Albert branded tea sets were displayed on the kitchen shelves within many households during the second half of the 1900s, with their 'Old Country Rose' tea set among the most well known even in today's society.
The tea sets produced under the Royal Albert name were always feminine, detailed, and vibrant. These tea sets were designed to last the test of time while turning heads doing so. The designs and style of the cups and mugs often displayed hints of the time period in which they were produced. In this article, we will take an in-depth look at a number of the vintage Royal Albert tea sets and their modern-day remakes.
---
A Brief History of Royal Albert
Before we take a look at the better-known designs produced under the Royal Albert brand, it is important to understand how this company came to be and how Royal Doulton later acquired it.
A man by the name of Thomas Clark Wild purchased a small pottery shop in England during 1896 that went under the name Albert Works. The companies main business was to produce commemorative bone china pieces. Albert Works designed and produced many works of art for Queen Victoria's 1897 Diamond Jubilee which later earned the company a royal warrant. While there are some original china sets floating around from pre-1904 made by Thomas Clark Wild, marked on the back 'T.C.W', it is those designs made after this period that are better known to those in today's society. Like many companies over the years, as the brand developed so did the logo and this can often make it hard to determine whether the piece of chinaware you possess is genuine or not.
Over the years hundreds upon hundreds of different designs were created and added to different pieces of fine bone china, with the tea sets being among the most popular. During the 1960's the Pearson group acquired the Royal Albert company and later during 1972 took on Royal Doulton. This is where many become confused and are mislead into thinking these are both the same brand. The group of companies that were under the Pearson group was known as the Royal Doulton Group, making it all that little bit more confusing. From 2002 the production of the majority of the Royal Albert wares was moved from England to Indonesia, making those produced prior to this period of much higher value.
Royal Albert Tea Set Back Stamps
If you are trying to conclude whether your tea set is genuine Royal Albert or not, the 'back stamp' found on the underneath of the china piece should give you a good indication. When the Royal Albert pieces were produced in England; which are the more valuable items sold on the vintage market today, the following are general rules of thumb for stamps:
Picture representing the design used on the tea set
The name of the china pattern (often in red writing)
The words 'Bone China' and the words 'England' or 'Made in England'
Below you can find the back stamp for 'Old Country Roses'. This will give you some idea of how the stamping varied over the years from 1962 until 2002 in England.

Before this period there was a range of different backstamps that were used by the company. Sometimes they would have the wording: Royal Albert Crown China. The backstamps prior to 1962 were often less colorful, sometimes brown in color.
---
Well-Known and Loved Royal Albert Tea Sets (Series)
Unfortunately, if we were to list and talk about every tea set design produced by Royal Albert we would be here for weeks on end. There have been hundreds upon hundreds, although it seems as though the majority of people were drawn to love a certain handful of the companies designs. 'Old Country Roses' is by far the company's most popular design and chances are if you, yourself don't own this tea set, your mother or grandmother will.
When the company released new chinawares they would often release a series of patterns. The following are a handful of the now vintage series crafted by the Royal Albert company, with the year in which they were first produced:
Ancestral 1966
Blossom Time 1966
Buckingham 1970s
Butterfly Garden 1984
Cameo 1969
Carousel 1950s
Cascade 1960s
Chateau 1960s
Chatsworth 1960s
A Country Bouquet 1990s
Country Fayre 1977
A Country Garden 1968
Country Life 1980
Country Scenes 1980
Covent Garden Fruit 1994
Dainty Dina 1966
Debutante 1966
Dorchester 1960s
Duet 1960s
Empress 1983
English Country Cottages 1994
Fashion 1950s
Festival 1970s
Fishy Wishy 1984
Flora 1975
Florentine 1960s
Flower of the Month 1950s
Friendship 1950s
Gaiety 1950s
Garden Party 1970s
Garland 1970s
Gold Crest 1960s
Gossamer 1950
Green Park 1960s
Harmony 1983
Horizon 1966
Hyde Park 1970s
Imperial Fruit 1992
Interlude 1960s
Invitation 1962
Jacobean 1970s
Juicy Fruits 1984
Kington 1970s
Lady Katherine 1950s
Lakeside 1962
Love Story 1962
Lovely Lady 1984
Majestic 1960s
Marlborough 1960s
Marquis 1960s
May Fair 1930s
Melody 1960s
Milady 1970s
Nell Gwynne 1980s
New Romance 1978
Orchard 1960s
Overture 1970s
Painter's Rose 1970s
Peerage 1960s
Picardy 1960s
Pierrette 1960s
Pompadour 1960s
Portrait 1970s
Princess 1960s
Provincial Flowers 1975
Radiance 1970s
Radom Harvest 1966
Reflection 1970s
Regal 1970s
Regency 1970s
Regina 1988
Rockingham 1962
Rose Chintz 1982
Rose Marie 1960s
Rosedale 1960s
Royal Choice 1983
Royal 1970s
Send in the Clowns 1984
Sheraton 1962
Sonnet 1983
South Pacific 1950s
Springtime 1970s
Summer Bounty 1988
Summer Charm 1988
Summertime 1978
Sweet Heart Roses 1950s
Symphony 1960s
Tea Dance 1993
True Love 1960s
Vanity Fair 1960s
Vintage 1962
Wayside 1966
Wildflower of the Month 1987
Woodland Series 1980s
Zodiac 1987
Each of the series above in-corpus a number of different designs all relating to the series name. For example, the 'Blossom Time' series produced from 1966 until 1970 included six different designs. The names of the designs were Apple Blossom, Hawthorne, Laburnum, Lilac, Orange Blossom, and Wisteria. The company would release a number of differing cups and mugs along with plates, saucers, and giftware for each series.
---
Old Country Roses Tea Set
When the brand Royal Albert is mentioned, those that are familiar with the name will generally think of one design, being 'Old Country Roses'. This design featured on a number of chinaware pieces from dinner sets to giftware. 'Old Country Roses', while produced under the Royal Albert brand was designed by Harold Holdcroft. Differing shades of pink roses and vibrant green leaves made up the basis of this design that became a reality in 1962. The edging of the dinnerwear was finished in 22K gold and the attention to detail that can be noted all drew in a global base of buyers. Over 100 million pieces of Old Country Roses have been produced so one may be wondering whether or not the tea set they have on hand is worth more than a dime or two.
When speaking about the vintage value of the Royal Albert Old Country Roses tea set, the year in which it was produced plays a major role in the overall value of the set. The most valuable, being the pieces of Old Country Roses chinaware that were released in the very first year of production of that design which was 1962. While the Royal Albert chinaware was originally crafted in England, much like other brands, eventually the pieces were produced in Asia in countries such as China and Indonesia. When speaking about the value of these tea sets, those that state 'Made in England' within the back-stamp are of much higher value.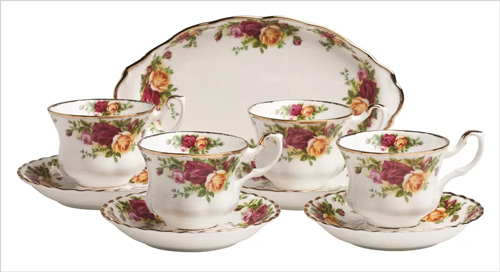 ---
100 Years of Royal Albert
To mark 100 years of Royal Albert, remakes of the most popular pieces from the century of production were released. These give an insight into which designs from each decade of the company's production were the most loved by households on a global basis. The original vintage sets sporting the patterns mentioned in this section are often more valuable due to their popularity and demand.
---
Belgrave (Regency Blue) – Most Popular Royal Albert Design 1900's
| | |
| --- | --- |
| Original Tea Set | Remake Tea Set |
| | |
Description of Original Design
While the 'Regency Blue' remake does not take after just one design the deep blue used within this remake tea set was commonly featured within Royal Albert tea set patterns produced during the early 1900s. The 'Belgrave' tea set released during 1905 features a similar deep blue of that found within 'Regency Blue'.
Year of Manufacture
The era where Queen Victorias reign ended.
1905 – 1907
Description of 100 Year Remake
Regency Blue features a color that was commonly used within the early 1900's patterns by Royal Albert. With an elegant gold trimming and panels of blue and daisy's this set resonates 1900's, Royal Albert.
Price of 100 Years of Royal Albert (3 Piece Place Setting)
$75.00 USD
Price of Vintage Tea Cup and Saucer
$40.00 – $70.00 USD
---
Duchess – Most Popular Royal Albert Design 1910's
| | |
| --- | --- |
| Original Tea Set | Remake Tea Set |
| | |
Description of Original Design
While the 'Duchess' design pulls elements from a number of the more popular Royal Albert chinaware from the 1910s, it features the same swirling pattern as 'Rococo' which was a design from 1927.
Year of Manufacture
The decade which was well known for the start of World War I.
Rococo was produced in 1927.
Description of 100 Year Remake
The 'Duchess' design has a rich black order that encompasses rich blue and yellow flowers. Golden daisies link each bunch of flowers together.
Price of 100 Years of Royal Albert (3 Piece Place Setting)
$75.00 USD
Price of Vintage Tea Cup and Saucer
$40.00 – $50.00
---
Mary's Garden (Spring Meadow) – Most Popular Royal Albert Design 1920's
| | |
| --- | --- |
| Original Tea Set | Remake Tea Set |
| | |
Description of Original Design
The 20s also referred to as the roaring twenties was a time where bright colors filled dress shops. The vibrancy of the colors used on Royal Albert chinaware from the 20s has been included in 'Spring Meadow' to reflect the designs from this period.
'Mary's Garden' was a popular 1920's Royal Albert design which like 'Spring Meadow' features an array of vibrant colors.
Year of Manufacture
A more positive era after the end of the war period.
'Mary's Garden' was first produced in 1927.
Description of 100 Year Remake
'Spring Meadow' includes a mixed bag of different flowers. Columbines, roses, bluebells, primroses, and daisies can all be sighted when looking at this chinaware design. Sitting on a plain white background allows the flowers to stand out and also appeals to those who like a simpler dinner set design.
Price of 100 Years of Royal Albert (3 Piece Place Setting)
$75.00 USD
Price of Vintage Tea Cup and Saucer
$85.00 – $100.00
---
Lawleys (Mint Deco) – Most Popular Royal Albert Design 1930's
| | |
| --- | --- |
| Original Tea Set | Remake Tea Set |
| | |
| | |
| --- | --- |
| Description of Original Design | The original Royal Albert design 'Lawleys of Regent St' has very similar colors to those that were used within the 1930s remake, 'Mint Deco'. While elements of many designs from the 1930s were used to create the 100-year special edition pieces, the colors were more than likely pulled from 'Lawleys of Regent St'. |
| Year of Manufacture | 1927 until 1935 |
| Description of 100 Year Remake | Featuring bright colors and a gold trim, with geometric shapes, this design will take you right back to the 1930's. Mint green was commonly found in garments and jewelry made within the decade of the 30's so it is no surprise that this is the stand out color within the Royal Albert 'Mint Deco' design. |
| Price of 100 Years of Royal Albert (3 Piece Place Setting) | $75.00 USD |
| Price of Vintage Tea Cup and Saucer | $50.00 – 60.00 USD |
---
Dolly Varden (English Chintz) – Most Popular Royal Albert Design 1940's
| | |
| --- | --- |
| Original Tea Set | Remake Tea Set |
| | |
Description of Original Design
One of the more feminine remakes goes by the name 'English Chintz' and was designed to bring together the best of Royal Albert from the 1940s. Chintz patterns were common for the Royal Albert company. An original design that is somewhat similar to the 100-year remake 'English Chintz' is 'Dolly Varden'. This pattern features a white background with simple clusters of flowers across its entirety.
Year of Manufacture
Forget me knots were common during this period.
The 'Dolly Varden' pattern was produced from 1930 until 1940.
Description of 100 Year Remake
'English Chintz' reminds us of what the Royal Albert company designs are based on; feminity and florals. This design is repeated across the entirety of the tea sets and features lighter colored flowers with a frosted dainty edging.
Price of 100 Years of Royal Albert (3 Piece Place Setting)
$75.00 USD
Price of Vintage Tea Cup and Saucer
$40.00 – $60.00 USD
---
Festival (Festival) – Most Popular Royal Albert Design 1950's
| | |
| --- | --- |
| Original Tea Set | Remake Tea Set |
| | |
Description of Original Design
The original 'Festival' design was produced in the 1950s and much like the 100-year remake is simple yet elegant. While the original 'Festival' features a lot less of the blue color, there are hints throughout the design.
Year of Manufacture
A decade of rebirth after the second world war.
1950s
Description of 100 Year Remake
'Festival' is Royal Albert's design to represent the 1940s. This was a decade of rebirth and the bright blues and happy tone of this design depict this. The simple dandelions and blue flowers
Price of 100 Years of Royal Albert (3 Piece Place Setting)
$75.00 USD
Price of Vintage Tea Cup and Saucer
$30.00 – $60.00 USD
---
Old Country Roses (Golden Roses)- Most Popular Royal Albert Design 1960s
| | |
| --- | --- |
| Original Tea Set | Remake Tea Set |
| | |
Description of Original Design
This design was crafted by Harold Holdcroft during the 1960s and became the most popular design for the Royal Albert company. This design featured vibrant red, pink and yellow roses that sat in front of detailed leaves in shades of green. The gold trim around each of the chinaware pieces in this collection added to its luxurious feel.
Year of Manufacture
An era where there were many great changes not just in fashion.
1962
Description of 100 Year Remake
The 'Old Country Roses' remake still features 22 karat gold trimming although the roses are brown in color and sit in front of a pink background. Side by side to the original, Golden Roses looks entirely different although those fond of what this design stands for will fall in love with the remake.
Price of 100 Years of Royal Albert (3 Piece Place Setting)
$75.00 USD
Price of Vintage Tea Cup and Saucer
$30.00 – $60.00 USD
---
Poppy Corn (Poppy)- Most Popular Royal Albert Design 1970's
| | |
| --- | --- |
| Original Tea Set | Remake Tea Set |
| | |
Description of Original Design
The 'Poppy' design is very similar to an earlier design from the 20s titled 'Poppy Corn'. It features similar colored poppy flowers and a dainty vine with a white background.
Year of Manufacture
An era of flower power.
The 'Poppy Corn' design was produced until 1935. The company has produced many designs that feature the poppy over the years and it is not known which one inspired the 100-year remake.
Description of 100 Year Remake
The 70s was a decade that many could relate the term 'flower power' with. Many wore vibrant colored clothes that featured floral designs. The 'Poppy' 100 year remake uses a bold orange colored poppy arrangement against a white background to draw in the attention of any onlooker.
Price of 100 Years of Royal Albert (3 Piece Place Setting)
$75.00 USD
Price of Vintage Tea Cup and Saucer
$40.00 – $50.00 USD
---
Rosa (Rose Blush) – Most Popular Royal Albert Design 1980's
| | |
| --- | --- |
| Original Tea Set | Remake Tea Set |
| | |
Description of Original Design
During the 1980s the Royal Albert company released many designs that featured roses. One of the popular designs was Rosa. This was a pink rose with bright green leaves. This design has similar roses to that found within 'Rose Blush'.
Year of Manufacture
An era of both power and wealth.
The 1970s until the 1980s
Description of 100 Year Remake
'Rose Blush' brings together a sense of feminity and elegance with a soft colored pink background and pretty clusters of roses.
Price of 100 Years of Royal Albert (3 Piece Place Setting)
$75.00 USD
Price of Vintage Tea Cup and Saucer
$40.00 – $50.00 USD
---
---