The Campbell's brand most famous for their tin of simple ready-to-eat tomato soup may seem to be an out-of-place article to find on an antique's website. Campbells became much more than a soup brand during the 1900s, and could almost be described as an American icon. A company that started out so small, would begin to appear in all households, and one day become a global name appearing on supermarket shelves around the world.
While the soup was delicious, it was the collectible items produced by the company that both young and old fell in love with. It is these items such as dolls, plates, mugs, cookbooks, and t-shirts that we will delve into and determine whether there is money to be made for those that have got a tight grip on their Campbell's Soup collectibles!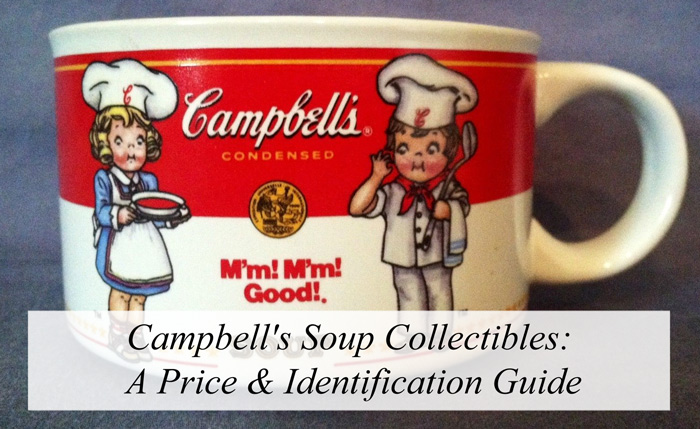 In this post, Campbell's Soup Collectibles: A Price & Identification Guide, we'll review the history of the company and price some of the famous memorabilia produced over the years.
---
The History of the Campbell's Soup Company
In 1869, Joseph Campbell, a wholesale fruit and vegetable vendor, and Abraham Anderson, a commercial canner and packer, formed the firm of Anderson & Campbell in Camden, New Jersey. This would one day become Campbell Soup Company.
In 1894, Arthur Dorrance succeeds Joseph Campbell as president. Joseph Campbell retires, ending the association of the original founders, with Abraham Anderson having previously left the partnership in 1876.
In 1897, John T Dorrance became the brains behind the condensed formula that would become what we know in modern-day as 'canned soup'. He invented the process of condensing soup, which led to smaller packaging. That's right, the tin cans we know and love today made soups more affordable while preserving the quality. John continued to lead the company until his death in 1930. The tinned soup appealed to adults, while the cartoon mascots created for the company during 1904 appealed to the children.
During the 1960s, the Campbell's Soup Company released a television advertisement that featured their cute cartoon characters promoting their tinned soup. The commercial was a success and the company grew globally. Today, Campbell's soup products are sold in 120 countries.
Campbell's First Soup: Beefsteak Tomato Soup
In 1895, Beefsteak Tomato was introduced as the first ready-to-eat soup. Why a Beefsteak, you ask? I was curious too and according to Campbell's website, New Jersey Beefsteak tomatoes had been their signature product for over 25 years. It is featured on their labels and was the first trademark.
The Campbell's Soup Company Can
During the earliest years of the company, the can in which you would find the delicious tomato soup went through a number of changes.
The cans sold during 1897, sported a white and gold label although soon after in 1898 the colors found on the can be changed to red and white, colors we associate with the Campbells company today.
The company received a medal for product excellence at the Paris Exposition during the early years of production and in 1900, the company decided that it was important to include a medal on the cans. The medallion is added to the can label where it still appears to this day. The change in the can's appearance can help to determine when the can was produced.
---
Campbell's Soup Collecting Over the Years
While the Campbell's memorabilia from the early 1900s is the most sought after, many of the replica items produced during the 1990s can still fetch more than 4 times as much as they were purchased for. In the table below you can view a couple of 1990s Campbells Soup vintage items and their auction prices:
| Image | Year Produced | Auction Price |
| --- | --- | --- |
| | 1993 Campbells Soup Pot | $60.00 USD |
| | 1998 Campbells Soup Collectors Mug | $50.00 USD |
| | 1993 Campbells Soup Mug by Westwood | $30.00 USD |
In 1905, the first national ad campaign debuted in magazines like Good Housekeeping and in 1911, the soup achieves national distribution.
This ad is listed at a very reasonable $7.95
1931 Vintage CAMPBELL'S Condensed Vegetable Soup Print Ad, Good Housekeeping
In 1915, Campbell's acquired the Franco-American brand.
Check out this Vintage Franco-American Beef Gravy Tin Circa 1940s Full NOS Unopened Sealed – $69.99 on eBay
In 1931, Campbell's debuted its iconic "M'm! M'm! Good!" jingle.
This set created much later, is listed on eBay for $28.50
Vintage Campbell Soup Tin Sign~Soup Cup Bowl~Chef's Hat M'm! M'm! Good!
In 1934, Campbell's Noodle with Chicken and Cream of Mushroom soups. It's interesting to note that Noodle with Chicken became Chicken Noodle after a radio announcer misread an ad for the soup and the name stuck.
This vintage ad was listed very reasonably on eBay for only $4.95
In 1948, Campbell's acquires V8, and today, V8 is the leading vegetable juice in the United States.
Vintage advertising print Drink Campbells V-8 Vegetable Juice picnic basket 1955 listed at $9.95 on eBay
This is a fun one! In 1951, the future President of the United States, Ronald Reagan, appears in a V8 ad. I found this one, 1952 V-8 Vegetable Juice PRINT AD How Ronald Reagan Discovered V-8, listed on eBay for just $9.59
In 1955, home cook, Dorcas Reilly, creates the iconic Green Bean Casserole recipe we all know and love. Every Thanksgiving, this recipe is viewed 4 million times on the Campbell's website. Click here to go to the recipe!
This ad selling on eBay for $16.99!
2000 Campbell's Soup Ad – Green Bean Casserole
In 1961, Campbell's acquires Pepperidge Farm founded by Margaret Rudkin in Fairfield, Connecticut 1937. We found this old ad from 1967 on eBay listed for just $9.95
Pepperidge Farm soup ad 1967 vintage print 1960s retro advertising illus Food
In 1962, Pepperidge Farm Goldfish debuts. A favorite in my family for sure. The first five flavors are: Lightly Salted (Original), Cheese, Pizza, Barbecue, and Smoky.
In 1988, Andy Warhol debuts Campbell's Soup Cans paintings at the Ferus art gallery in Los Angeles.
VINTAGE CAMPBELL'S SOUP THE SOUPER PAPER DRESS ~ ANDY WARHOL ~ W/ TAG ~ 1960's – $6000 on eBay
Even more stunning, this find!
Hand Signed Andy Warhol 1985 Campbell's Soup Box Lithograph Framed Print selling for…wait for it…$99,999.00!!!
In 1965, SpaghettiOs debuted as "The greatest invention since the napkin." Original varieties were "Original," "Franks," and "Little Meatballs."
---
More notable moments in Campbell's history:
1969, they acquire Chunky soup
1981, they acquire Prego pasta sauces
1991, they acquire Campbell's Healthy Request soups
1995, they acquire PaceFoods
---
There are some really interesting collectibles out there if you really look. eBay is a great resource, but be sure to do your research as there are many reproductions and of course, the newer products are less valuable to the seasoned collector. There are thousands of Campbells Soup collectible items just waiting for you!
Whatever you decide to collect, there is sure to be a story that goes right along with it. Cambell's is rich in history and a household name.