For many of us, Radio Flyer brings back fond memories of our childhood and these wagons held a special place in the hearts of many. Little did we know that in Collecting Vintage Radio Flyer, the very toys we played with as children, they would become prized collector's items. These red wagons, made from steel known as 'little Fords' became an American Icon. They stole the hearts of many children and now they hold sentimental value for those who grew up in the 1930s, 1940s, and 1950s. Through the years the company that brought us the Radio Flyer original wagon, produced many similar wagons crafted from not only metal but plastics and wood too. In this post, we'll give you a brief history of the company and take a look at some of the memorabilia and today's market values for them.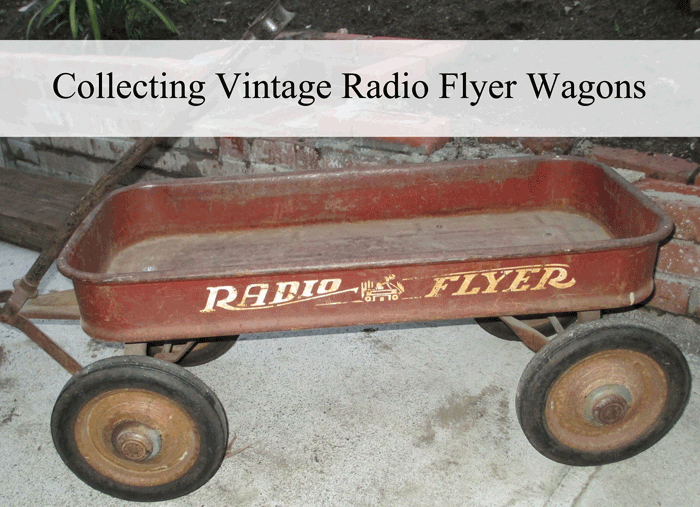 ---
A Brief History of Radio Flyer
Radio Flyer Wagons and bikes really have a very interesting history. Antonio Pasin came to the United States from Italy in 1914 at just sixteen years old. Antonio came from a family of keen woodworkers and he grew up working with wood on a daily basis.
Only three years later after moving to the US, Antonio had saved enough money to open a small woodworking shop. He would work there at night crafting… you guessed it, wooden wagons. During the day, he would market his work. Antonio worked tirelessly and alone until 1923 when he was able to hire workers as his children's wooden toys had gained some traction.
While the 'Radio Flyer' brand is commonly associated with their much-loved wagons, the company also produced tricycles and other ride-on toys over the years and is still producing much-loved children's toys today.
---
The Liberty Coaster Era (1923)
By 1923, Antonio's business had grown to include several employees and that is when he started The Liberty Coaster Company. Why Liberty Coaster, you ask? He actually named the company after the Statue of Liberty, proud to have been welcomed into the United States.
As his company continued to grow, Antonio began using technology similar to that of the automotive industry including metal stamping and mass production. Nearing close to 1930, he had refitted his factory to achieve metal stamping, and his company known as Liberty Coaster began producing stamped steel wagons.
Radio Steel and Manufacturing (1930)
In 1930, Antonio changed the name of his company to Radio Steel and Manufacturing. It was then that he crafted and introduced his first Radio Flyer.
You can view a video on YouTube!
During the 1930s, the Radio Steel and Manufacturing company was producing at least 1,500 wagons a day. While the company mainly produced the well-known simple little red wagons during the 1930s, there were other items produced by the company. Some of the better-known items produced by the Radio Steel and Manufacturing company during the 1930s include the 1934 Streak-O-Lite which had working headlights and a model known as the 'Zep' which was a more streamlined wagon.
Radio Steel Beyond World War II
Like many companies, during the war, they would have to cease trade or alter trade, and in the case of the Radio Steel Company, they used their metal stamping techniques to craft blitz cans while wagon production was put on hold. After the end of the war, some years later, the company went back to producing their popular wagons. As time went on, the Radio Steel company produced different styled wagons and other children's toys to meet demands and trends. From 1957, other products such as garden carts and then wheelbarrows were produced by the company. During 1977, safety improvements were made to their staple, the little red wagon to ensure children's fingers could not be caught in the handle, and measures were added to prevent it from tipping over. It wasn't until 1987 though, that the company had its third and final name change and became known as Radio Flyer Inc to pay tribute to their most popular product. As the company was passed from son to son, new products were released, noting that in 1994, to compete with other plastic toys on the market, the company began producing a line of plastic wagons.
The Origin of the Name Radio Flyer
Antonio named the wagons Radio Flyer after his love of radio and air flight. The wagons were crafted of high-quality steel and were an instant success. This allowed him to increase production and lower the selling price. With the now more affordable wagons, the slogan of the company became, "For every boy. For every girl." The Radio Flyer became a typical Christmas gift as the slogan suggested for both boys and girls. Unlike other fad toys, the Radio Flyer Wagon could be played with for hours, and wasn't tossed to the side once something better came along. Many kept their Radio Flyers for their own children, and while they may have deteriorated and rusted somewhat due to them being crafted from metal, they were loved non the less.
---
Radio Flyer Wagon Models by Date
The Radio Flyer wagon went through a number of designs throughout the years.
1930s – Streak-O-Lite, American Beauty and The Zep
According to the Radio Flyer website, the spectacular World's Fair exhibit made the Radio Flyer wagon world famous. During the Depression, the company came out with many new ideas to help its popularity. The first specialty wagon, the Streak-O-Lite wagon, featured streamline train styling, control dials, and even working headlights!
While the wagons increased steadily in price over the years, the original Radio Flyer steel wagons only retailed for $3.00 USD each!
1940s – Coaster King, Highway Chief and De Luxe Scooter
In the 1940s, America was at war – Radio Steel & Manufacturing, and like many other American manufacturers, was asked to alter its production. From 1942 to 1945 production ceased.
1950s – Character Wagons
By the 1950s, The baby boom was in full swing — a shift had begun for the country and the production of character wagons featuring icons such as Davy Crockett and the Mouseketeers gained popularity.
---
Values of Vintage and Antique Wagons
As with most antiques, the value of a Radio Flyer will depend a great deal on its condition. Kids loved them and played hard, so it is not common to find one in pristine condition. Also, since they were often made of steel, rust can also be a major issue.
Unlike most other antiques, restoration can increase the value here. In general, a Radio Flyer can sell for upwards of several hundred dollars. Take a look at some examples we found on eBay:
Radio Flyer 24 Town & Country Wagon – 1980's Vintage – $250.00
Vintage 1990s Original Radio Flyer Model No. 9 Red Wagon Complete – $250.00
Rare Vintage Radio Flyer 2 Wheel Metal Wagon Tow-Behind Trailer with Wood Sides – $225.00
Vintage Radio Flyer Classic Walker Wagon Toddler Push Cart in wood retro Red – $79.99
Vintage Radio Flyer 4 Wheel Wood Wagon – $49.00
Vintage Radio Flyer Doll Size Metal Wagon Scooter Wheel Barrow Lot 13-17″ B3 – $47.99
RADIO FLYER Wagon MINIATURE MODEL #1 NEW SEALED PACKAGE VTG 1990 #D-25 – $14.98
---
Buying Wagons for Parts
Of note, buying wagons for parts does have value so be on the lookout. A not-so-perfect wagon could still have value.
Where to Find a Vintage Radio Flyer
Vintage Radio Flyer wagons are easy to find at antique shops both on and offline. Other places to search for antique or vintage Radio Flyers include eBay, flea markets, and garage sales.
---
Are Vintage Radio Flyer Wagons Valuable?
While some of the Radio Flyer Wagons may be close to 100 years old, due to the material many were crafted from, they have chipped, rusted, or dinted over the years which has diminished their value. This toy was designed to be ridden, pulled, and loved, and that is what the owners of Radio Flyers did. Some of the limited edition Radio Flyer wagons may sell at an auction for close to $400.00 USD, the reality is, many vintage Radio Flyer wagons are only worth a few dollars. The sentimental value these wagons have is generally more valuable than their monetary value. If the Radio Flyer wagon has been kept in mint condition over the years, then you may find yourself making a penny or two when it is sold to the right buyer on an online auction website. Due to the fact, there are so many different variations, some in more demand than others, it is best to compare prices online before attempting to try and sell your vintage Radio Flyer wagon.
---