In this post, The 10 Most Popular Vintage Pyrex Patterns, we've compiled a list from around the web of the most interesting vintage patterns that no collection is complete without! eBay is a great resource for finding many of these and we'll give you some price references for each pattern shown.
The history of Pyrex
Pyrex was introduced in 1908 by Corning Inc. as a line of clear borosilicate glass used in the laboratory or in the kitchen. Its multi functional use combined with its ability to withstand a high heat made it incredibly popular.
Meet Bessie Cook Littleton
Bessie Littleton was the wife of Jesse Littleton, a physicist at Corning Glass Works. One day, she baked a small sponge cake in a sawed-off battery jar made of Pyrex. Her experiment proved Pyrex could go in the oven, and after that, history was made.
According to the Corning Museum of Glass, from product testing to design to marketing, women were involved in Pyrex every step of its journey to the kitchens of America. Be sure to visit this page to learn more about the women of Pyrex. Very interesting read!
So here, in no particular order, are the The 10 Most Popular Vintage Pyrex Patterns
Eyes (also known as "Atomic Eyes")
Current eBay bid for this NEAR MINT Vintage Pyrex Atomic Eyes Unmarked Large And Small Chip and Dip Bowls is at $1,125.00
Originally known as the Hot 'N' Cold Chip and Dip set, the Eyes pattern was produced between 1950 and 1959. The chip and dip set included two round bowls, one smaller and one larger as shown here.
Not all Eyes pattern pieces are marked with the Pyrex stamp, but these models feature the classic white opal glass and turquoise print that collectors love. Talk about Pyrex passion; this is one of the more expensive vintage Pyrex dishes, especially if the mixing bowl set comes together with the dip bracket. At the time of this post, we could not find one in mint condition with the bracket. Still, just look at those bid of $1,125.00!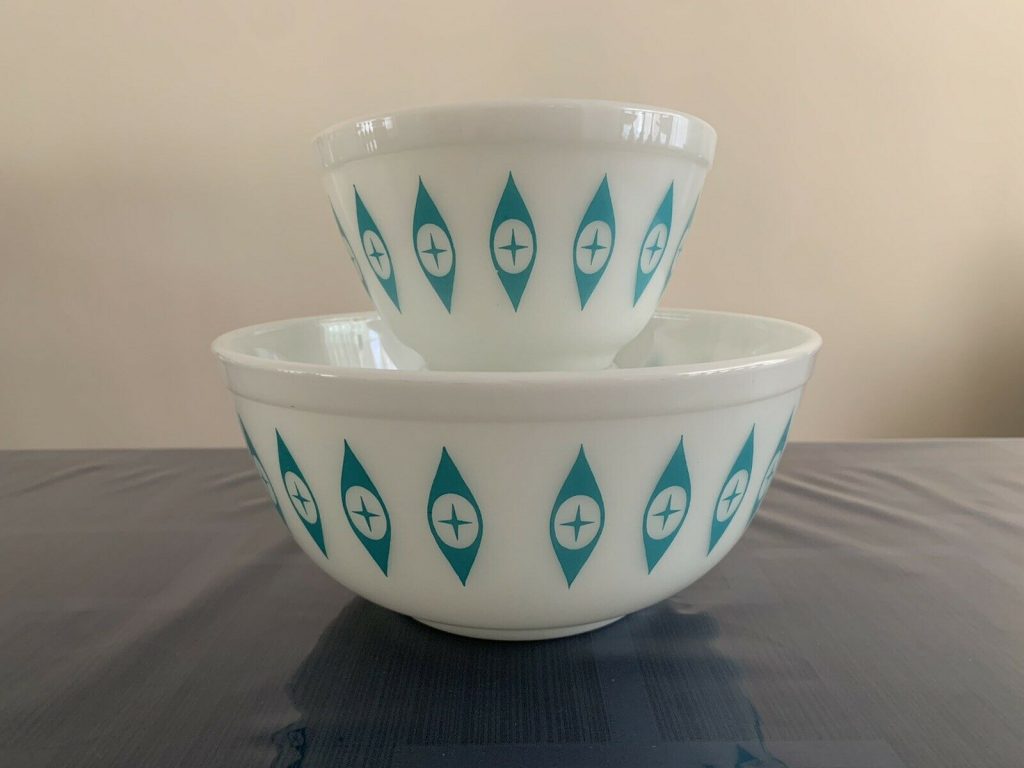 Balloons
Current eBay bid for this Pyrex Turquoise Balloons Cinderella 441 & 444 Chip & Dip Set with Bracket is at $425.00
The balloon design was also part of a chip and dip set that was produced in 1958. The white-on-turquoise featured a pattern of hot air balloons and other objects. The bowls were to be used as mixing bowls, serving bowls, or even for baking.
Pink Daisy
Current eBay bid for this Pyrex PINK DAISY Space Saver CASSEROLE DISH 548 B & GLASS LID 550 C is at $150.00
Produced from 1956 to 1963, the Pink Daisy pattern was debuted alongside it's winter counterpart, Snowflake. The first Pyrex patterns printed on a solid color background, these multiple casserole dishes with lids made them one of the best-selling patterns.
We found this one on eBay and the pink is stunning! The space saver vintage Pyrex casserole dish is a big seller, especially if found in mint condition.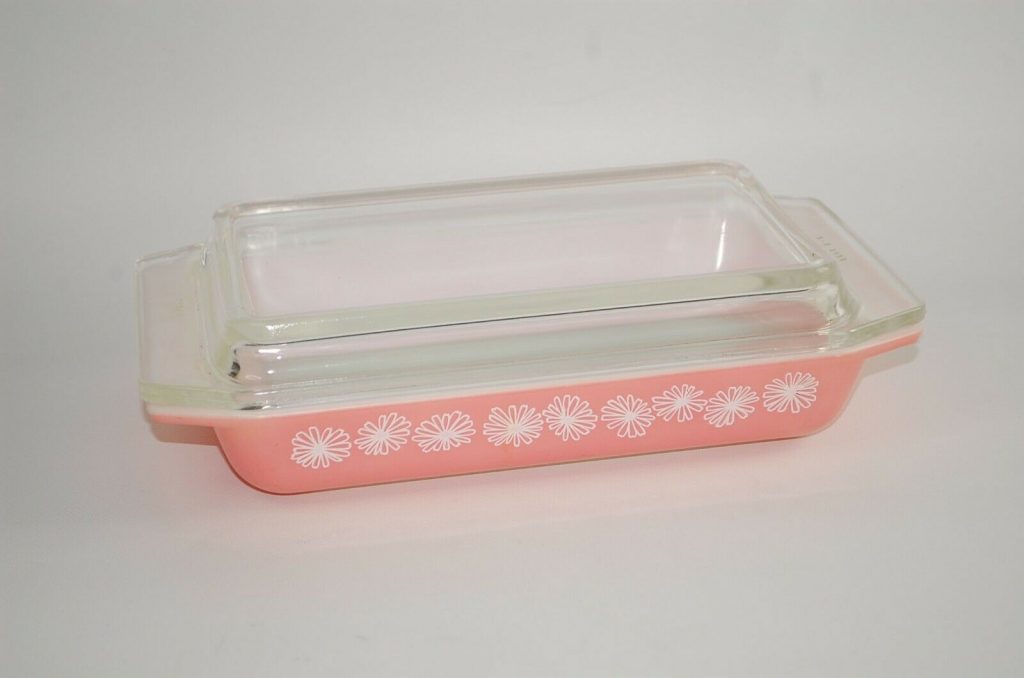 Turquoise Snowflake
Current eBay bid for this Vintage Pyrex Turquoise Snowflake Space Saver Casserole 548 RARE Factory mistake $888.00!
Speaking of snowflake…
Produced from 1956 to 1967, the longest running pattern was snowflakes on a turquoise Pyrex background. There are also versions of turquoise snowflakes on a white background.
This one was particularly interesting in that it features a factory printing mistake on the snowflakes. At least check, buyers were very into this one with the current bit nearing $900!

New Dots
Current eBay bid for this New Vintage Charm Spot On 3 Piece Mixing Bowl Set Inspired by Pyrex Dots $165.00
One of the most popular Pyrex patterns of all time – the Dot collection was released in five distinct colors from 1969 to 1973. The first three colors released were red, blue, and yellow. In 1969, green was added, followed by orange. Nesting bowls were very popular to buyers.
Single bowls are easy to come by, but the set, especially if in perfect condition can yield a good amount.
Rainbow Stripes
Current eBay bid for this Vintage Pyrex Striped Mixing Nesting Bowls 401 402 403 Pink Tan Blue $230.00
Produced from 1965 to 1987 in four colors, the Rainbow Stripes pattern were originally released in specific color sets. Blue, pink, sandalwood, and yellow were the color combinations, though yellow was the only color that needed to be bought separately. We did find sellers on eBay offering all four at the time of the writing of this post.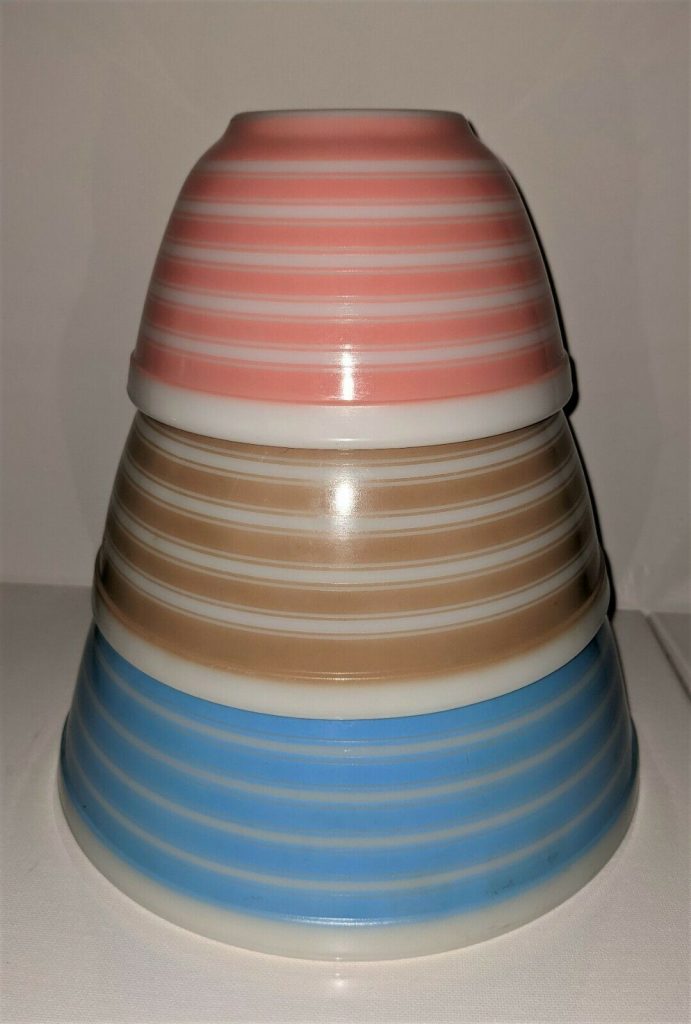 Terra
Current eBay bid for this PYREX 401 Green Lime Black Stripe Terra Rare & Hard To Find $499.00
This one is super interesting. Terra was produced from 1964 to 1965. William Curtis designed the Terra pattern and even won an award for his concept. Unfortunately, the cost to continue producing this intricate pattern was too high and it was discontinued after only one year. Held up to the light, this is one amazing pattern.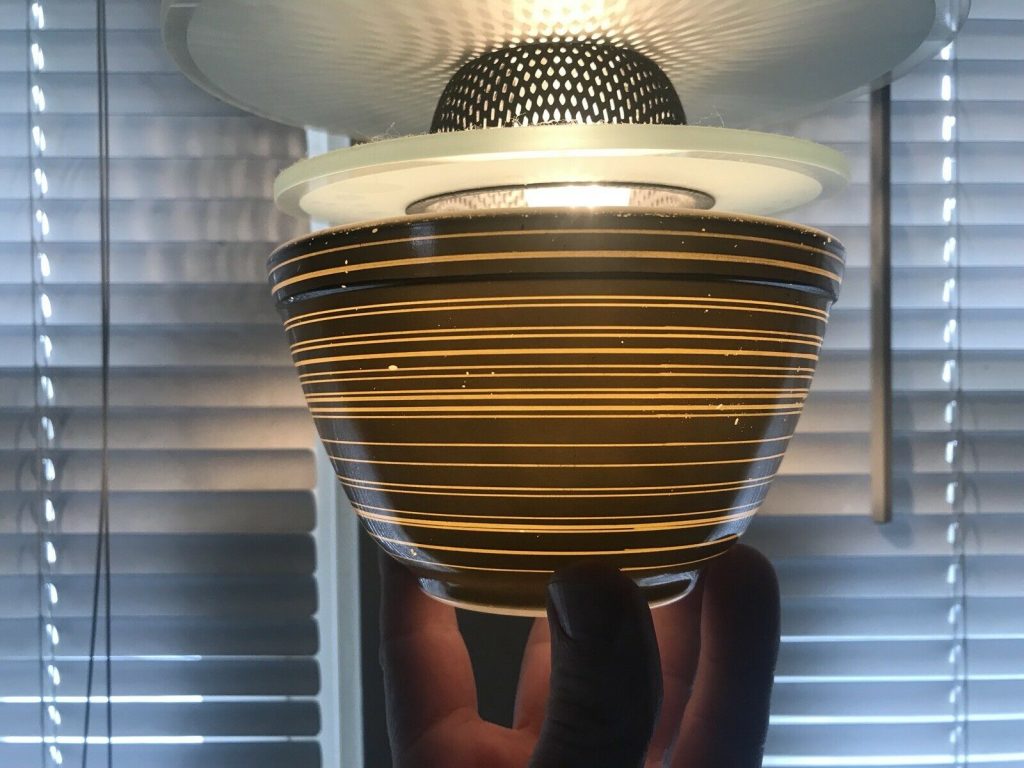 Gooseberry (White on Pink / Pink on White)
Current eBay bid for this Vintage PYREX PINK & WHITE GOOSEBERRY Cinderella Mixing Bowls 441 442 443 444 $350.00
Produced from 1957 to 1966, it was one of the first four printed patterns released on opal Pyrex. Since then, colors could include pink on white, black on yellow, black on white, and gold on beige. The Gooseberry pattern became synonymous with the Cinderella nesting bowl, named for the handles on each side.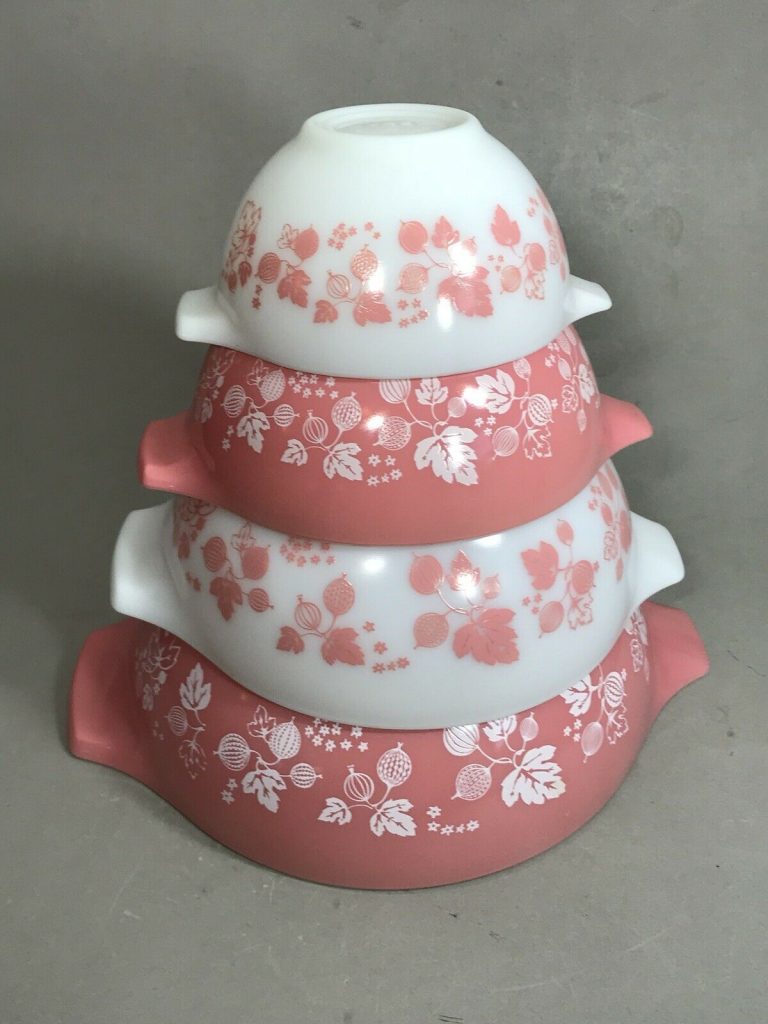 Butterprint (White on Turquoise)
Current eBay bid for this Pyrex Amish Butterprint Mixing Bowl Set 441 442 443 444 Turquoise White Farmer $165.00
The Amish Butterprint collection of both white on turquoise and turquoise on white, produced from 1957 to 1968, was one of the first printed patterns following Snowflake and Daisy. The Amish print is one of the most recognizable Pyrex products and prints on the market.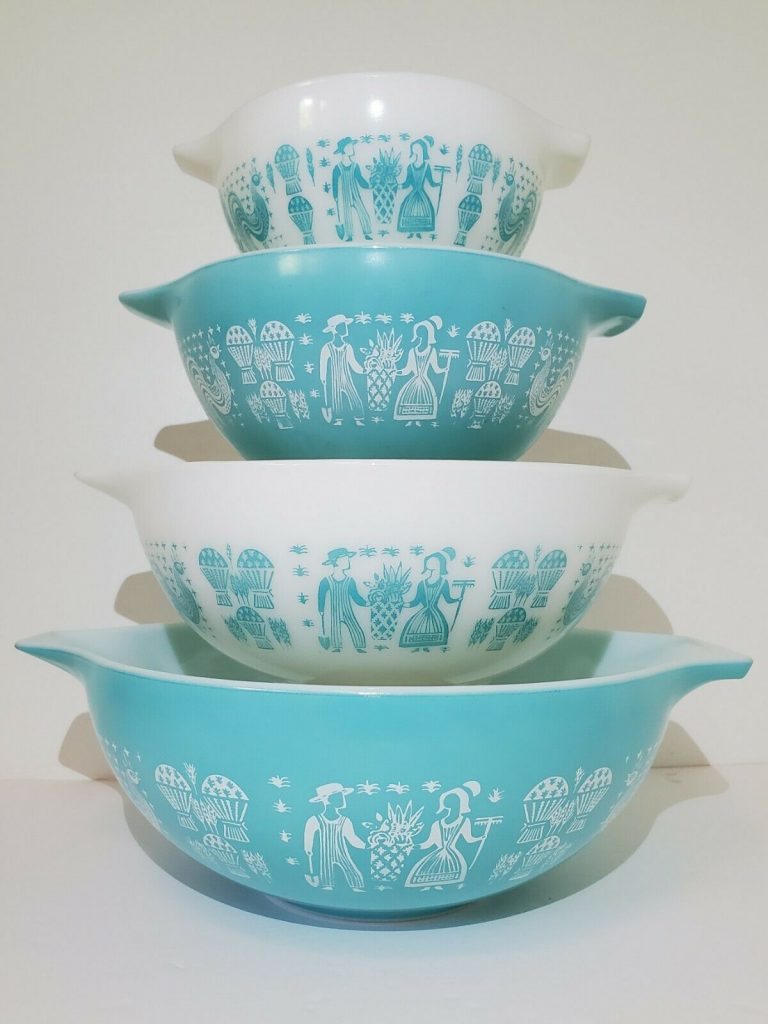 Lucky in Love
Current eBay bid for this NEW PYREX Lucky In Love 4 Cup Storage. Clear Shamrocks Hearts Spring 2018 OOP $25.00
While there are none currently available on eBay, the last known piece sold for over $4,000 in February 2015. The rare design featured green grass with clovers, accented by pink hearts all over the dish. The Corning Museum of Glass owns the ultra-rare single clover print sans hearts.
Pyrex reissues rare 1959 Lucky In Love pattern in limited edition!
The 2018 collection consisted of clear glass storage dishes (round and rectangular in a variety of sizes) boasting the same beautiful design. These are readily available on eBay or ETSY.