From their humble beginnings as Doulton & Watts, a manufacturer of salt-glazed stonewares and ceramic pipes, right up until today's icon Royal Doulton brand; Royal Doulton has prided themselves on being a producer of some of the world's highest quality ceramic and fine china products.
Given that Royal Doulton has been producing their wears for around 200 years now; it's no wonder that there are literally hundreds of different Royal Doulton Patterns out there today. Many of these designs have long since been discontinued, which has made them an even more desirable item for enthusiasts to add to their collection.
---
What Are Royal Doulton China Patterns Exactly?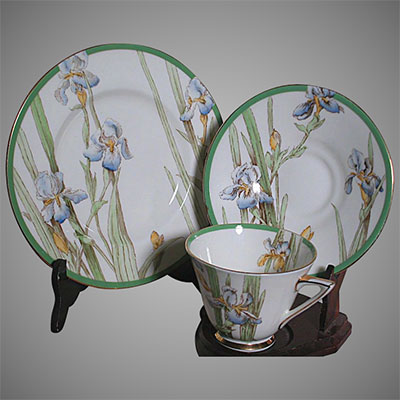 A pattern, or pattern number (PN), is the name and code that is given to the painted theme that is used to decorate the pieces of a collection. This is why you can find the classic 1934's Tango Pattern used in several collections that consist of different shaped pieces. Aside from the odd color pallet variation here and there, each variation will be given its own unique (PN), these collections are still referred to as Tango pieces due to the design and layout of the pattern that is being used.
If you were to take a look at many of the modern Royal Doulton collections, you'll notice that most of the sets share a combination of the same physical pieces; although the complete set may be consist of a combination of different styles or sized plates, bowls, or mugs. Each of these combinations were selected so as to complement the artistic style of the specific pattern that is being used to decorate the series.
What this means is that regardless of the physical design of the pieces that make up the whole set, the collection is still referred to by the name of the decorative pattern that is used to on the series.
---
Different Styles of Patterns?
There are over 280 different Royal Doulton Patterns out there on the market. Some can be found on a variety of different types of products, others are exclusively reserved for chinaware. So it's no surprise at all to find that not all Royal Doulton Patterns are an array of aesthetically pleasing lines, curves, and swirls. Some series have been based on images that depict landmarks, animals, and fruits, while the patterns of other series utilize solid color pallets or have an abstract nature about them.
The style of the pattern used in each series has been heavily influenced by the trends and style of the particular era in which they were produced. The Art Deco style of the 1930's would have been one of the primary influences behind the creation of the Tango Pattern, a pattern that would prove to be so popular, that it can be found on five different bone china series and one earthenware collection.
When a pattern is reused, there are often small changes that can be made. Sometimes it could be as simple as a color pallet swap, the inclusion or removal of gold trim, or even a resizing of a particular section of the pattern. All of these changes were dictated by what was trending at the time of its release.
The styles and designs that were popular back in the early to late 1900's may still have a few consumer fans these days, but just like before, the style and design of the patterns that Royal Doulton will use today, are driven by the market trends of the general consumer, and not by the interests of collectors.
---
Where Are the Royal Doulton Patterns Placed?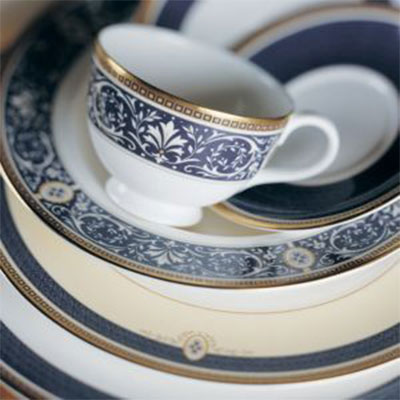 There isn't one set position or location that you would be sure to find a pattern on all Royal Doulton plates, mugs or bowls. Each pattern was designed to be viewed in a certain way. What this means is that one series or collections, might have had the pattern follow the outer rim of a plate, another may have had the pattern appear only along one edge of the plate, while another series could have had the pattern appear within the eating area of the plate itself.
Since Royal Doulton has never stuck with just one style for decorating their chinaware sets, be sure to check the underside of a collection to help ensure that you are looking at a genuine Royal Doulton, by comparing the trademark against other known Royal Doulton logos.
---
How to Determine the Time Period of a Pattern?
Most companies that have managed to survive the test of time have used different trademarks and logos over the course of their operations, and Royal Doulton is no exception.
The Royal Doulton trademark logo has gone through several iterations, making it easier to determine when a piece was made simply by looking at the trademark that could be found on the underside of the chinaware. But as the company grew and developed, it wasn't just their logo that changed and evolved, so too did the materials they were using, as well as the style and form of their products.
This is why it is important to cross-reference the material with the logo and Pattern Number (PN) when trying to determine the age of a piece. We cover PNs in more detail in our article How to Find the Age of Your Royal Doulton. Read on for a brief explanation.
On the underside of the chinaware, vase or jug, there will be a PN (Pattern Number) that starts with an alphabetic prefix, either an X, A, C, D, E, H, V. This sort of PN can be found on anything produced by Royal Doulton between the 1880s and the 1960s.
The letters were used to define the style and material of the series as being either a Lambeth Stoneware, Fine Earthenware, Porcelain, Earthenware, or Bone China. The rest of the PN would consist of four numbers.
Put simply, each series that was produced during a specific time period has an alphabetic prefix that matches with its material compersion, along with a four-digit number that falls within a specific range.
Sounds a little complicated I know, but if you have a read of our How to Find the Age of Your Royal Doulton article, it will help to make it easier to determine the age of your collection. It has the list of all known Pattern Number ranges, along with the appropriate material/style alphabetic prefix, and time periods.
---
Final Thoughts
Royal Doulton has been around for a long time. Today they appear to specialize more in Celebrity promotional designs; Gordan Ramsay, Ellen DeGeneres, Martha Stuart, and Donna Hey, each with their own pattern number/art style or design.
Even the more modern series of chinaware produced by Royal Doulton are still following the same patterning principles. Patterns are limited to specific styles and designs that best complement the overall design of the patterns themselves. Modern series, may not be as highly sought after by collectors as the earlier series are, they nonetheless are a worthwhile investment for anyone that is considering taking up chinaware collection as a hobby.