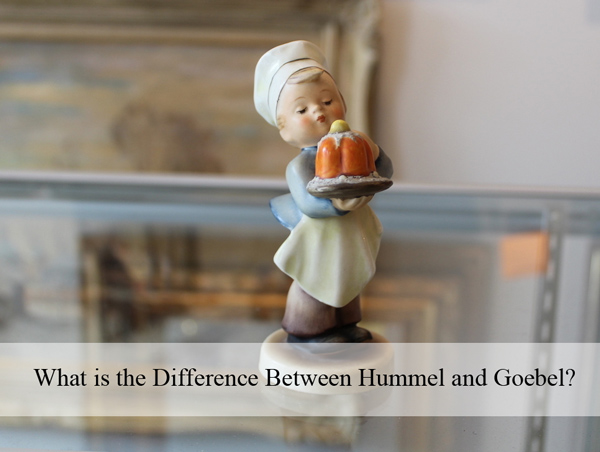 I get many questions about Goebel and Hummel Figurines. One that has been asked most frequently is "What's the difference between a Hummel figurine and a Goebel figurine?"
In this article I will go over what and if there is a difference between the two figurines.
Defining Goebel and Hummel
Goebel: A pottery company that first began during 1871. The Goebel company was originally well-known for their porcelain works of art. Prior to the introduction of Goebel's M.I. Hummel line, the company produced many porcelain animal figurines and bowls. It wasn't until 1935 that the original owner's grandson, Franz Goebel made an agreement with artist Sister Maria Innocentia Hummel whereby the company was able to produce 3 dimensional porcelain representations of her drawings. Hummels put the Goebel company on the map.
Hummels: Hummels are porcelain ornaments produced by the Goebel company. Hummels became increasingly popular after World War II and many today are worth thousands upon thousands of dollars. Each Hummel tells a different story with hundreds of them being produced under the Goebel company.
Goebel vs Hummel Figurines
Goebel is the parent company that makes high quality porcelain products including:
Tableware – plates, cups, bowls etc…
Figurines – Goebel and Hummel
Homewares – lamps, bookends, ashtrays, waterfont
Dolls – Hummel
Artwork – Hummel
Christmas items
Goebel was established in 1971 by Franz Oetleff Goebel and his son (William.)
The company was originally named F.& W. Goebel and was based in Oeslau (now known as Rodental) Germany.
The original company made the following items:
Slate
Slate Pencils
Toy Marbles
The company name changed to W.Goebel Porzellarfabrik in the early 1900's when Franz Retired and his son William took over. At this time Goebel began to produce high quality porcelain tableware and figurines.
Goebel makes a wide range of figurines outside of Hummels. However they are best known for their Hummel figurines.

Goebel figurine themes
Animals – cats, dogs, woodland and so on.
Famous people – the Beatles
Famous characters – Disney, Tom and Jerry.
Madonnas
Events
Organizations – Salvations Army
Christmas
Religious – Friar Tuck
Hummel – Figurines
In 1934 the grandson of Franz came across the postcards by Sister Maria Innocentia Hummel (Berta Hummel 1900 – 1946). The images depicted on these postcards would lead to the Hummels we know today.
You can see the Full History Of Hummel Figurines Here.
The first Hummel figurine was produced by Goebel in 1935.

The Answer
Now to answer the question of what is the difference between Goebel and Hummel Figurines.

Due to Hummel figurines being the most popular and well known product Goebel made, the company is often confused as the Hummel Goebel Company.
This is incorrect. Goebel is the company that produces Hummel Figurines along with many other products. Goebel Figurines has different lines that are produced by Goebel, one of these lines is Hummel Figurines.
Conclusion
Hummel Figurines are made by Goebel. This makes Hummels only one line in the Goebel product catalog. While unfortunately the Goebel company ceased production of Hummels in 2008, the true Hummels crafted between 1934 and cease of production were stamped with one of the many Goebel company symbols.