Today I am going to cover a little history on Black Forest Wares (carvings). This is one of my favorite types of antiques genres.
You might be wondering what a Black Forest Ware is. These are carving that usually depict forest animals (mainly bears), forest trees, branches, and leaves.
Black Forest Carving History
In the 1800's the wood carving industry of Switzerland started in the town of Brienz. By the end of the 1800's it had become the driving force for this industry.
Swiss wood carvers became world renown and featured at many international exhibitions.
Here is a shortlist of the major exhibitions Black Forest Carvings were spotlighted.
Great Exhibition, London (1851)
Centennial Exhibition, Philadelphia (1876)
Chicago Worlds Fair, Chicago (1893)
Exposition Universelle, Paris (1900)
In Europe Black Forest carvings (wares) became a symbol of luxury and wealth. The finest pieces of Black Forest carving was often found in Royal collection and elite collector's homes (usually Victorian world travelers).
During the 1800-1900's popularity was also growing in many overseas markets. There was a high demand for these carving especially depicting American Wildlife.
Here are some of the American animals that were highly sought after:
Bears (most commonly depicted animal)
Stags
Eagles
Boars
Dogs
Present Market
In the last 15 years this genre has seen some major changes.
Specialty auctions and dealers have been popping up world wide. Along with various books on the subject being published.
For the first time pieces showing up at auction are being attributed to Master Swiss carvers. The biggest misconception about Black Forest carvings is that they originated in Germany. However they are actually the creation of Swiss carvers.
Things that Affect a Black Forest Carving's Value
1. Quality
Just like most antiques quality is very important when it comes to Black Forest carvings. The quality of a carving can vary from indifferent to first rate.
World class example of Black Forest carving rarely hit the open market and when they do they are usually snatched up quickly.
2. Signature
Another factor that plays a big part in the value and rarity of a carving is a signature and who signed it. The most sought after pieces come from the Huggle family of carvers.
3. Subject of the Carving
The subject and detail of the piece also affect the value.
Bears are the most commonly depicted animal, this makes other animals such as dogs much more rare. These rarer animals can bring 2-3 times more at auction than the same piece depicting bears.
This genre is rapidly growing and does not seem to be slowing down anytime soon.
Black Forest Caving Pictures
I have included some pictures of the different types of Black Forest carvings. Black Forest carvings where made into all different types of furniture and curios.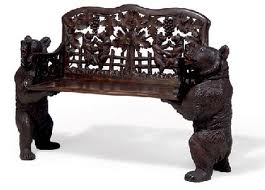 This is a Black Forest bear bench that was up for auction at Christie's.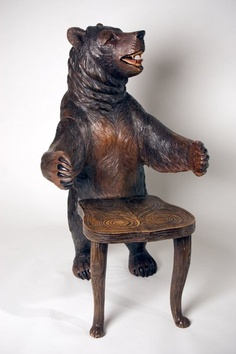 This is a Black Forest Bear Chair that was also on auction at Christie's
This is one of my favorites. This is a Black Forest bear Drink Caddy.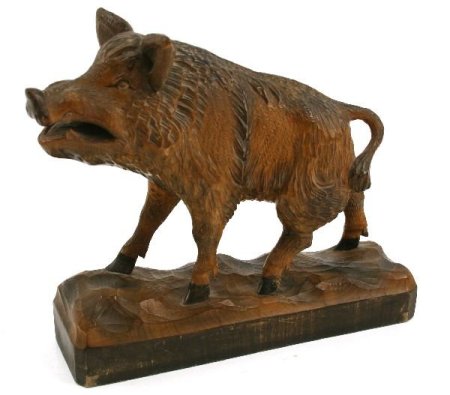 This is a Black Forest Boar Carving
Black Forest Mountain Sheep Carving.
This is a Black Forest Carving of an Eagle.
Feel free to leave a comment about Black Forest carving or examples you may have in the comments section.