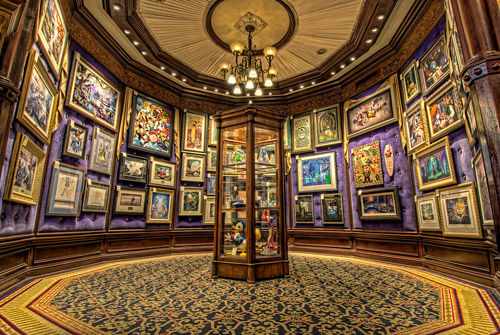 Mickey, Minnie, Pluto, Donald and Goofy. Who doesn't recognize those names? Disney collectibles, often called Disneyana, are prized possessions to the true collector.  First, a little bit of Disney history for those of you who don't know how all of the magic started.
In 1923, Walt's first animation studio went bankrupt.  He moved to Los Angeles to join his brother, Roy, where they started the Disney Bros. Cartoon Studio which was eventually renamed Walt Disney Studios in 1926.  In 1928, they introduced Mickey Mouse with the big screen release of "Steamboat Willie".
Two years later, the first Mickey Mouse Club got started in Ocean Park, California. The purpose of the club was to teach children the importance of good manners, attending Sunday school, respecting parents, helping others and developing good hygiene while simultaneously encouraging them to fall in love with Disney products and films.  By 1932, more than a million kids were members of the Mickey Mouse Club.
From the early '30s onward, Disney characters were made into every children's toy imaginable.  They were also on lunchboxes and backpacks. Because of the overwhelming popularity of their characters, Disney was forced to establish a business devoted to licensing and merchandising.  Their first contract was with the George Borgfeldt company, who primarily imported bisque figurines. The demand for Disney products was so great that licensing deals could literally make or break a company.  One such company that was saved by Disney is the Lionel Toy Company.  They produced Mickey and Minnie themed handcar sets.
In 1937, Disney released the first full-length animated film, "Snow White and the Seven Dwarfs".  The market for Disneyana went crazy.  Snow White and the Dwarfs were on everything imaginable.  The trend continued in the 1940's as Disney released several films including "Pinocchio", "Dumbo" and "Bambi".
The Disneyland amusement park opened in Anaheim, California in July of 1955.  The opening of the park provided an astonishing amount of Disney products to a very eager crowd of collectors.  The Disney marketing domain expanded again when Disney World opened in 1971. Even though the company has continued to grow even after the deaths of Walt and Roy in the early 70's, collectors consider the 1930's to 1960's the golden age of  Disney collectibles.