The metal lunch boxes which carried our tuna fish or peanut butter and jelly sandwiches were almost a fashion statement in their own right. Printed with images of movie or television actors to licensed cartoon characters such as Snoopy or Peanuts and musical groups such as the Monkees or the Beatles. No one would have guessed these much-loved lunch boxes, crafted majorly out of metal during the 1900s would become valuable items in today's vintage market.
Nostalgia drives a strong market for this collectible as many are looking for that same lunch box they remember carrying to school. Today, a collector might pay up to 10,000 times the original sale price of a lunch box.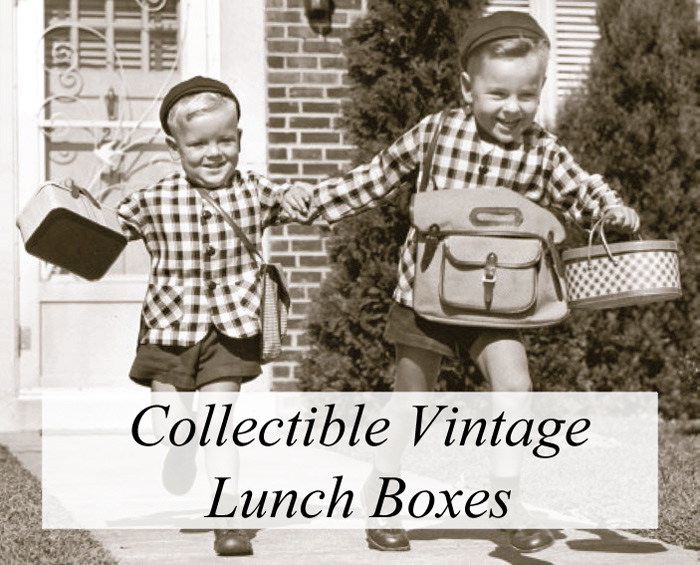 For younger students heading back to school each fall, nothing was more fun to pick out and proudly carry than a lunch box. In this post, we'll take a look at some of The Most Collectible Vintage Lunch Boxes.
---
The History of the 'Lunch Box'
While in modern times, a lunch box seems like such a simple item up until 1902, a 'lunchbox' was nonexistent. Prior to the early 1900s children would carry their food in a 'lunch pail' which was often a tin box that once contained cookies or tobacco that had been repurposed. Carrying a lunch pail often indicated that the child could not afford a nice hot lunch.
While the first 1902 lunchbox featured children on either side, the very first licensed character lunch box appeared in 1935, featuring the much loved Mickey Mouse. Due to the popularity of television beyond 1950, different character and pop culture-themed lunchboxes began appearing.
Up until the 1980s, lunchboxes were made from metal. From the 1980s, plastic began to be used for lunchboxes. It is the metal (tin) lunchboxes produced prior to the 1980s that are sought after by collectors.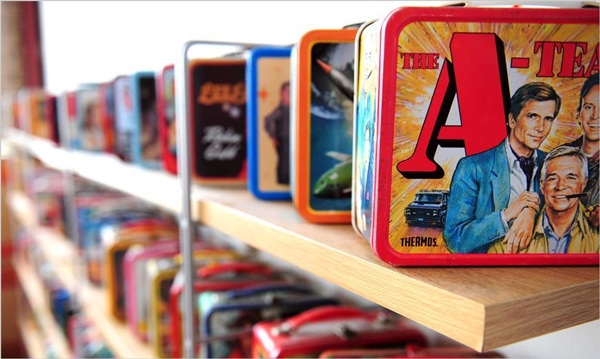 ---
Valuable and Collectible Lunchbox Produced During the 1900's
Below you can find a number of valuable vintage lunchboxes produced during the 1900s. These lunch boxes were originally sold for only a couple of dollars (some even for only a couple of cents!), although now they can fetch hundreds, if not thousands of dollars.
Mickey Mouse Vintage Lunchbox (1935)
Produced by Geuder, Paeschke & Frey, a tin toy manufacturer, the oval metal lunch pail fastens together with a wire handle and features Mickey along with his "Steamboat Willy" friends. The kit retailed for 10 or 20 cents—a Depression-era price, not all parents could afford. As a result, it's rare indeed.
This lunch box was the first to use a licensed character and it can fetch up to $2,000 in today's market.
Current Auction Value: Up to $2000.00 USD
Superman Vintage Lunchbox (1954)
Perhaps the most coveted lunch container, produced by Universal, features Superman. This particular lunch box in mint condition could fetch as much as $13,000. There is one listed on eBay currently at nearly $9,000!
Current Auction Value: Up to $13000.00 USD
The Beatles Vintage Lunchbox (1963)
Merchandise that features the Fab Four is always in demand, and this Aladdin lunch box was released just in time for Beatlemania. Featured in the Smithsonian collection, values vary widely based on condition. Heritage Auctions sold one for $750 in 2015, while Bellomo ranks its current mint value at around $1,820. We found one on eBay for nearly $1,200.
Current Auction Value: Up to $1200.00 USD
The Jetsons Vintage Lunchbox (1963)
This coveted Jetsons box, produced by Aladdin, recreated the cartoon future family's daily routine on a domed box with a matching thermos. Mint versions can sell for as much as $1,700. We just found one on eBay listed at nearly $1,400.
Current Auction Value: Up to $1700.00 USD
Gene Autry Vintage Lunchbox (1954)
This Gene Autry lunch box can sell for up to $1,775.00 USD when in pristine condition. Ranch-themed, it was popular amongst young boys. A matching thermos was also available during the 1950s.
Current Auction Value: Up to $1800.00 USD
The Munsters Vintage Lunchbox (1965)
This vintage 'The Munsters' lunchbox produced by Kayro has previously sold for $1,259.99 USD.
Current Auction Value: Up to $1300.00 USD
Mickey Mouse and Donald Duck Vintage Lunchbox
Made in Japan by Zojirushi, this vintage lunch box has sold previously for $900.00.
Current Auction Value: Up to $900.00 USD
Planet of the Apes Vintage Lunchbox (1974)
This rare vintage Planet of the Apes lunchbox with thermos sold during 1974 is valued up to $850.00 USD in immaculate condition.
Current Auction Value: Up to $850.00 USD
Smokey Bear Vintage Lunchbox (1972)
To purchase a vintage Smokey Bear metal lunch box and thermos produced in 1972, you are looking at spending $795.
Current Auction Value: Up to $800.00 USD
---
Additional Vintage Lunch Boxes
The Lone Ranger Red-Band (1955) valued at $1,250
Universal Knights in Armor (1959) valued at $1,800
Star Trek (1968) valued at $1,500
Adco Liberty Howdy Doody (1954) valued at $1,800
Aladdin's Little Friends (1982) valued at $850
Adco Liberty Mickey Mouse and Donald Duck (1954) valued at $1,700
King Seeley Yellow Submarine (1968) valued at $1,300
Walt Disney School Bus Dome (1961) valued at $400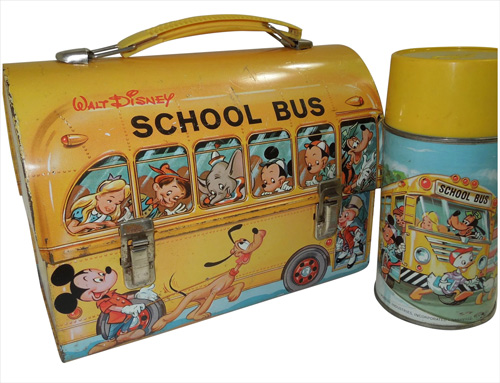 ---
Is My Vintage Lunchbox Valuable?
While it seems that there is definitely money to be made on a vintage lunchbox from the 1900s, not all vintage lunchboxes will fetch a price tag even close to the ones listed in this article. Collectors are majorly interested in lunchboxes that are scratch-free and are not dented. Many of the vintage lunch boxes that were produced during the 1900s have been well-loved, and show their age making them more valuable to their owners than to a keen collector.
Due to the lunchboxes being crafted from metal, many have begun to rust over the years which also impacts the auction price. The majority of lunchboxes sold during the 1900s came with or could be purchased alongside matching thermos. Having the matching thermos will increase the overall price of the vintage lunchbox.
---
What was your favorite lunch box? Did you perhaps own one of the collectible lunch boxes above?