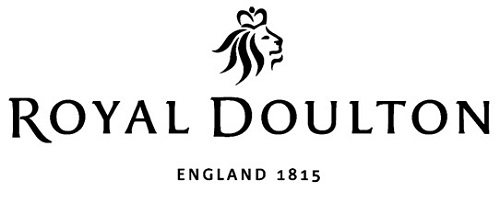 Royal Doulton; the renowned producers of some of the world's finest china, and makers of some of the most highly sort after collectible figurines owes its success to one of the most humblest of beginnings. The Royal Doulton story starts with a small partnership after John Doulton completed his apprenticeship in 1812, with the Fulham Manufacturing Company. He managed to develop quite a name for himself, as being one of the best pot throwers in London at the time.
Impressed by his skills and work ethics, Martha Jones, the widowed owner of the business that he worked for offered a partnership deal to John Doulton and her foreman John Watts, in 1815. Investing his life savings of £100, John Doulton agreed to the partnership that would one day lead to the creation of the Royal Doulton brand.
Doulton & Watts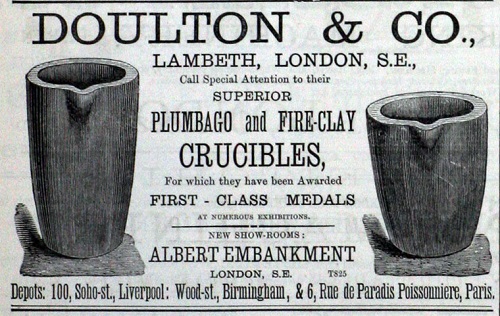 The partnership between Martha Jones, John Doulton and John Watts would last for another five years. They specialized in the manufacture of utilitarian salt-glazed stoneware, stoneware ceramics, stone jars, bottles and flasks. When Mrs Jones retired in 1820, the partnership was dissolved, leaving the Johns free to continue their business on their own account.
Renaming the business Doulton & Watts, they moved production to a larger factory on Lambeth High Street, London, in 1826. They continued to produce the business's main stoneware and bottle products.
Henry Doulton & Co.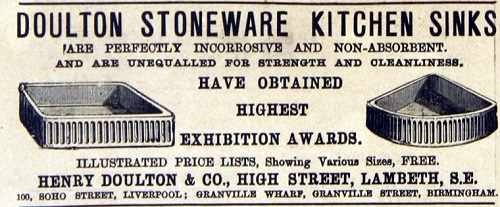 The English epidemics of the 1830's and 1850's, saw the deaths of thousands of people. A doctor by the name of Dr. John Snow was able to discover the link between Cholera and the Broad Street pump, in 1854.
When John Doulton's 15 year old son, Henry Doulton, joined the business in 1835 he brought with him a great aptitude for all aspects of pottery making. Thanks to his innovative way of thinking during the Sanitary Revolution, he was able to make major contributions to the business.
So much in fact, that in 1846 Henry Doulton was able to establish a separate factory adjacent to his fathers business. With the financial backing of his family, Henry started the Henry Doulton & Co. and lead the way for both companies to become world-class experts in the field of pottery and ceramic production. Henry came up with several ingenious engineering methods, that improved the production of ceramic pipes, and other stoneware items.
Such was the demand for sanitary ware, that within a mere three years Henry Doulton & Co. had to established additional pipe-making factories in Dudley, Smethwick, St. Helens and Rowley Regis.
So successful was their sanitary range that their wares were even exhibited at the 1851, Great Exhibition held in London's Hyde Park.
Doulton and Company
At the end of 1853 or maybe even the beginning of 1854, John Watts retired. His partnership with John Doulton was liquidated, and Doulton & Watts and Henry Doulton & Co merged to form Doulton & Company.
For the next six years they continued with the original product range, from both companies prior to the merger. This meant that they were first and foremost, a manufacturer of:
Industrial ceramics
Sanitary water filters
Drainage pipes
Sanitary fittings
During the mid 1850's and 1860's. The business began to diversify their product range even further. The company reorganized its operations into specialized manufacturing:
Sanitary wares
Industrial porcelains
Drainage pipes
Domestic and Ornamental Stoneware and China
In 1860, Henry was persuaded, by his friend John Sparkes, to work with the pupils at a nearby arts school. A partnership deal was struck between Doulton & Co, and the Lambeth School of Arts. What followed was a long and lucrative deal, that offered industry training to the students. In exchange for the ideas and designs that the students could develop.
The prospect of employment meant that many of the graduates not only went on to work for Doulton & Co. They were able to help shape the future of the Royal Doulton brand. What these students and graduates were able to create, were the polar opposite of what the Doulton & Co. had become known for.
This deal with the school is what lead the company to start their production of the domestic and ornamental salt-glazed stoneware and chinaware, that we love today, as was known collectively as Doulton Ware.
So popular were these new range of ceramic products, that even Queen Victoria was a huge fan. She was so impressed, that she even knighted Sir Henry Doulton for his services to the ceramic arts and for the advancement of ceramics, in 1887.
Henry never stopped trying to find new ways to not only produce new products, but to also improve the production process itself. In 1871 Henry was responsible for the development of a steam powered potter's wheel. This in conjunction with some of his other inventions, left the Doulton & Co. some 10 years ahead of their nearest competitors.
Henry also launched the Lambeth Studio with local designers and artists. They produced works by experimenting with a variety of materials and glazes in an industrial setting.
John Doulton Snr past away in 1873, leaving the business in Henry's capable hands. Henry's son, Henry Lewis Doulton, had only joined the business a year prior to his grandfathers death. He would learn from his father and continue to help develop and grow the family business.
In that late 1870's, Henry and his brother James Doulton purchased a major shareholding in Pinder Bourne & Co. A company that supplied them with sanitary fittings and electrical insulators. The partnership was not successful and after buying out Pinder in 1882. They reconstituted the business under the name of Doulton & Co. Burslem, with Henry and James as co-owners.
By the mid 1880's, Doulton & Co. was producing some of the worlds finest wares for intentional clientele. They would go on to win honors at major international exhibitions, while producing a large variety of:
Figurines
Character jugs
Vases
Other decorative pieces
Domestic-wares
Sir Henry Doulton passed away in 1897, leaving his son Henry Lewis Doulton to take over control of the family business. Lewis had the business incorporated in 1899 under the name of Doulton & Co. Ltd. making Lewis the company's first Chairman and Managing Director.
Royal Doulton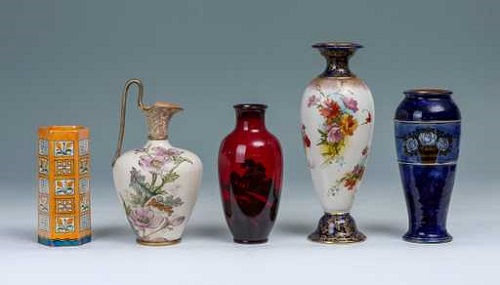 With a great sense of pride for his family's achievements, and a bitter sense of regret that his father had passed away before he could accept the honor himself. Lewis accepted the royal seal of approval bestowed upon the family business, by King Edward VII in 1901. An honor that allows the company to add Royal to their name, and to use the British Lion as part of their logo and trade mark.
With no children of his own Lewis approached his nephew Eric Hooper, a trained  lawyer, in the hopes that he would join the family business and maintain the family connection.
By 1909, Eric was appointed to the Board as a Director
By 1918, he was appointed Managing Director
He took the Chairman position in 1925
Where he remained Chairman until his death in 1955
Under the Royal Doulton banner, the company continued to grow and introduce new products and innovations. The company had bought out several other manufactures before it was acquired by its current owners:
1913 – Royal Doulton launched its definitive HN series of Pretty Lady Figurines
1934 – Royal Doulton released their first Toby Jug design
1935 – Royal Doulton released the Bunnykins and nurserywares
1939 – saw the introduction of collectable figurines
1952 – at the end of the war the artist and potter, Agnete Hoy, joined the company. She designed both individual pieces and limited edition works
1955 – Doulton Fine China Ltd is registered
1956 – the Hoy's design studio and the Lambeth works are closed. Mostly due to new clean air regulations, that prevented the production of salt-glaze in urban areas
1960 – Royal Doulton introduced their new product, English Translucent China (ETC). Which later became known as Royal Doulton Fine China
1966 – Royal Doulton became the first china manufacturer to receive the Queen's Award for Technical Achievement
1968 – Royal Doulton acquire Minton Ltd and Dunn Bennett & Co.
1969 – Royal Doulton acquires the Webb Corbett Ltd and John Beswick Ltd
1971 – The Lambeth headquarters of Doulton & Co. Ltd are closed down
1971 – S. Pearson & Son Ltd acquires Royal Doulton and merges them with Allied English Potteries Ltd
1973 – Royal Doulton Tableware Ltd becomes custodian of the tableware and giftware assets of Royal Doulton and S.Pearson & Son Ltd
1974 – Doulton introduced Lambeth Stoneware, as part of their casual tableware, oven and freezer proof stoneware range
1976 – The Lambeth buildings are demolished
1980 – The popularity of their figurines, leads to the creation of the Royal Doulton International Collectors Club (RDICC)
1993 – Royal Doulton was floated on the London Stock Exchange
1996 – Royal Doulton bought Caithness Glass. A resin and art glass maker
1997-1999 – Royal Doulton went through hard times
2000 – Royal Doulton sold the Royal Crown Derby Ltd to a management-led group
2001 – Royal Doulton sold Caithness Glass to Royal Worcester Spode Ltd
2002 – The Baddeley Green and Gold St. factories were closed down
2004 – The last UK factory, the Doulton & Co. Burslem, ceases production
2005 – The Waterford Wedgewood Group, completed a £39.9 million takeover Royal Doulton plc and its many subsidiaries
Today – Many celebrated chef's, designers and stylist, including the likes of Donna Hay and Gordon Ramsey, have release exclusive ranges through Royal Doulton
Many of the original Doulton & Watts, and Doulton & Co. products are still highly sort after. Especially the items produced by the students at the Lambeth School of Arts. The largest and most expensive figure released by Royal Doulton cost upwards of £14,000. Each of these figurines have no less then 160 hours of hand painted craftsmanship. Every artist and designer has access to Royal Doulton's archives of around 10,000 watercolors, some of which date back to the original 1815 color range.