Bunnykins, produced by the Royal Doulton company are timeless pieces that have been loved and cherished by young children for many decades. Like the name suggests, the Bunnykins collection is based upon a series of rabbits made into china ornaments and printed onto children's cups, plates, and breastfast bowls. In more recent years, the company also began producing Bunnykins silver items such as children's cutlery, money, and music boxes.
There are hundreds, upon hundreds of different 'Bunnykins' scenes that have been designed by a number of different artists who have worked for the company over the years. The scenes played out by the rabbits depict everyday life such as fishing, playing in the river and heading to bed just to name a few. Mother and father figures often appear in many of the scenes giving the pieces a sense of home and warmth that young children can relate to.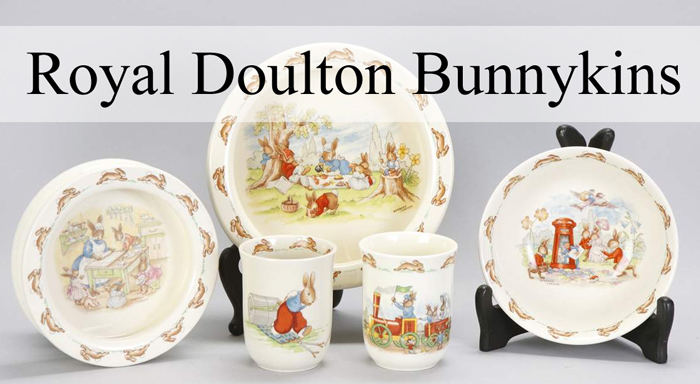 ---
What are Bunnykins?
Bunnykins refers to a specific design set produced by the Royal Doulton company. Each piece whether that be a plate, cup, money box, or bowl features rabbits (bunnies) dressed up as a human would dress. These designs and items are produced specifically for little hands. Bunnykins was the companies successful design set produced specifically for children.
Each Bunnykins scene depicts certain aspects of human life in the rabbit form. Many of the artworks were even inspired by famous or well-known people. During 2005, the Royal Doulton company even released a Bunnykin ornament that represented a nun and the original designer of Bunnykins, Sister Mary Barbara. This design features a bunny drawing perhaps the original sketches for the collection.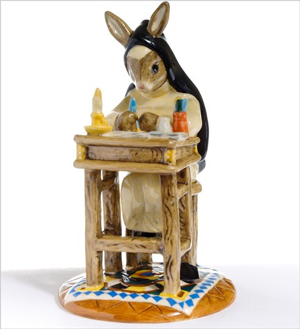 The 2005 Sister Mary Barbara Bunnykins pictured to the left, is currently valued at $39.00 – $49.00 USD. This ornament produced by the Royal Doulton company measures 4.25 inches high and is a tribute to the original Bunnykins artist who passed away during 2003 at age 92.
Sister Mary Barbara had a love for young children and even mentioned that the idea behind the pictures at the bottom of the cereal bowl was to encourage young children to finish their morning meal. She remembered having to encourage her younger siblings to do so before she entered the Coventry.
---
Who Designed Bunnykins and When Were they First Produced?
The Bunnykins collection first began in 1934 and is today one of the most recognized children's dinnerware collections in the world. The 'Bunnykins' rabbit designs were hand-drawn by Sister Mary Barbara who was a nun and so happened to be the daughter of Cuthbert Bailey, one of the companies managing directors.
On the earliest Bunnykins pieces, the artist would often sign 'Barbara Vernon' and it is these pieces that are the most valuable to keen collectors. The patterns by Barbara were used to inspire a 1939 figurines collection that was unfortunately short-lived although revived again in 1972. While the 'Bunnykins' are featured not only as figurines, it is these porcelain ornaments that antique and vintage collectors seek out. In total there have been over 400 Bunnykins figurines produced by the Royal Doulton company.
During the 1950s, the Doulton and Co art director at the time, Walter Hayward began producing similar graphics of those designed earlier by Sister Mary Barbara. These drawings were used to produce pieces after 1950.
From 1972 until 1974, the Royal Doulton company used the modeling talent of Albert Hallam who had previously worked designing the Beswick Beatrix Potter collection, to produce 15 Bunnykin collectible figurines. Each figurine measuring approximately 4 inches tall. From the 1980s, until the present day, Royal Doulton continues to produce Bunnykins pieces all inspired from original artworks and designs. The Bunnykins items were all produced in England up until 2005 when they began being produced in Asia.
---
Who Purchases Bunnykins Items?
Bunnykins items that are purchased new from the Royal Doulton official website or authorized retailers are often given as gifts to young children for their birth, birthdays, christenings or at Christmas. Whether it be an ornament or dinnerware set, Bunnkykins by Royal Doulton are high-quality pieces that last the test of time. Many parents will choose to store the child's Bunnykins gift for safekeeping, while others will use it daily for meals.
When speaking about vintage Bunnykins pieces, many will purchase them to keep and collect rather than to put to use. There were some concerns with materials used to craft earlier Bunnykins dinnerware pieces so many do not set out to use these for young children's meals.
There are keen collectors who only set out to acquire the Bunnykins Royal Doulton figurines and dinnerware sets. There is one lady who lives in Erskine, Western Australia who is said to have the largest Bunnykins collection that she has added to over the past 25 years. Christine Robinson has a growing collection of over 350 Bunnykins pieces from ornaments, to plates and mugs.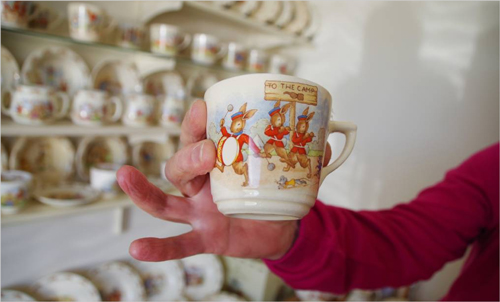 ---
Types of Royal Doulton Bunnykins
---
Royal Doulton Bunnykins Figurines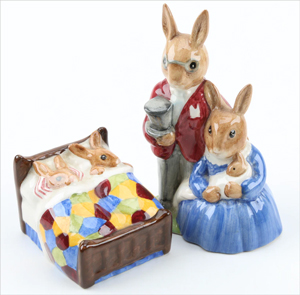 Within the Bunnykins collection, the figurines are the most sought after and in turn the most valuable, in particular the first 6 ever to be released. The six figurines crafted by Charles Noke during 1939 are extremely valuable as after these were released, production ceased during the world wars and did not begin again until 1969 when the company became known as 'Royal Doulton'.
The original six Bunnykins ornaments go by the following names:
Billy Bunnykins (child rabbit)
Mary Bunnykins (child rabbit)
Farmer Bunnykins (father rabbit)
Mother Bunnykins (mother rabbit)
Freddy Bunnykins (child rabbit)
Reggie Bunnykins (child rabbit)
When speaking about the value of the original Bunnykins, they vary in price depending on the condition. The set pictured below that includes Mother, Farmer, and Mary Bunnykins sold for just over $500.00 USD. These ornaments had some paint scratching, and farmer Bunnykin was missing an ear. This gives a rough estimate of the price in comparison to the condition. Original Bunnykins in immaculate condition can fetch a higher price come auction.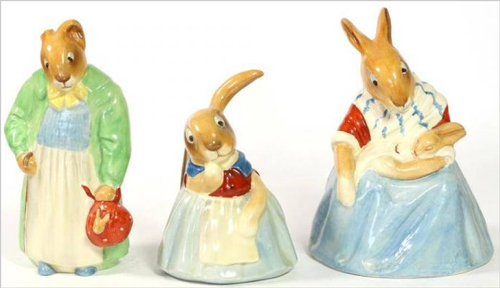 When the production of Bunnykins began after a long period of depression and war, the ornaments were modeled by Albert Hallam based on the designs by Walter Hayward. These Bunnykins were the first marked with 'DB' numbers which are still seen on Bunnykins produced today. When speaking about Bunnykins that are marked with 'DB' numbers, over 400 exist today.
Many of the Bunnykins ornaments were released in series and having an entire series auction together often makes for a better return on the investment. For example, the royal family series that consists of 5 Bunnykins sees a much better price when auctioned as a whole. Some of the other series worth mentioning include although are not limited to:
Red Oompah Band
Bunnykins Games
Robin Hood
Occasions
Roman Empire
Arthurian Legends
Tudor
Shipmates
Hobbies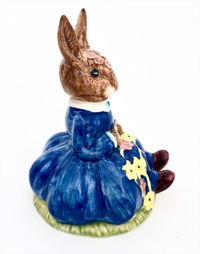 "Daisie Springtime" is a Bunnykins ornament that depicts a bunny making a daisy chain. The original retail price of this ornament was $34.95 although due to the demand for these pieces, many keen collectors will pay eight times this amount. The value of this Bunnykin ornament is approximately $200.00 – $325.00 USD.
Among other valuable Bunnykins figurines produced in later years, you will find Bunnykins Footballer released as a limited edition of 250 pieces during 1991 now valued at $500 USD, Bunnykins Magician released as a limited edition of 1000 pieces in 1998 valued at $600 USD and Bunnykins Carol Singer limited edition release of 300 pieces during 1991 valued at $350 USD.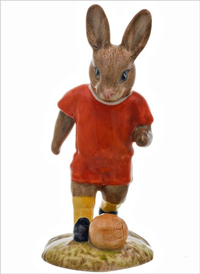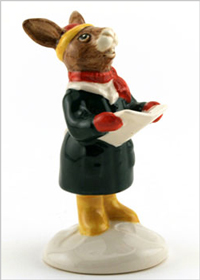 Recent Limited Edition Bunnykins Ornaments
| | | | |
| --- | --- | --- | --- |
| Bunnykins Limited Edition | Year of Production | Pieces Released | Producer |
| Bunnykins Dr. Livingstone | 2009 | 500 | Shane Ridge |
| Bunnykins Scott of the Antarctic | 2009 | 500 | Shane Ridge |
| Bunnykins Sir Christopher Columbus | 2009 | 500 | Shane Ridge |
| Bunnykins Sir Walter Rayleigh | 2009 | 500 | Shane Ridge |
| Bunnykins Sir Francis Drake | 2009 | 500 | Shane Ridge |
| Bunnykins Marco Polo | 2009 | 500 | Shane Ridge |
| Bunnykins Vasco de Gama | 2009 | 500 | Shane Ridge |
| Eureka | 2007 | 1000 | Wendy Davies |
| Mould Maker | 2007 | 500 | Shane Ridge |
| Prince John | 2005 | 3500 | – |
| King Richard | 2005 | 3500 | – |
| Will Scarlet | 2005 | 3500 | – |
| Sheriff of Nottingham | 2005 | 3500 | – |
| Friar Tuck | 2005 | 3500 | – |
| Little John | 2005 | 3500 | – |
| Maid Marion | 2005 | 3500 | – |
| Robin Hood | 2005 | 3500 | – |
---
Royal Doulton Bunnykins Children's Dinnerware (Cups, Bowls, Saucers, Egg Cups, and Teapot)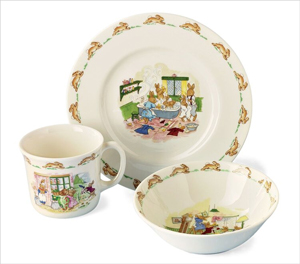 The Bunnykins dinnerware range was first produced during 1937 and was gifted to the royal children. As the royal children were eating from their Bunnykins fine china, mothers around the world began going crazy for these special little dinnerware sets for their own children. The collection initially popular in England, then saw traction in other countries such as Australia. Many of the pieces were made from earthenware, with the exception of a number of pieces made from bone china.
Those plates signed by Barbara Vernon are among the most valuable as well as the 'special edition' plates. Plates that represent certain aspects of life when they were crafted are also of interest. These include the design by Hayward that features a bunny setting off for the moon (first man on the moon) and another watching television (introduction of televisions in homes).
Bunnykins Teapots were somewhat rarer than the dinner sets and due to keen teapot collectors, the prices of these are often ten times more than what they were originally purchased for. Bunnykins teapots can sell for anywhere between $300.00 – $1500.00 USD depending on the condition and rarity of the item. A large teapot designed by Charles Noke during 1939, can now even sell at auction for up to $3000 USD to the right buyer.
---
Royal Doulton Bunnykins Money Boxes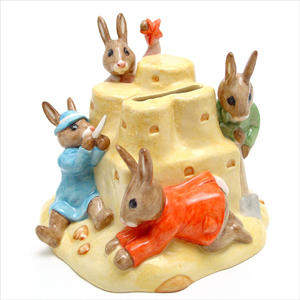 The Bunnykins money boxes have been produced since 1936 and again feature scenes of rabbits. Some of the money boxes were book shaped to blend in with other books that would sit on a shelf. Other money boxes produced by the company were round (globe) in shape. Some had three-dimensional bunnies while others had hand-painted scenes of bunnies on the flat surfaces. During the early years, it seems as though many of the globe-shaped Bunnykins money boxes were produced making the majority of them not worth more than $50.00 USD. Some of the popular scenes found on the Bunnykins money boxes produced prior to the 2000's include although are not limited to the following:
ABC's
Cowboys and Indians
Fishing
Train
Piano
Icecream
Skating
Baking a Cake
Rocking Horse
Celebrate Your Christening
Picnic Scene
Sand Castles
Trying on Hats
Picking Flowers
Afternoon Tea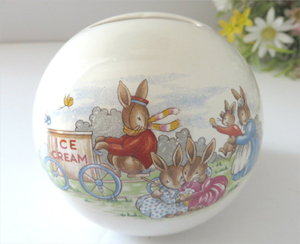 Pictured on the left is one of the Bunnykins money globes known as the 'Icecream Cart'. Even though this was one of the earlier money globes produced within the collection, the current value is no more than $30.00 USD.
---
5 Facts About the Bunnykins Royal Doulton Collection
#1 The 'mother' bunnies were often dressed in blue to pay respect and honor 'Our Lady' (Mary). The original Bunnykins designer was a nun and dedicated much of her life to religion. Many religious aspects can be noted in the Bunnykins designs especially those produced during the earlier years.
#2 Sister Mary Barbara Vernon was the original Bunnykins artist. She was the daughter of Cuthbert Bailey who worked for the Doulton company and who asked her as a favor to produce some drawings that would appeal to young children. At night in the convent, Mary would sketch the bunny scenes for her father by candlelight as there was no electricity.
#3 The original designs often represent the nun's homesickness as she spent most of her time at the convent.
#4 The 'father' bunnies were often a depiction of Sister Mary Barbara Vernon's own father. Some of the bunnies held a pipe and wore braces just as her father did.
#5 During 1985, Royal Doulton released the first 'Members Only' Bunnykins ornament. This ornament was only available to Doulton Collector's Club members.
---
Differing Bunnykins Designs
Throughout the years there have been a number of different Bunnykins designs that have been featured on Royal Doulton mugs, bowls, plates, music/money boxes, clocks, egg cups, and teapots. Below we've compiled a number of the popular designs that were featured on differing wares and the year the design was drawn up.
| | | |
| --- | --- | --- |
| Title of Design | Designer | Year of Design |
| Portrait Painter | Walter Hayward | 1954 |
| Playing on the River | Barbara Vernon and Walter Hayward | 1952 |
| Letterbox | Barbara Vernon and Walter Hayward | 1952 |
| Ticket Queue | Walter Hayward | 1959 |
| Space Rocket | Walter Hayward | 1967 |
| Beware of the Bull | Walter Hayward | 1959 |
| Chicken Pulling Cart | Barbara Vernon | 1940 |
| Medicine Time | Barbara Vernon | 1937 |
| Orange Vendor | Barbara Vernon and Walter Hayward | 1952 |
| Visiting Cottage | Barbara Vernon | 1949 |
| Watering Flowers | Barbara Vernon and Walter Hayward | 1952 |
| Santa Claus | Barbara Vernon | 1940 |
| Raft | Walter Hayward and Penelope Hollinshead | 1959 |
| Game of Golf | Barbara Vernon | 1940 |
| Mr. Piggly's Store | Barbara Vernon and Walter Hayward | 1952 |
| Smoking in Doorway | Barbara Vernon | 1937 |
| Visiting the Cottage | Barbara Vernon | 1940 |
| Cycle Ride | Frank Endersby | 1995 |
| Baking Cakes | Frank Endersby | 1995 |
| Family at Breakfast | Barbara Vernon | 1937 |
| Greetings | Barbara Vernon | 1937 |
| Family in the Garden | Walter Hayward | 1967 |
| Frightening Spider | Barbara Vernon | 1937 |
| Orchestra | Barbara Vernon | 1940 |
| Toast for Tea | Walter Hayward | 1954 |
| Bedtime Story | Walter Hayward | 1967 |
| Toppling Fruit Cart | Walter Hayward | 1968 |
| Lambeth Walk | Barbara Vernon | 1937 |
| Family Photograph | Walter Hayward | 1954 |
| Fishing at the Pond | Frank Endersby | 1995 |
| Resting by the Pond | Frank Endersby | 1995 |
---