Collecting Vintage Vintage Trifari Jewelry is always in demand with jewelry enthusiasts and in this post I'll give you a full overview of the company and it's history. A quick search on eBay reinforces the value that some Trifari pieces can still garner in today's market. Take a look at this stunning piece currently listed for $6,750.00 USD!
Trifari 'Alfred Philippe' Jelly Belly Turquoise and Black Winged Bird of Paradise in Flight Pin
Description: gold plated base metal, rhinestones, enamelling, lucite
Marked: Trifari with Crown. (3-126 is scratched on)
Size: 4.2″ x 2.85″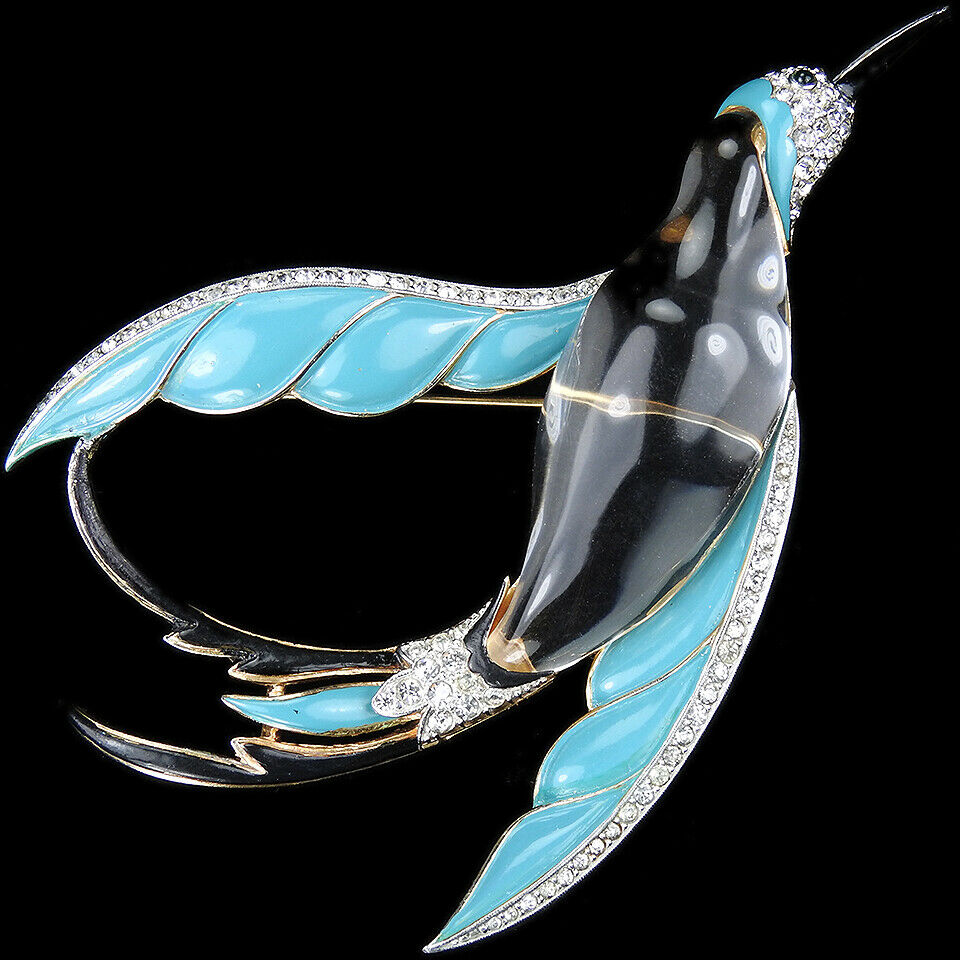 or this one listed for $5999.99

RARE 1949 CROWN TRIFARI RUBY CABOCHON MOGHUL INDIA SCHEHERAZADE NECKLACE PENDANT
Marked: THE NECKLACE IS SIGNED ON THE REVERSE WITH THE CROWN TRIFARI MARK WITHOUT A COPYRIGHT C AND PAT. PEND. IT WAS AWARDED PATENT #154,636.
Size: 15.5″ long
THE HISTORY OF THE TRIFARI
1904
The Trifari Company was founded by Gustavo Trifari, an Italian immigrant who arrived at Ellis Island from Napoli in 1904 at the age of 20. In 1910 he founded "Trifari and Trifari" with his uncle. Gustavo's uncle left the company and a few years later, Gustavo once again continued to operate the company under the name of "Trifari."
The company would undergo even more name changes and with those, changes in the logo.
1917
Leo Krussman joined Trifari in 1917, and Carl Fishel joined as head of sales in 1925. The company name was then changed to "Trifari, Krussman and Fishel" and the logo was changed to "KTF" (with an enlarged "T" at the center). Keep an eye out for these as Trifari vintage jewelry pieces from this era are extremely rare.
1930's
The Trifari Jewelry Company really began to see it's success soar in 1930 when Alfred Philippe was hired as head designer. Philippe's design background was in high-end jewelry design for well-known firms such as Cartier and Van Cleef and Arpels. The designs he created reflect that certain glamour and ended up being very popular.
1940's to 1970's and a FULL LIST OF DESIGNERS:
In the 1940's the company name was changed back to "Trifari" and the famous Trifari Crown logo was stamped on the pieces. Trifari continued to be run by its founder and sons after Phillipe's retirement in 1968. In 1975, when the company was sold to Hallmark Jewelry Company.
FULL LIST OF DESIGNERS:
Alfred Philippe- 1930 – 1968 Head designer
Joseph Wuyts – 1940
David Mir – 1941 – 1942
Alfred Spaney – 1941 – 1942
Norman Bel Geddes – 19415.)
George Bachner – 1945
Jean Paris – 1958 – 1965
Andre Boeuf – 1967 – 1979
Jonathan Bailey – 1970
Diane Love – 1970 – 1971
Jacques Philippe (Alfred's son) – 1971 – 1974
Kunio Mataumo – 1970's
Kenneth Jay Lane – Probably 1970's
Aldo Cipullo – Unknown period in the 1970's and 1980's
​Marcella Saltz – Unknown period after 1982 and before 2000.
*Source: DeMarc Treasures
TRIFARI IS SOLD TO THE MONET GROUP
In 1988 the company was sold to Crystal Brands, and in 1994 sold to Chase Capital Partners and Lattice Holding Company, a division of the Monet Group.
TRIFARI'S COLLABORATION WITH QVC
During that time, high end, collectible Trifari jewelry was produced for sale on QVC. Many were Limited Editions of just a few hundred pieces and collectors highly prize them as the last of the signed Trifari Jewelry.
You can find many of these pieces on ETSY or eBay by searching "QVC TRIFARI" such as this 1990's 18″ gold-toned and crystal necklace.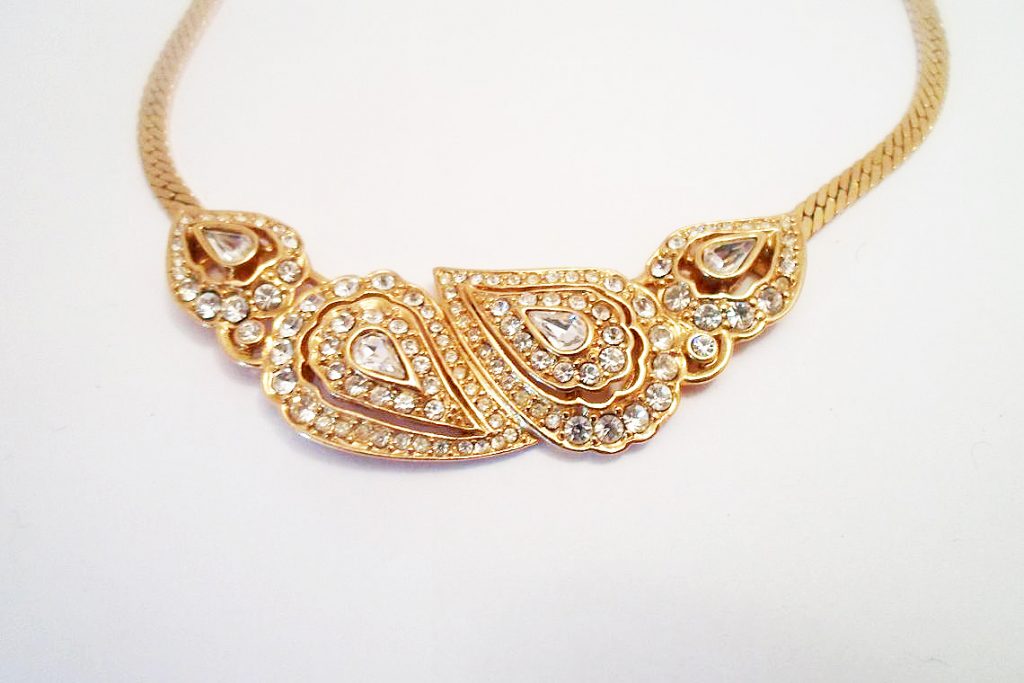 LIZ CLAIBORNE and THE END TO SIGNED TRIFARI PIECES
In 2000 the Monet Group was purchased by Liz Claiborne and production was moved overseas, which brought an end to the high quality signed Trifari jewelry.
Liz Claiborne Inc. continued to produce Trifari jewelry overseas, but these are lesser quality unsigned pieces that are on Trifari cards. In approximately 2006, it is said that the company is now owned by Kate Spade & Company Corporation. The pieces are from the earlier part of this time frame are considered vintage, though not overly sought after by collectors.
A GUIDE TO TRIFARI JEWELRY MARKS:
WHERE TO FIND VINTAGE TRIFARI JEWELRY?
You will always be able to find Vintage Trifari Jewelry on sites like eBay or ETSY, but also from antique dealers, at auctions, yard sales, garage sales and thrift stores. Part of the joy of collecting is the excitement of finding your collectible pieces. Not all pieces have to be worth something to be valuable, many of the Trifari pieces are just stunning and fun to collect!
To learn more about Collecting Vintage Vintage Trifari Jewelry…
RECOMMENDED READING
The Napier Co.: Defining 20th Century American Costume Jewelry by Melinda L. Lewis
The Story of TRIFARI by Maureen Brodsky