When trying to determine how to properly label an item, you must first determine how to categorize them. We cover the difference between antiques, vintage items and collectibles in more detail in our article What Makes Something Antique, Collectible or Vintage. In this article we will be going over how best to "label" and define the "type" of vintage items you have.
What Makes an Item Vintage
Vintage was once used to define pieces from the 1960's and 70's. Today, it is now used to describe anything that has come back into fashion and is over 20-25 years old. This means that anything from the mid to late 1990's and earlier, can theoretically be labeled as vintage, so long as it is between 20-99 years old. The term retro was also used to describe items from the 1950's.
You may even find the term classic being used in place of vintage. This mainly occurs for high end collectibles such as cars, motorcycles and machinery. Again this is only semantics
How to Determine What Labels to Use
Just like so many other terms that are used these days, vintage and retro are now interchangeable. This has no impact of the value of these products mind you, they are simply used more for marketing purposes. The truth is, that sometimes vintage sounds better when describing one particular item, and other times retro works better for other items. So it all comes down to what you are selling, and who your targeted market is.
Something important to be remembered, is that if you have a reproduction that was made more recently, do not try to pass it off as an original. Clearly define all reproductions as being stylized on, or modeled after that particular time period, or its art style.
For authentic vintage/retro items, label them according to their time period, and/or art style. For example:
Vintage 1980's Shappy Chic Furniture
Vintage 1960's Pop Culture Posters
Classic 1970 Ford Mustang Mach 1
Retro 1990's Hip Hop Clothing
Retro 1950's Furniture
How to Put Price Tags on Your Vintage Items
Regardless of if you are selling items online, at a flee market, or in a brick and mortar store, preserving and presenting the item are equally important. You will want to make sure that the items are not damaged by the way you either store or display them. Nor do you want to be attaching a price tag that could damage them either.
Price tags can come in many forms, from stickers to physical tags that can be attached to things. Whichever price tag you use, you would want to avoid attaching them directly to an item, as this could damage them lowering their value.
For things like cards and comics, placing the items inside a protective sleeve will allow you to attach a price sticker to the sleeve itself. Clothing can be harder as stickers could stain the fabric and attaching a price tag could damage the material. If the garment has a garment label located on the inside, you could pin or attach a tag to it. If no label is present or the material is too fine, you will want to attach the price to the display it is sitting in, or the hanger that it is hung upon.
For larger items like furniture, or things like toys and dinnerware; try using a display card. By placing one on top or besides the item, you will be able to avoid any needless damage.
You may even be temped to tie a price tag to your items. This should be avoided as the string, wire or rope that would be used, could cut into them or friction could leave a mark on their surface.
Tagging and Titling Your Vintage Items for Sale Online
You may be tempted to use as many # tags and descriptors in the title as possible to make your item(s) stand out. Just be aware that less is more. Over saturating your item(s) with trivial information can actually have the opposite effect, and either cause it to rank lower, or be viewed with skepticism. Keep your tags and titles clear and concise, using only key words and relevant information.
Choosing the right title for your item is very crucial. Just like with using the right tags, you need to make sure that you clearly define what your item is, when it was made, and convey any other vital details.
An example of this would be – "1938 Action Comics No.7."
As you can see by the title of the item, the time period/era is defined as 1930's, the brand and type of product is given by Action Comics, and finally the No 7 tells readers which issue this comic is.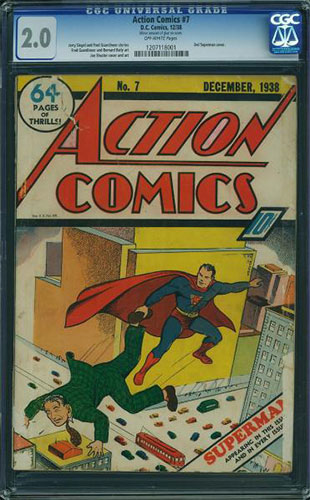 Even though this was the second time Superman appeared on the cover of an Action Comic, you do not need to state as much in the title. Put all descriptions and relevant details for the item in the description section, not in the title.
Using the correct type of tags is also important. Here are example of the important tags that will help to better identify your item(s):
The year/era the item is from (1930's-1990's). The above example would use #1938.
The type of item (Gown, Jersey, Action Figure, Furniture). The above example would use #Comic Book, #Superman Comic, and #Action Comics
Any specific identifiers for the item (issue number, model type ). The above example would use #No. 7.
As you can see in the above examples, the important key phrases and words are used, something similar would also be done for toys and action figures. If this was an article of clothing, or a piece of furniture, additional descriptors may be needed.
This is where secondary tags will help to define your item(s) even more. The important tags have already helped the search algorithm to find and identified your vintage items. To stand out even further from the rest, try including specific identifiers, such as the following examples:
A good example of this would be a "1994 Nike Air Jorden III." As we can see, the era is 1994, they are a pair Nike shoes, and are Air Jordens model number III.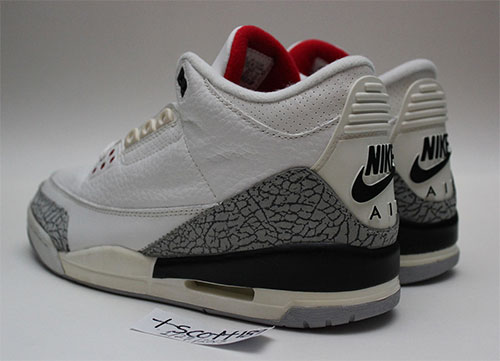 This would be good for someone looking for a general pair of these shoes. But we are searching for a specific pair. We want a pair of "Size 12, White/Cement Gray 1994 Nike Air Jorden III" which is exactly what you have.
Though a title like this would be great for our search, it is far too long for someone not being as specific. This means that in order for your shoes to rank higher in our search results, you will need to use the following # tags:
A good search algorithm will match our specific search requirements with both your title, and your # tags. If you were to include filler tags, the algorithm may consider your listing to be less like our requests and could put you lower on the list of search results.
So be specific about your details, and include only relevant information. Trivial details such as a single owner, bought off a charity, or the perceived personality of the item (fun and bubble garment, light and airy) should be reserved for the description block, and not included in the title or # tags.
Conclusion
We hope this article is able to help you to better define and label your vintage items. Buying and selling of collectible items is a very subjective thing. You may be able to easily find like mind individuals with similar tastes and interests. Should you have trouble in moving your vintage items, consider the title you are using. Remember the terms classic and retro can be more appealing to some people than vintage with regards to different types of items. Keep your # tags clean, concise and relevant to your vintage items and you should be easier to find in search results.