There are many terms used in the antique industry. In this article I have defined 25 commonly used antique terms. Knowing these terms can help any collector understand the antique industry a little better.
Antique Terms:
1. Alabaster: A fine grained stone that is usually gray or white in color and is slightly translucent. This is used a lot in lamp shades.
2. Armoire: A large, often ornate cabinet or cupboard with shelving, which stands alone.
3. Art Deco: Named after an exposition held in Paris in 1927. Art Deco items are angular with simple lines. The art deco period was during the 1930's. This style is currently making a strong come back amongst collectors.
4. Art Nouveau: The French term for new art, stared in the 1890s and continued into the 1930's. Characterized by stylized natural forms and sinuous outlines. Using such objects as leaves, vines and flowers.
5. Backstamp: In pottery, china and porcelain backstamps are the identifying mark, name stamp, or signature of a manufacture. This is normally found on the underside of the piece. The backstamp may be stamped, decaled, or cut (incised) into the piece.
6. Buffet: A 16th-century serving or side table, frequently with two or three tiers.  In the late 17th and 18th-centuries buffets had cupboards beneath the serving surface and an elaborate superstructure above.
7. Cabriole: A leg with a double curve. piece of furniture shaped in two curves; the upper arc is convex, while lower is concave; the upper curve always bows outward, while the lower curve bows inward. The axes of the two curves must lie within the same plane
8. Champlevé: This is a technique for enameling a decoration , this is where the metal base is channeled or cut out to receive the enamel.
9. Cloisonné: This is a style and technique used to apply enamel on metal objects.
10. Credenza: An early Italian serving table or sideboard with canted corners. A credenza usually has two or three cupboards in the base and drawers in the frieze.
11. Cross banding: This is where a strip or band of veneer laid across the wood grain.
12. Gilding: The methods for gilding wood has  remained unchanged. The main techniques are still in current use today:
Water Gilding is when gold leaf is applied using water as the agent to cause the gold to 'stick' to the gesso, some of the gilding is then burnished.
Oil Gilding is the application of fine sheets of gold leaf on to a surface with an oil size.  This is a longer lasting process but is less lustrous.
Gilt-metal and gilded metal are achieved by fire-gilding (also known as mercury gilding), when an amalgam of mercury is applied to the metal to be gilded, which fuses when heated.
13. Hallmark: A hallmark is an official mark or series of marks applied (Usually stamped) to items made of precious metals — platinum, gold, silver and in some nations, palladium. The term hallmark can also refer to any distinguishing characteristic or trait.
14. Inlay: Is a technique used with furniture and ceramics. This is where part of a surface is removed and replaced with a contrasting material.
15. Louis XIII: Pertaining to the styles in France 1610-1643.
16. Louis XIV: Pertaining to the styles in France 1660-1710.
17. Louis XV: Pertaining to the styles in France 1715-1774.
18. Louis XVI: Pertaining to the styles in France 1774-1792.
19. Marquetry: Is inlaid veneers that are fitted together to form a design or picture that is then used to ornament furniture
20. Parquetry: Is inlaid veneers that are fitted together to form a geometrical pattern.
21. Quartering / Quarter Veneer: This is where veneer is cut and laid in four pieces, usually with grain at right angles. This is frequently found on early English pieces from the end of the 17th century.
22. Queen Anne Style: Was from 1720-1750. This style brought abrupt changes in the furniture world. It was simple with grace, less bulky and blocky, curved started to appear, pad feet and the famous cabriole leg was introduced. Secret drawers where introduced the highboys had domed bonnets. The hardware used was larger bail pulls with escutcheons. Woods for this period were walnut, cherry and maple.
23. Sconce: A decorative wall bracket for candles or electric lights.
24. Vernis Martin: Is a term used to describe a special varnishing technique perfected by the Brothers Martin in the 1730's.
25. William and Mary: Was from 1690-1720. This style was influenced by the Dutch. This time period lead to roll ball syndrome with fat wooden balls on everything they could put them on. This was when gate leg tables, the first high chest, slant top, and upholstered easy chairs where introduced. The William and Mary style used burled veneers (fancy grained wood like burled walnut). They also had tear drop pulls Spanish feet, and were mainly made of walnut.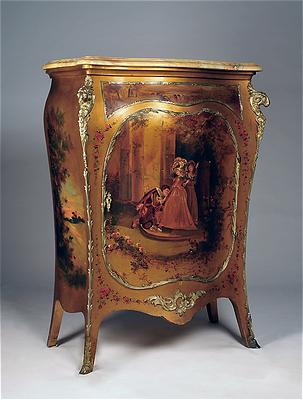 This is just a short list of the many terms used in the antique industry. I hope these terms help you in your hunt for antiques and collectibles. If you have an antique term you would like to share please leave it in the comment section below.