One of the best ways to determine if your rocking chair is an antique, a reproduction or a replica. Is to not just looking at its design, but to also by look at the materials it is made from, and the techniques used in its construction. This approach can be used to determine the age of many types of furniture.
Considering the Timber Used
The type of wood used can narrow down the time period and origin of a particular item of furniture. Many forms of timber have been used to make furniture over the years, with certain types coming into, and falling out of popularity at notable periods in history. Regionally produced pieces were also heavily influenced by what was locally available at the time of production, with some timbers becoming a popular trade commodity. Only using timber on its own to determine the age of a piece of furniture is not a reliable method.
Wood Types Used in Antique Furniture
Walnut – 1700's
Mahogany – 1700's then again in the late 1800's
Oak – early 1700's then again in the early 1900's
Rosewood – late 1800's
Cherry Wood – early 1800's
Maple Wood – early 1800's
There would be times in which the use of woods would overlap as the trends changed, as one would rise in desirability while the other's would fade out over time.
Today the type of timber used in the production of an antique furniture piece can have an impact on its value, with both the visual appeal of the timber and its rarity affecting how much people are willing to pay for it.
Style and Design
There are specific models that were produced by either a famous craftsman or a company, that are popular enough today, that enthusiast are able to easily determine the time period for that particular design. To try and determine the time period of a lesser known manufacture's design. We can have a look at what was trending in the manufactures region over the years.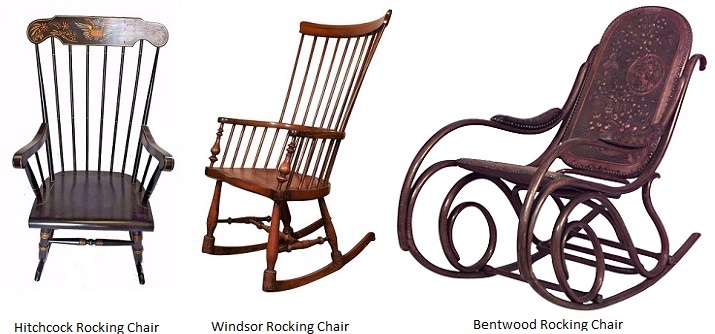 Antique Rocking Chair Styles
The following are three examples of rocking chairs from different parts of the world.
American Style Rocking Chairs
An example of an American style rocking chair is the Hitchcock chair. This chair may have the following characteristics, many of which where used in different types of American rocking chairs crafted in the 1780's to early 1800's.
Lightweight
Straight Lined Body
Low Relief Carvings
Inlaid Details (Usually found on the more expensive chairs)
In the early 1700's rocking chairs made of wicker were very popular in America.
English Style Rocking Chairs
An example of an English or Victorian style rocking chair is the Windsor. Taking inspiration from the earlier American styles, this chair has a more elegant and dainty design. First crafted in the 1720's, locally sold pieces were left unfinished or waxed. While pieces sold in America were often painted.
Lightweight – Medium weight
Curvilinear Body (Curvy Design)
High Relief Carvings
Germany Styled Rocking Chairs
The first successfully functional bentwood design was made by German craftsman Michael Thonet in 1860.
Heavyweight
Bentwood Rocking Feet
Sides Made as One Piece
Armrest Pads
These three types of rocking chairs are pictured above.
To read more about antique furniture styles see the following article.
Hand Crafted Vs Machine Produced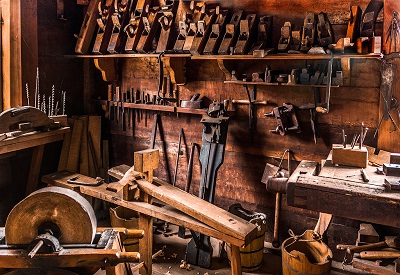 Handcrafted furniture has subtle imperfections and markings when compared to the more modern, machine produced furniture. Tools that were sharpened by hand did not have as straight an edge as tools produced today. This would mean that when a length of wood was planed by hand, there would often be either a slightly uneven surface or a drag mark could have been left behind following the planing of the wood. Other tools that required elbow grease and skill to produce finely crafted furniture such as a hand chisel or a file, may have also left their mark in the form of nicks and cuts. These marks would be more evident on the underside of rocking chairs that were made prior to the mid to late 1800's.
Mirrored or matching elements such as arm rests, spindles or rocking feet, may have slight differences in their shape or size. Hand crafted parts that were made prior to 1860 were prone to having slight differences from one another. This could have been due to different craftsmen of varying skill, making the same part. Or human error as trying to make the exact same part over and over by hand, will inevitably result in some slight variations.
Hand Saws –  Hand saws where used before the circular saw was invented. These saws would leave jagged marks, imperfections and straight line cuts were harder to make over long distances. Furniture made with these saws tend to have minor imperfection that you don't see as much in modern rocking chairs.
Circular Saws –  Weren't prevalent until the mid 1800's, so timber that was cut with a circular saw in the mid to late 1800's would have a circular, ring like pattern left behind.
Joints
As most hand tools were replaced with machinery in the mid 1800's, carpenters also changed the way they assembled furniture. Joints were once, though arguably still are, the most important deciding factor for quality built furniture. Using the correct joint is what gives furniture its strength and allows them it to take the shapes and sizes that we see today.
True antique furniture was made using nothing more then glue, force and occasionally pegs to hold the parts together. Carefully designed joints such as the humble Dovetail, and the Mortise and Tenon joints, were among some of the first forms of joints to be made using hand tools. There is a notable visual difference between a clean cut machine made joint and a rougher looking hand made joint.
One joint to be wary of is the cheaply made Doweled Butt Joint. Some poorly done restorations may use the dowel joint, so if you are aware of repairs/restorations having been performed on a piece you are considering. It is advised that if a dowel joint is suspected to have been used, to either avoid acquiring the piece or to negotiate the price down to factor in the cost of a correct restoration. Dowel joints are a weak and vastly inferior joint that should be avoided.
Do some research into the types of joints that were used for the time period and style that you are seeking to acquire. If the correct joints are present but look too clean cut and precise for the time period. Then there may be a change that piece is not an original.
Screws, Nails, Nuts and Bolts
Some older antique furniture can be found with nails or screws holding some if not all of its pieces together. Wood was much cheaper and easier for a carpenter to use then metal nails, so most furniture had wooden pegs of varying shapes and sizes (square, round, triangular) in lieu of metal nails and screws.
Here are some examples of the types of metal nails and screws:
First Hand Made Nails – Produced by blacksmiths these were squared in shape, not round like modern day nails. They were blunt at the tip, and each one had a unique misshaped head. Some of these nails may have been made without heads in order to drive them beneath the wood.
Hand Crafted Screws – During the 1700's, blacksmiths would heat up a square nail and pound it into a rounder shape. Grooves or barbs would be added along its surface. No two screws were the same and their shapes were so crude, that their use was limited.
Partially Machined Screws – These were made prior to the mid 1800's. These screws were given a more evenly spaced threading and their size and shapes were more consistent. All of these screws required the groove on their heads to be hand cut with a hacksaw to provide the perch needed for the screwdrivers to grip.
Machine Produced Nails and Screws – From in the mid 1800's to present date, nails and screws are fully machine made. There is little difference between these earlier nails and screws and more modern ones, with the materials and finishes of today's products being the biggest difference.
With the development of better tooling, the last 70-80 years has seen the introduction of modern fasteners such as the hex nuts and philips-head screws. The presence of these modern fasteners could be instant indicators of a piece being a reproduction, replica or poorly done restoration.
When inspecting a rocking chair that may have been made using screws and nails. Look for nails with the unique and uneven heads and manual cuts that were needed on the earlier screws, to help determine the time period.
Finishes
When a craftsman completed their work, they could have chosen to leave it unfinished (raw exposed timber), or seal the wood with a finish such as a wax or varnish. The type of finish was influenced by current trends, and the timber used in the production of the furniture. As mentioned above, the Windsor rocking chairs had two finishes for the same model. The chairs sold in Europe were left unfinished, while the chairs sold in America were painted. This means that the finish used on the piece could help to narrow down the time period a rocking chair is from, or the region that it was sold in.
Types of Finishes:
Here are some of the finishes that can be found on antique rocking chairs
Unfinished – The craftsman would smooth out the raw timber to remove any rough edges and with the passage of time, the timber would become warn and polished with stains from years of use and wearing down.
Oil and Wax – Similar to candle wax and soaps. Craftsmen would use an oil/wax made from natural ingredients derived from, tallow (animal fat), bees wax, paraffin wax (coal and oil shale), and plant residue to stain and seal the timber, helping to protect it from moisture and unwanted staining.
Shellac – Made from amber flakes that were produced by the Lac Beetle. Craftsmen would dissolve the flacks in alcohol before brushing the solution over the timber. The wood would absorb the shellac sealing its surface as the pores would fill and the solution hardened.
Varnish – A clear and transparent solution that would harden as it dried. Varnish was not used on rocking chairs until the mid 1800's.
Lacquer – Imported from China in the mid 1800's, craftsmen would use a solution made from the resin produced by the Chinese Toxicodendron Vernicifluum tree.
Paint – Paints are among the some easiest forms of finish to determine the time period an antique piece may be from. Using either water or oil as its base, paints get their colors from the pigments and compounds that have been mixed into them. Different time periods and regions, used different compounds to produce the paints that were used on some antique furniture.
Upholstery
When it comes to restorations, upholstery tends to be one of the most expected and accepted restorations that can be found on most antique furniture. Most antique furniture will need to be reupholstered at some point during its life. This could be due to wear and tear, damage or environmental conditions.
While it can be difficult to get the exact same original fabrics, most collectors will accept the same type of fabric being used for the restoration of a rocking chair. The thing to remember is that if velvet was originally used, then a similar shade of velvet should be used when reupholstering the chair. The same is to be considered with regards to patterns and padding.
While a restored rocking chair may have a more recently made fabric used to restore it to its former glory, it should also use the same style and original fittings where possible. If the chairs backing was tufted, then so to should the restored chairs backing be tufted.
Here are some questions to ask yourself when looking at a faithful restoration.
Material – Was the rocking chair originally made using fabrics or leather?
Detail – Were there patterns, branding or stitching used in the designs?
Fitting – Was the upholstery originally glued, pinned with studs or staples, or sown or inlaid into the chair?
Color and Shade – Does the new fabric's color and shade come close to the originals?
Original Fixtures – If the fabric was originally tufted with buttons, are the original buttons still present? If the upholstery was pinned in place, are the original stubs, brass brads, or tacks still being used?
Consider these basic questions and you may just find yourself a real steel. Some rocking chairs can be found in good condition, but the previous owners had reupholstered the chair with the wrong fabrics. This could be as simple as the wrong color was chosen to suit their home, or a child friendly pattern chosen like Thomas the Tank. This can be easily fixed by replacing the upholstery with fabrics that are close to the original in color and pattern, vastly increasing its value.
Considering All You Know
Always do your research and ask for independent advice for things you are not familiar with. Get to know the styles and designs of the pieces you are looking at. If you have the skills to restore antique furniture you may be able to restore any poorly restored rocking chairs you may find. Remember to factor in the cost of any possible restorations into the negotiation price, and be prepared to walk away if the price is too high for the condition it may be in, or if parts are missing.