Christmas is fast approaching and about this time I start getting a lot of emails asking what to get an antique lover for Christmas. In this article I have listed 11 present ideas that antique lovers would love to get for Christmas.
Antique Christmas Preset Ideas
1. Antique Wine Accessories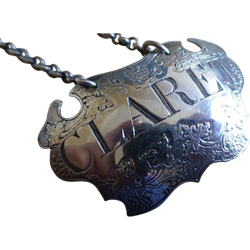 Antique wine accessories are one of the hottest trends right now.
Here are some examples of antique wine accessories:
Wine pitchers
Glass wine decanters
Wine glasses
Wine case
Wine bottle coasters
Bottle openers/corkscrews
Wine stoppers
Wine bottle labels (silver)
Antique/vintage wine bottles
2. Man-tiques
Man-tiques are all the rage right now. It is one of the newest trends in antiques and collectibles. Man-tiques are all about the guy and all things guys love.
Man-tique example:
Advertising signs

Gas companies
Car makers
Coca-cola
Alcohol companies

Old fishing rods and accessories
Pin-up calendars
Tools
Toys
Industrial antiques
Anything manly
3. Home Decor
Something nice for the home is always a great present.
Here are some home decor gift ideas:
Sliver home decor items

Picture frames
Ashtrays
Lighters
Boxes
Photo albums
Candle holders

Artwork
Nick-nacks
4. Office Items
An antique office accessory can be perfect gift for any antique lover.
Office gift ideas:
Paper weights
Pen and pencil sets
Letter openers
Ink wells
Desk sets
Leather bound books
5. Kitchen Decor
Adding a little special touch to anyone's kitchen is a good gift idea.
Dishes

Candy dishes
Serving ware
Dinnerware sets
Glassware

Salt and pepper shakers
Silverware
Canisters
Kitchen Small-wares
6. Tea Accessories
Any antique lover would love any of these gift ideas.
Tea pots
Tea Accessories

Tea strainers
Tea spoons
Tea bag rests
Tea cozies

Tea Cups
7. Coffee Accessories
Coffee accessories are perfect for any Coffee lover who is passionate about antiques.
Coffee pots

Plungers
Siphons
Stove tops
Drips

Coffee mugs and cups
Coffee accessories
8. Beer Steins
German Beer steins are always popular gifts.
The following German Beer stein makers are the most desired.
Mettlach
Reinhold Hanke
Albert Jacob Thewal
Villeroy and Boch
Smion Peter Gertz
Marzi and Remy
9. Sewing Accessories
Being crafty and doing DYI projects has become a very popular hobby. Some antique sewing accessories can be the perfect present for the crafty antique collector.
Sewing accessory gift ideas:
Sewing Machines (make sure they are in good working condition)
Sewing boxes
Pin cushions
Buttons
Seam rippers
Needle threaders
Oddities
Sewing hoops
10. Antique Jewelry
We all love jewelry and nothing says how special someone is to you than a nice piece of antique jewelry. Antique jewelry can be unique and one of a kind. You can find some really interesting types of jewelry along with all the common pieces.
Here are some examples of unique antique jewelry:
Tiaras
Functional jewelry

Pendents with useful items hidden in them
Watch brooches
Some of the most sought after period pieces are from the:
Edwardian Period
Art Nouveau Period
Art Deco Period
11. Christmas Decor
Adding a special item to anyone's Christmas decor is a special gift.
Christmas decor gift ideas:
Christmas ornaments
Christmas tree skirts
Porcelain Christmas statues
Christmas candle holders
Vintage Christmas cards
Any antique lover would love a well thought out antique Christmas present. A few things to remember when picking out your present. Do some research and make sure you are buying genuine antiques. With so many reproductions on the market, it is important to do your research.