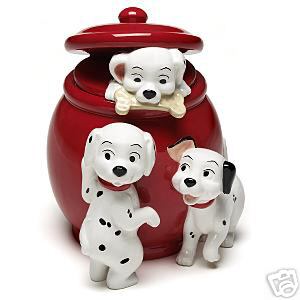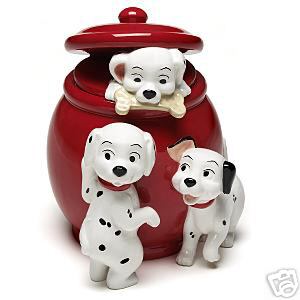 Cookie jars like cookbooks offer endless variety. The plain 1930s era stoneware jars were ultimately replaced by figures of every type like fruits including a pineapple, hippos, lions, cartoon characters,  bears, windmills, houses, clowns, angels, leprechauns, barns, shapes and just about anything else you could picture.
The initial figural cookie jars were decorated over their glaze with a cold paint, but by the 1940s an under glaze decorating technique was developed that produced bright, permanent colors.

In the early-1950s the Fiedler and Fiedler Company in Dayton, Ohio created the Aunt Jemima line for Quaker Oats, the parent company of Aunt Jemima pancakes. The memorable image of Aunt Jemima first emerged as a sketch on a tablecloth over lunch, drawn by a Quaker Oats representative. The Mammy cookie jars along with syrup pitchers, salt and peppers, creamer and sugars, and other items. Production of the items continued until the 1960s when the line was discontinued because of racial controversy.
Ironically, Aunt Jemima has risen to be one of the heroines of the black collectibles movement. Some of the biggest collectors are celebrities like Bill Cosby, Oprah Winfrey, and Whoopi Goldberg whose mantel is reportedly lined with Mammy figurines.
When Andy Warhol's now famous cookie jar collection sold at Sotheby's in 1988 for over $247,000, (estimated to bring less than $7,000) this made the collecting world take  a second look at cookie jars.
Are cookie jars really that valuable? Or, is it who owns them?
For most of us, cookie jars are simply a remnant of the past steeped in reminiscence. That nostalgia fuels collectors to keep their bidding cards in the air all over the country at auction. Plus, cookie jars are fun. They're the kind of collectible everybody can discover and afford.
Cookie jar collectors are always looking for a vintage cookie jars in good condition. But because pottery is fragile there are fewer available.
Age and condition like most antiques are the critical factors in valuing cookie jars, and reproductions are plentiful. Making a mold from the original product is easy. But, the reproductions are usually smaller and of lesser quality weight-wise than the original.
Some say they look just as good on a shelf, and the choice is endless. Sometimes new cookie jars will be labeled as re-issues or commemoratives.
Always remember when buying any antique to do your research first. Once you buy something at auction you own it.