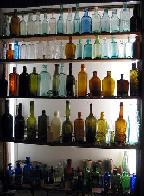 Some of the most desirable bottles were made between 1810 and 1910. Before 1810, few bottles were produced in this country. After 1910, most were machine made. The bottle-making world experienced a revolution in 1903 when the automatic bottle-machine appeared. Within 10-years, the glassblower's touch became a thing of the past in glass houses.
The artistry also disappeared, and that's why later bottles are of less significance to collectors now (unless they have unusual characteristics like some of the poison bottles).
You can buy old bottles in shops and at auction, but much of the fun for collectors comes from finding them in barns, or digging them up. City dwellers sometimes hunt for bottles in a corner of the backyard where the outhouse once sat. This is one area of collecting where a little bit of imagination and digging can result in some attractive finds.
Collectors tend to specialize. Some collect ink and milk bottles, historical flasks, or fruit jars. Others look for barber, whiskey, drug store, and soda bottles.
Historical flasks are one of the oldest categories. They were produced in the mid-1800's, usually contained alcohol, and sometimes were embossed with famous men or events. They were not simply advertising pieces. Many were distributed among potential voters at election time in hopes that a little "nip" might persuade them to vote the right way.
George Washington is a popular flask reproduced today and sometimes mistaken for a vintage piece. Old medicine bottles display the product and manufacturer's name. Prior to the existence of the Food and Drug Administration in 1906, many were 90-proof alcohols, and promised to cure everything from nervousness to kidney failure.
Most are aqua in color, and collectors want the original labels intact. Other factors in valuing antique glassware are age, embossing, color, condition.