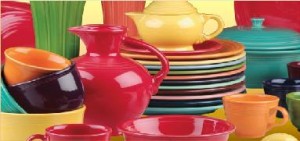 Homer Laughlin introduced Fiestaware in January 1936 at the Pottery and Glass Show in Pittsburgh. By the 1940s, 2,500 workers were cranking out 30 million pieces a year.
The streamlined, modernistic dinnerware initially came in five colors: red, dark blue, yellow, light green and ivory. Colors changed like the leaves in fall. Turquoise was added in 1937.
Red was discontinued in 1943 and then resurfaced in 1959. By 1951, light green, cobalt and ivory were replaced by the Fiesta '50s colors of forest green, gray, rose and chartreuse. The eleventh and last color, medium-green appeared in 1959.
Red was the only original color to remain in production. The entire Fiestaware line was eventually restyled in 1969. The bright colors are a unique feature of Fiesta as well as the ringed design; a band of six concentric rings close to the rim of each piece. Most pieces larger than saltshakers and cups are marked and because it was so common, the vintage pieces are not so difficult to find.
Fiesta is still being made today but collectors look for the original production pieces identified by marks. Three were used: "Fiesta/HLC USA", "HLC/Fiesta/Made in USA", and "Fiesta/Made in USA/HL Co.". Fiesta has been extensively copied and since about 1940 the company also used the mark "Genuine".
Value depends on the color, condition, age and type of item. The medium-green production line was brief and is highly prized because it's not easy to find. Red, dark blue and ivory are also highly collectable.
Color also helps establish age. If you know when a particular color was made, the age becomes apparent.
Popular pieces include 10-to-12 inch flower vases, teapots, footed dishes and syrup pitchers. Fiestaware handles and lids chipped easily so discovering pieces in mint condition can take some hunting. A teacup with its handle intact is a valued object. A carafe can be tough to find because not many were produced.
Fiestaware came bring a touch of color and fun to any event. Making every meal a fiesta.