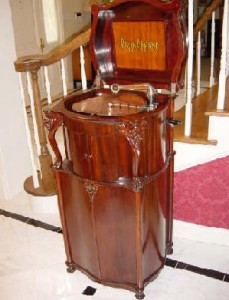 To people around the world Regina is synonymous with the term music box. With 80% to 90% of the American market for disc-type music boxes. Regina enjoyed the golden age of the disc instruments-an era which for Regina lasted from about 1894 to World War I although instruments were shipped as late as 1921.
There are various Regina automatic musical instruments. I will cover just a few types of Regina music boxes in this article.
The Reginaphone style 240 is both a music box and phonograph in one. The Reginaphone was offered in mahogany highly finished and polished case with two lion heads one on each side for the front of the case. The lower part of the cabinet was adapted to hold Regina discs and talking machine records. The outside dimensions are 48 ½ x 22 ¼ x 20. This was the best seller among the 200-series (inside horn) Reginaphones.
The Regina 15 ½ automatic changer introduced in 1899 was made in several case variations. Some of these variations had clocks, art glass fronts, clear glass fronts, and spiral columns on the sides of the front doors. All these were sold as the Regina Corona style 35. The Regina automatic changer also came in a 27.
Regina made tabletop style music boxes in many case, style and size variations. They even had desks with music boxes build into them.
Regina made a line of hall clocks with music boxes inside them. When the clock would strike the full hour the music box would play immediately afterwards. The music box could also be played at anytime independently.
There are many types, styles and case variations offered by Regina. Far too many to cover in one article. This and many other reasons like quality amount of music offered on there music box discs and case work put Regina at the top of the list for music box makers of the era. There is much debate over which music box maker has the best quality sound but it can be said about the Regina music box is to have a sound of it own and a timeless place in the history of mechanical musical instruments.