Vintage cookbooks have become highly desirable in the book collecting world. Maybe you are a professional chef, a home cooking enthusiast or just want to join the recent surge of nostalgia for old recipes. Many of these cookbooks catered to, and published for, home cooks whose kitchens did not yet have the luxuries we know today, such as electricity, microwaves, and modern refrigeration.
As many modern-day recipes move to online formats, if you love turning the pages of a physical book, now is the time to start seeking out vintage cookbooks.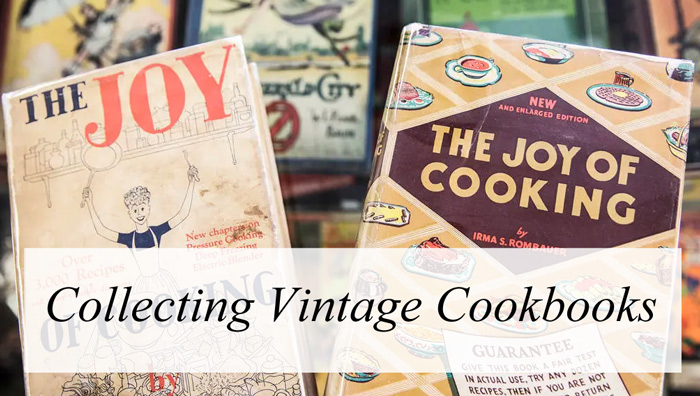 In this post, A Guide to Collecting Vintage Cookbooks, I'll show you some of the most collectible cookbooks and offer a few tips on what to look for.
---
Why are vintage cookbooks important?
The recipes in vintage cookbooks are a historical reminder of long-forgotten dishes, ingredients and cooking methods. Many vintage cookbooks will have handwritten tips or techniques or indications of how to better the recipe. These handwritten tips, cannot be found when searching online recipes.
Vintage cookbooks hold history. They are a wealth of information passed from one generation to another.
---
The History of Cookbooks
According to Abe Books, the American cookbook genre truly began in the 1700s with these two titles – The Compleat Housewife by William Parks (1742) and American Cookery by Amelia Simmons (1796).
The Compleat Housewife was derived from an English book, while American Cookery – which is still in print today – features recipes using solely American produce.
Many of the earliest cookbooks were only designed for the wealthiest of people such as Kings and Queens although during the mid-1800s, marketing only to the wealthy was no longer viable and a book titled Plain Cookery for the Working Class lead the way for many household cookbooks. If you delve into the world of vintage cookbooks, you will see for yourself the evolution of history through food. Techniques changed, and manual labor lessened. While originally cookbooks were only marketed towards women (housewives), men eventually also became a target audience for cookbooks during the second half of the 1900s.
Out of print titles
In the 1950s and 1960s, countless cookbooks were hitting the bookshelves, most of which are now out-of-print. There were titles written by very famous TV chefs like Julia Child, while others were produced by food and appliance manufacturers to help market their products. Finding a cookbook that is no longer printed is much like finding gold literature.
---
Styles of vintage cookbooks
Vintage cookbooks come in all shapes, sizes and genres but not all cookbooks are as collectible. In your search you may encounter any of the following:
Spiral Bound Books – Many community organizations self-published their own cookbooks, and these are often made out of card stock and are spiral bound.
Hardcover – First editions of vintage cookbooks were mostly published in hardcover and are always the most valuable.
Paperback – Although not as desirable as hardcover editions, paperback cookbooks hold their own charm.
Pamphlets – Vintage recipes were sometimes bound in small collections of pamphlets.
---
What are Vintage Cookbooks Worth in Today's Market?
Abe Books reports that cookbooks from the 1700s to 1850s can command four-figure prices, but anyone interested in starting a collection can easily target the 1950's and 1960's – when America's cooking culture truly exploded onto the scene – without breaking the bank. By targeting these decades, collectible cookbooks can be snapped up for $50 or less.
Here are some of our personal, classic favorites for the beginning collector:
Betty Crocker's Picture Cookbook in good condition runs around $45. First published in 1961 by General Mills. It features a pink, yellow, white, and blue cover and if you can find the first edition can range from $75 or so.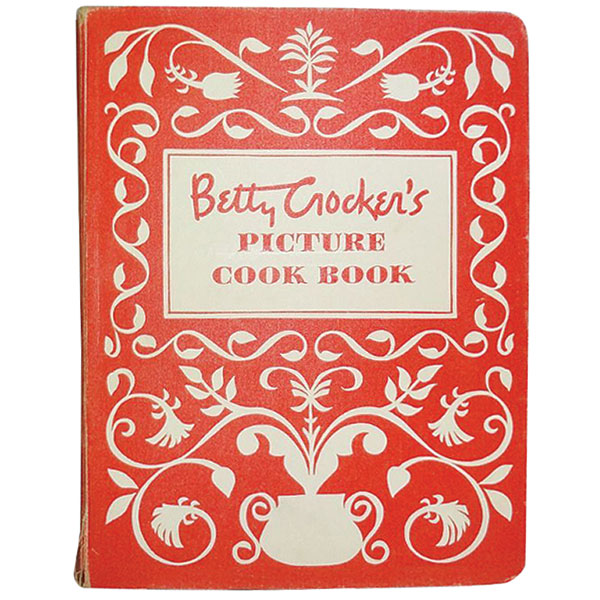 The Joy of Cooking by Irma Rombauer and Marion Rombauer Becker was considered to be the "bible of American cooking". The 1936 "First Edition" which is not the true First but First Bobs-Merrill edition is valued at around $50. Over $500 for this 1931 First Edition of which only 3,000 copies were printed. The simple recipes made this one of the most popular editions of all time!
---
Assessing the Value of Vintage Cookbooks
There are a few things you'll want to look for right off the bat.
Age – the older a book, the more value a collector might find in it.
Physical Condition – the quality of the book will greatly affect its value.
Niche – this is really dependent on what a buyer is looking for.
Historical Popularity – go with what history tells you. The most historically sought after, the higher the value. Do your research.
Celebrity – Cookbooks that are written by, or feature celebrity chefs are often more valuable.
---
Top 10 Most Expensive Cookbooks Sold on AbeBooks.com
Mastering the Art of French Cooking: Volumes 1&2 by Julia Child – $7,500 First editions of both volumes of this classic cookbook, this copy was inscribed by coauthor Simone Beck "Bon Appetit to Madeline Julia Child" and also by Child "Bon Appetit Julia Child."
and the runner's up…
Les Diners de Gala / The Dali Cookbook by Salvador Dali – $5,000
Published in 1973, this beautiful book was designed and illustrated by Dali. This copy was also signed by Dali in felt tip.
Le Patissier Royal Parisien, ou Traité élémentaire et Pratique de la Pâtisserie ancienne et Moderne, de l'entremets de Sucre, des Entrées froides et des socles by Antonin Carême – $4,528
The first book written by the man credited with the creation of haute cuisine. First published in 1815, it contained 32 plates and was bound in sheepskin. This book laid the foundations for the modern kitchen.
The Art of Cookery made Plain and Easy by Hannah Glasse – $2,875
A first American edition of Glasse's classic book. First published in 1747 in England, the American edition was adapted slightly for recipes suited for Virginia's warmer climate.
Modern Cookery in All Its Branches by Eliza Acton – $2,712
Described in the book's subtitle as "Reduced to a System of Easy Practice, for the Use of Private Families., In a Series of Receipts, which have been Strictly Tested, and are Given with the Most Minute Exactness." Acton introduced the now-universal practice of listing ingredients and cooking times for recipes.
American Cookery, or, The Art of Dressing Viands by Amelia Simmons – $2,505
First published in 1796, this was the first known cookbook written by an American, and contained the first printed substitution of American cornmeal for British oats. Only four copies of the first edition are known to exist. This was a later edition.
Le Viandier de Tailevent by Guilaume Tirel – $1,950
Published in two volumes, this association copy was signed in pencil on the half-title by the famous chef and owner of El Bulli, Ferran Adrea. Tirel (1310-1395) was the cook to the Court of France around the time of the Hundred Years War and Philip VI's head chef. This book contained the first detailed description of "entremets" (a small dish, dessert or action which signals the end of a course during a meal).
Mastering the Art of French Cooking by Julia Child – $1,795
First edition presented to the Pasadena Star News at the book's launch party in Pasadena, Child's home town. Inscribed by Child and coauthor Simone Beck.
La Cuisiniere Bourgeoise by Menon – $1,751
This was an anonymous translation of Menon's La Cuisiniere Bourgeoise (the French Family Cookbook) that was originally published in 1746. This is arguably one of the most influential cookbooks in history.
The Cook's Own Book by A Boston Housekeeper (aka Mrs. N.K.N. Lee) – $1,750
This classic American cookbook was published in Boston in 1832. A complete Culinary Encyclopedia for cooking meat, fish, and fowl, and composing every kind of soup, gravy and pastry preserves.
---
How to learn More & Where to Buy Vintage Cook Books
Do a quick Google search on vintage cookbooks and there will be endless resources for you, including where to buy. Vintage and online book retailers, ETSY, eBay, Amazon…all places where you just might be able to pick up a copy of your favorite vintage cookbook!
Often yard sales and second-hand stores will have a handful of vintage cookbooks. Searching through the pile of books can sometimes see you finding a gem or two!
---