When it comes to Hummel plates, one of the most well known series for collectors, are the annual plates that were first released between 1971 and 1995, and then again between 2000 and 2004. Unbeknownst to some collectors, there are actually several plate series to collect.
In this article we will be covering the 8 main Hummel plate series that were released by Goebel. As there are several other misleading "Hummel" plate series out there, we will be providing you with the correct Hum Numbers to help you avoid confusing a genuine M.I. Hummel plate with that of a similarly named Berta Hummel plate or with other series that were licensed out to manufactures other than Goebel.
Who Produced Hummel Plates?
Genuine M.I Hummel plates were only ever produced by Goebel, beginning in 1971. Prior to Goebel acquiring exclusive rights for using Sister Maria Innocentia Hummel's art works, and before she became a nun, Sister Hummel had her earlier works published by Ars Sacra Josef Mueller Verlag under her birth name of Berta Hummel.
Collectors that are interested in all of the works inspired by Sister Hummel; will happily add these non-Goebel produced products to their collections. Yet, for those who are only interested in collecting original and genuine Hummels, these particular pieces may not be overly enticing for them.
For more information on the history of Hummel and Sister Maria Innocentia Hummel, please read our article on The History of Hummel.
How Can I Tell if I Have an Authentic Hummel Plate?
All Hummel plates produced by Goebel will have the current trademark (TMK) at the time of manufacture printed on the back of the plate in cobalt blue. The name of the plate and the series descriptor will also be printed on the back.
To help determine if the plate you are looking at is a genuine Hummel, look for the following marks:
Either Goebel's full name or the series name may be printed in a circular text design.
M.I Hummel is usually printed close to the center of the circular text.
With either the plate's name, series descriptor, or Goebel's full name printed above or below the M.I Hummel.
The full sized plates will most likely have the appropriate Goebel TMK logo and Hum Number printed beneath the circular text.
The mini-plate series will have the appropriate Goebel TMK logo and Hum number printed above or below the core center text.
See the image below for examples.

Should you find that some or most of these marks are missing, then chances are you are either looking at a reproduction, a licensed piece that was produced by another manufacture such as Danbury Mint or Arc or a similarly named brand that has access to earlier art works such as Berta Hummel.
Here are some of the examples to keep an eye out for:
---
1) Annual Plates (Hum Numbers 264-279, 283-291, and 921-925)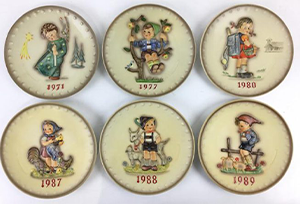 To celebrate their 100th anniversary in 1971 the W. Goebel firm produced three variations of a their first commemorative plate. The first iteration, and the rarest of the three was made for their workers. On the back of the plate along the lower rim there is a German inscription which reads:
Gewidmet Aller Mitarbeitran Im Jubilaumsjahr. Wirdanken Ihnen Fur Ihre Mitarbeit.
In English this roughly translates to:
Dedicated to all employees in the jubilee year. Thank you for your dedication and hard work.
A second version was released for sale in the United States. It had holes on the back that were used to hang the plate on the wall. These holes made the plate unsuitable for release in England at the time, as there were tariffs in place that were applied to all decorative items.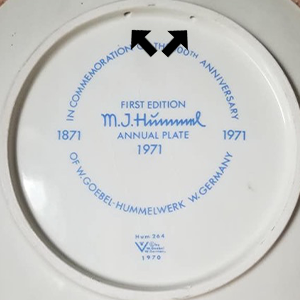 The image on the right shows the location of the holes that were present on the US version of the 1971 100th Anniversary Plate, but not on the English version.
To get around these tariffs, Goebel simply produced a third variation for release in England. By removing the holes they were able to sell and market the piece as an actual plate rather than a decorative ornament. This little change in design allowed the company to skirt around the expansive tariffs that were in place.
Despite there being three different variations they all used the same star design for their boarders. Further more, while they may have only intended to release this plate as a singular piece in commemoration of their 100th anniversary, it nevertheless proved to be so popular that they decided to release an annual plate every year from there on out.
Every year from 1971 to 1995 Goebel released a unique plate that corresponded to that particular year. In the year 2000 they would go on to release an additional five more annual plates. The final annual plate (Hum 925) was released in 2004.
---
2) Friends Forever Plate Series (Hum Numbers 292-295)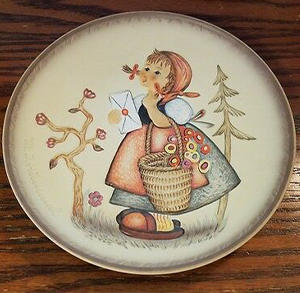 There are four unique plates that make up the Friends Forever Plate Series. They were released in 1992 to 1995 after being designed and modeled by master sculptor Gerhard Skrobek. They differ from the Annual Series, as they are slightly smaller with a 7″ diameter and have a different design for their decorative boarder.
---
3) Four Seasons Plate Series (Hum Numbers 296-299)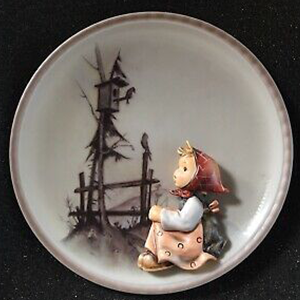 In 1996 to 1999 this four part series was designed by master sculptor Helmut Fischer and released to the public. Each plate represents one of the the four seasons, Winter, Spring, Summer, and Autumn. Unlike other plate designs the four seasons series used a bas-relief design that produced a stunning 3D effect.
---
4) Annual Christmas Plate Series (Hum Number 692-697)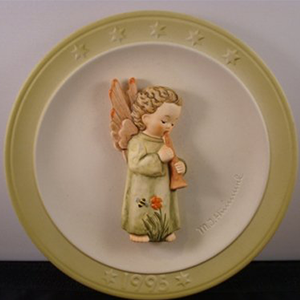 As part of their Christmas ornament range Goebel released their first Christmas plate in 1995. Unlike the standard annual plates, these Christmas plates featured raised reliefs instead of a flat featured image.
---
5) Celebration Plate Series (Hum Number 735-738)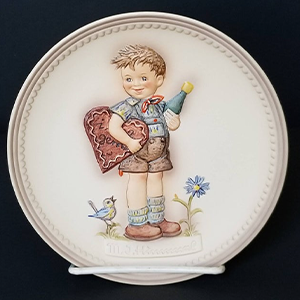 These four club members only plates were molded by master sculptor Gerhard Skrobek and were released to celebrate the 10th anniversary of the former Goebel Collectors Club, now the M.I. Hummel Club.
Beginning in 1986, one plate was released each year for four years and were only made available to club members who held a redemption card.
On the back of each of these 6.25″ plates you will find an incised "M.I. Hummel" signature, along with the inscription
EXCLUSIVELY FOR MEMBERS OF THE GOEBEL COLLECTORS' CLUB.
---
6) Little Music Makers Mini-Plate Series (Hum Numbers 741-744)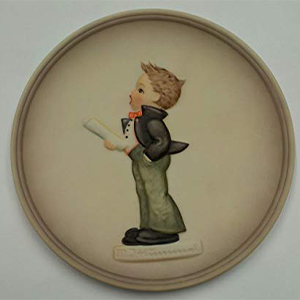 Released between 1984 and 1987, this particular four piece mini-plate series is unique in that it does not have sequentially matching mold numbers and release dates. Hum 744 was released in 1984, with Hum 741 being released in 1985, followed by Hum 743 in 1986 and then Hum 742 in 1987.
Each plate was produced with a limited production volume and were also released alongside matching figurines.
---
7) Little Homemakers Mini-Plate Series (Hum Numbers 745-748)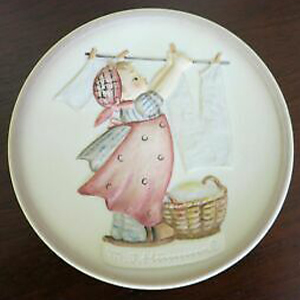 Following the success of the Little Music Makers mini-plate series, master sculptor Gerhard Skrobek designed four more additional mini-plates to complement the collection. The Little Homemakers series was also produced with a limited production volume and released alongside matching figurines.
---
8) Century Collection Miniature Plates Series (Hum Numbers 886-899)
From 1986 to 1999 a mini-plate featuring a limited edition M.I. Hummel figurine was released each year. Unlike the other plate series, this particular series also release a version in cobalt blue on a glossy white background, similar to the traditional designs that were used for decorating pottery and chinaware.
Final Thoughts
Collecting Hummel plates is no different to any other collection hobby. If you are only interested in collecting Hummel plates be mindful of plates that were produced under license by other manufactures and the inclusion of Berta alongside the Hummel name.
If it is the work of the artist that draws your attention, then it may not matter to you whether it was produced by Goebel themselves, Arc, or another manufacture. Just be aware that just because the design may have been inspired by Sister Maria Innocentia Hummel herself it doesn't guarantee that it is as desirable to other collectors as it is to you, should you wish to sell them later on.