As one of the worlds leading brands of high-quality crystal products, Swarovski has acquired its fair share of copy cats and imitators. This can make it hard for people to distinguish the difference between a genuine Swarovski, and a deliberate, or misleading imposter.
Here within this article, we will be providing you with everything you'll need to know about identifying an authentic Swarovski product, and the telltale signs of a piece that has been fabricated by another company.
After you read this article, you will be able to identify a fake Swarovski crystal piece easily. So if you are going to an auction to buy these, you will be able to spot a genuine Swarovski item and bid confidently.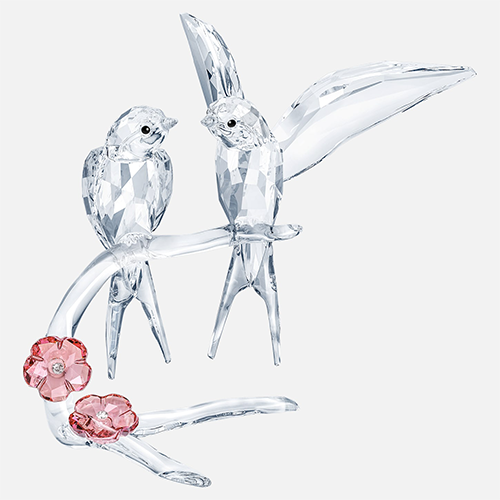 ---
Logo and Trademarks
Since 1899 right up until today, Swarovski has been using specific logos to trademark its products. These logos have been simple yet elegant in design. Each conveying such a unique meaning or imagery, that fans and collectors of Swarovski crystals can even be defined by the particular logo to which they favor.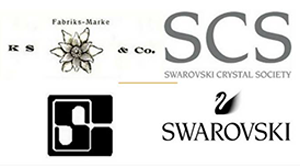 Edelweiss Flower – Between 1899 and 1988, the Swarovski company, then known as A. Kosmann, D. Swarovski & Co. or KS & Co. for short, used the flower that symbolized Austria, alpinism, and purity.
The blocked SC – From 1976 to 1988, the S within a C logo was adopted for their Square Silver Crystal range.
SCS – In 1987, the company started to use SCS, sometimes shown as sCs, as their new logo. Standing for, Swarovski Crystal Society, it can even be found on some of their crystal products still being produced to this day.
The Swan – Begining in 1989, Swarovski Crystal products adopted the now-famous Swan logo. There are a few variations of this logo that are used on different sized products. There's the fading Swan that can be seen as their main logo, and the solid detailed little swan that can be found on the underside of their collectibles.
While these may be the four more well-known designs, we are not above saying that these are the only logo designs that Swarovski has used for their trademarks over the years. You may even find yourself a genuine Swarovski product, that has no identifiable logo or trademark anywhere to be seen.
---
Quality and Clarity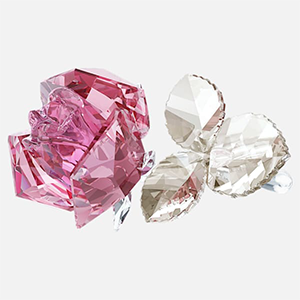 Swarovski Crystal components are regarded as being of the highest quality worldwide. Each and every crystal that is used in their products are all artificially made. By utilizing a special compound that they have developed, Swarovski is able to create the flawless glass crystal that they are so renowned for.
Clarity
This alone is a crystal clear indicator of genuine Swarovski products. Imitations are often made of a much lower-quality compounds that contain impurities. If you see bubbles, specks, or distortions within the crystal, then you my friend have an imposter. No Swarovski crystal is allowed to leave their factory containing any form of impurity. The company actually implements a strict quality control measure that removes flawed products at every stage of production.
Cuts and Facets
Every piece of Swarovski Crystal is machine cut. The process they use is so precise, that every piece they produce is uniformed and identical. Someone who has cut and polished a piece by hand, will not be able to obtain anywhere near the same scope of perfection. By taking a closer look at the lines and dimensions of a non-Swarovski piece, you may notice several imperfects. Facets not meeting at a perfect point, one side being larger than the other, angles being off, or edges not being straight, are all good indicators of a forgery or replica.
Even where shapes may vary within a design, Swarovski still manages to cut their crystals in such a way, that every facet juncture will meet at a point. No one facet will fail to meet at a perfect point with another facet, and all facets point up.
Polish
Look for fine scratches, fogginess, swirl marks, pitting, or even uneven rippling in the surfaces of the facets. If any of these are present, then you may very well not have a genuine Swarovski. Every angle of every facet has been deliberately chosen to not only emphasize the shape and characteristics of the design but to also provide as much light reflection as possible.
The techniques and methods that Swarovski using in the production of their products, allows them to achieve such a high finish that their products out sparkle their nearest competitors. In a side by side comparison of a genuine Swarovski crystal against an imitation of lesser quality, the differences are night and day.
---
Certificate of Authenticity

When a Swarovski product is sold, it is accompanied by a certificate of authenticity. This can be in the form of little booklets that contain the relevant information about the product, or a silver hologram tag. Both of these work the same way by confirming the product to be a genuine Swarovski product, and by providing the unique 16-digit identification code.
Swarovski also provides its own online verification service. Should you be unsure about a piece you have found, go to seal.crystals-from-swarovski.com, and enter the 16-digit code that you have been provided by the seller. This will allow you to see for yourself if the certificate of authenticity matches the piece that you are being offered.
---
Authorized Sellers
One of the main reasons that there are so many counterfeit Swarovski pieces available on the market these days, is primarily due to less than scrupulous businesses willfully selling imitations to the unwary.
Professional retailers who have been authorized to sell any of the Swarovski's product lines will have been issued a certificate of authenticity for them to display in-store. You can find this certificate, either hanging on their wall behind the counter or alongside their products.
A genuine retailer of Swarovski wears, will have them on display within a glass case, and in the best lighting potion possible. You will never see an authorized retailer displaying a Swarovski product on a dusty or cluttered shelf, or strung up on a piece of cord. You may find antique dealers or pawn shops doing this, but not a certified, company approved reseller.
Jewelry companies that manufacture their own designs, can also go into partnership with Swarovski. Many non-Swarovski designs actually incorporate their crystals. Jewelers who are partnered with Swarovski to produce their own designs would have been given a similar certificate.
---
Packaging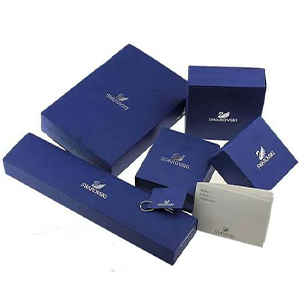 Whether you are buying brand new, or second hand, another good indicator of an authentic product, is the original Swarovski packaging. Original Swarovski packaging is a shade of deep blue, with the company name and Swan logo in silver.
Depending on the product in question, it may have come in a 2 part box, flip case, envelope, or drawstring gift bags. Newer pieces are also accompanied by a silver hologram sticker or tag, as seen below.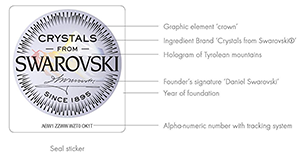 ---
Does Swarovski Re-release Lines?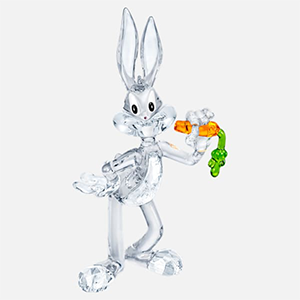 When Swarovski says that a particular piece is available for a limited time only, they are not kidding. The way that they guarantee this, is by deleting the coding that was used to manufacture their limited editions after production quota have been reached.
This means that even if they were to release another rose design in a few years' time, it can not be the same design as one that they've already produced. Each piece that they release for sale, has gone through several design processes, ranging from concept to complex calculations, and then computer rendering to program the machines to cut and polish each individual component to the appropriate size and shape.
By destroying the calculations and programs that were used during the manufacturing process, it removes their ability to simply reproduce the exact same designs again. This effectively guarantees their customers, that a limited supply of unique models, will always remain limited.
---
Final Thoughts
Unless you feel extremely comfortable with your own ability to identify a genuine Swarovski from the countless forgeries, then if a deal appears too good to be true, maybe it is.
Buying Swarovski pieces online comes with risks of its own. If you need to buy any antiques or collectible items off of an online store, only use reputable outlets.
When you are buying your Swarovski products from a traditional brick and mortar retail store, look for their retail certificate of authenticity. If they can't produce one, purchase at your own discretion.