While each year the Swarovski Crystal company produces hundreds of new and delicate items for their avid collectors, among the most popular pieces are those found within the Disney Collection. Swarovski has such a large following of customers, that their Crystal Society (SCS) is ranked the largest international pool of collectors with currently over 300, 000 members located across 125 countries. Although we'd love to take an in depth look at all of the Swarovski crystals, in this article we will be focusing on the collaboration between Swarovski and Disney.
Swarovski and Disney – A Divine Collaboration
While Swarovski didn't become a household name until the very first store front opened in 1983, the Swarovski brand was born much earlier in 1895 by Daniel Swarovski in the Austrian Alps. Daniel had many visions about how he would design pieces using the crystals he would cut using his patented electric cutting machine. He had an idea to make a 'Diamond for Everyone'. As the company grew, the crystals drew traction and celebrities across the globe such as Marilyn Monroe wore Swarovski jewelry and even outfits such as her iconic floor length Swarovski crystal dress that later sold for over a million dollars.
While Daniel Swarovski was working on crafting his crystals and branding his company, not long after in 1923, the Walt Disney Company began. The two brothers and partners of the company worked tirelessly in those early years to produce cartoons although it wasn't until the late 1920's when the company introduced Mickey Mouse that their fan base grew and so did their company. Soon after, many companies approached Walt Disney to offer money in exchange for the ability to merchandise his characters. In the years to follow, the company produced famous cartoon movies such as 'Snow White and the Seven Dwarfs', 'Pinocchio', 'Dumbo' and 'Bambi' that the Swarovski company many years later would work into small crystal figurines.
While Daniel Swarovski's long and filling life came to an end during 1956 and a decade later Walt Disney passed during 1966, the companies they had first established many years earlier had the foundations to continue on the work of both these men. The collaboration of these companies wasn't established until half a century later in 2005. Disney collectibles are loved and treasured world-wide, especially pieces produced by large companies such as Swarovski.
The First Swarovski Disney Collectibles
While Swarovski Disney Collectibles cannot yet be classed as antiques or for a matter of fact even as vintage items, in many years to come, just like our beloved Hummel figurines, we believe that certain pieces will sky rocket in price.
After the collaboration between Swarovski and Disney during 2005 it is no surprise that the first pieces produced by the company included Mickey and Minnie. Unlike many of the Swarovski Disney pieces displayed in shop windows today, the earlier pieces were crystal clear with touches of jet (black) crystal. The first Disney Swarovski pieces were labelled as part of the 'Disney Showcase Collection' which included:
Mickey Mouse
Minnie Mouse
Donald Duck
Daisy Duck
Pluto
Goofy
A plaque and a stand for the 'Disney Showcase Collection' was also sold during 2005. These Disney characters were produced up until 2008 when the design was retired and a new set of Mickey Mouse characters were produced.
Disney Showcase Collection
Mickey Mouse
Mickey Mouse was the most popular within the collection and this is reflected today as he generally sells for a higher price than the other characters. Mickey Mouse was designed by Mario Dilitz and is crafted from clear faceted crystal.
A Mickey Mouse Swarovski Crystal figurine can sell for anywhere between $200.00 to $400.00 USD depending on the condition and whether or not the original box and certificate are included.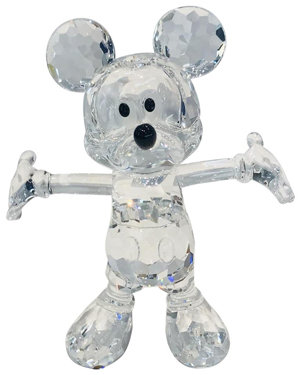 A full collection of the 'Disney Showcase' all with original boxes and the plaque can fetch an owner up to $1600.00 USD. This price is sure to increase as time goes on much like the price of any retired collection.
| | | | |
| --- | --- | --- | --- |
| Disney Showcase Collection | Height | Production | Current Value(USD) |
| Pluto | 3.5 inches | 2005 – 2008 | $100.00 – $150.00 |
| Minnie Mouse | 4.25 inches | 2005 – 2008 | $150.00 – $250.00 |
| Donald Duck | 3.75 inches | 2005 – 2008 | $150.00 – $200.00 |
| Daisy Duck | 3.8 inches | 2005 – 2008 | $150.00 – $200.00 |
| Goofy | 5.5 Inches | 2005 – 2008 | $150.00 – $200.00 |
Modern Day Disney Show Case Limited Edition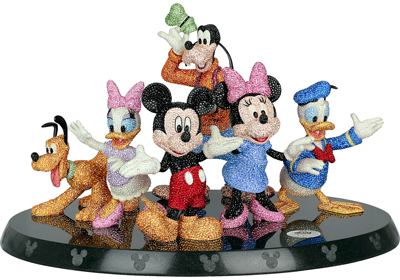 In recent times, Swarovski have released a plaque that holds all 6 of the famous Mickey Mouse and friends. Unlike the crystal clear ornaments they had previously crafted to depict some of the most famous Disney character, this ornament features tiny Swarovski crystals, over 45000 in fact that make up the color of the characters. Swarovski have only released 250 of the Mickey Mouse and Friends Limited Edition that takes up to 238 hours to craft. If you're in the market for a Disney collectible, and you have a budget for it, these collectibles won't last long.
RRP: $15,000 USD
Disney Collectibles By Year
The Winnie the Pooh Series – 2007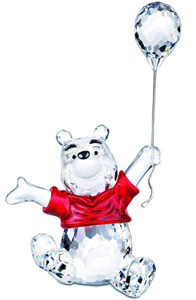 The Winnie the Pooh Series featured four of the famous characters, with Pooh being the only crystal to display color. A four piece display stand was also available as well as a Winnie the Pooh Plaque.
Winnie the Pooh: Produced 2007 – 2012
Eeyore: Produced 2007 – 2010
Piglet: Produced 2007 – 2010
Tigger: Produced 2007 – 2010
Modern Day Winnie the Pooh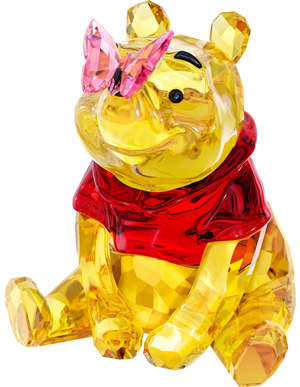 A tribute to the world's most famous bear saw Swarovski produce a new and colorful Winnie the Pooh for Disney fanatics to add to their collection. The new Winnie the Pooh features vibrant yellow and red with a pink butterfly sitting upon his nose. The newest Winnie the Pooh retails for $265.00 USD from the Swarovski website.
Bambi Collection – 2008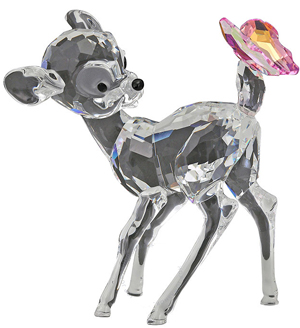 The Bambi Collection first hit the shelves of Swarovski and specialist jewelers during 2008. A Butterfly shaped display and plaque could also be purchased.
Bambi: Produced 2008 – 2012
Flower Skunk: Produced 2008 – 2010
Friend Owl: Produced 2008 – 2010
Thumper: Produced 2008 – 2011
Snow White – 2009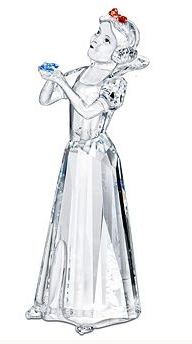 The Snow White Swarovski crystals were popular among Disney collectors. This set featured a Snow White and her seven dwarfs. First available during 2009, this collection ceased production during 2011. To date, this is Swarovski's largest Disney collection.
Dwarf Bashful: Produced 2009 – 2011
Dwarf Doc: Produced 2009 – 2011
Dwarf Dopey: Produced 2009 – 2011
Dwarf Grumpy: Produced 2009 – 2011
Dwarf Happy: Produced 2009 – 2011
Dwarf Sleepy: Produced 2009 – 2011
Dwarf Sneezy: Produced 2009 – 2011
Snow White: Produced 2009 – 2011
Lion King – 2010
From the popular Lion King movie, Swarovski designed four crystal collectibles during 2010. A sunset display and a plaque could also be purchased at the time of sale of this collection.
Mufasa: Produced 2010 – 2011
Pumbaa: Produced 2010 – 2011
Simba: Produced 2010 – 2011
Timon: Produced 2010 – 2011
Peter Pan – 2011
The Peter Pan collection spotted during 2011 and ceased during 2013 was Swarovski's smallest Disney collection only consisting of Peter Pan and Tinker Bell. Both of the crystals sport olivine, and in fact are one of the top Disney crystals to date.
Peter Pan: Produced 2011 – 2013
Tinker Bell: Produced 2011 – 2013
Cuties – 2014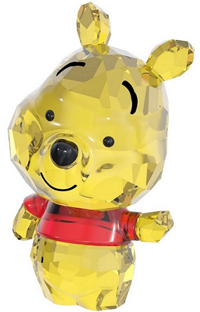 During March 2014, Swarovski introduced a new Disney crystal range which they titled the 'Cuties'. The cuties are smaller than the classic Disney crystals and feature large heads and small bodies to increase their 'cuteness'. Among the first Cuties released were Mickey Mouse, Minnie Mouse, Winnie the Pooh, Marie and Dalmatian Lucky. Each of the cuties retails for approximately $85.00 USD making them a more affordable collectors item.
Swarovski Disney Limited Edition Crystals
Swarovski each year releases one or a number of limited edition crystals and this is no exception for their Disney range. It is the limited edition Swarovski Disney items that even though they are less than a decade old, fetch extremely high prices at auction. Below you can find a number of Disney Limited Edition pieces by Swarovski and the year in which they were available for purchase:
Tinker Bell – 2008 Version
Designer: Edith Mair
Current Value: $600.00 to $1000.00 USD
Mickey Sorcerer – 2009 Version
Small and Large Version Available.
Current Value: $500.00 to $1000.00 USD
Pinocchio – 2010 Version
Current Value: $250.00 to $400.00 USD
Dumbo – 2011 Version
Current Value: $300.00 USD to $500.00 USD
Stitch – 2012 Version
Current Value: $300.00 to $600.00 USD
Disney Christmas Tinkerbell – 2012 Version
Current Value: $500.00 to $800.00 USD
A Swarovski Disney limited edition crystal is only available for the calendar year in which it is produced unlike many of their other Disney crystals that can be purchased for many years after production. This increases the value of these pieces.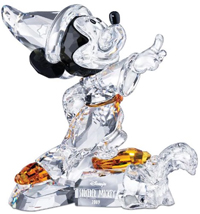 Verifying My Disney Swarovski Value and Authenticity
If you have been gifted a Swarovski Disney crystal, or perhaps you've sighted one for sale online or at a second hand store, you may be wondering how you can identify a real Swarovski from a copy. It's handy to first of all know, that all Swarovski pieces produced after 1988 feature the famous Swarovski swan. Considering all Swarovski Disney pieces were produced after 1988, you can ensure it is authentic by looking out for the swan logo.
Generally speaking, a Swarovski crystal should show no signs of aging due to the durable glass that they are crafted from. It is important to consider the condition of the box and to check the piece once over to ensure there are no chips as this can decrease the total value of the crystal.
A certificate is important in general although for limited number editions, the certificate cannot be swapped between the crystals as each crystal has it's own unique verification number which is then represented as well on the matching certificate. It is important if you are purchasing a limited edition Disney Swarovski to ensure the certificate matches the crystal.
While the limited edition Disney Swarovski pieces hold their value much better than the general collection pieces, the majority of the Disney crystals made by Swarovski are valued over $150.00 USD making it worth while to have them valued and authenticated prior to listing an item you have for sale.
The value of a Swarovski Disney crystal is based upon market trends, current availability, the rarity of the piece and its age. If you are looking to purchase a Swarovski Disney collectible, ensure that it is free from chips and cracks, comes with a certificate and has the Swarovski logo stamp. While some pieces produced after 2012 were sold without a certificate, those made before this time should be sold with the blue Swarovski box and certificate.
Complete List of All Disney Inspired Swarovski Crystals
Mickey Mouse and Friends (original and color)
Winnie the Pooh (original and color)
Bambi (original and color)
Snow White
Lion King
Peter Pan
Toy Story
Chip n Dale
Star Wars
Beauty and the Beast
Dumbo
Alice in Wonderland
Frozen
Cinderella
Finding Nemo
Lady and the Tramp
Tangled