If you are a keen crystal ornament collector, you cannot go past Swarovski and in particular, their yearly Moo cows known as a 'Mo'. Each year the popular crystal company releases a number of different 'Mo' cows, each in different colors, sizes, and with their own unique personalities.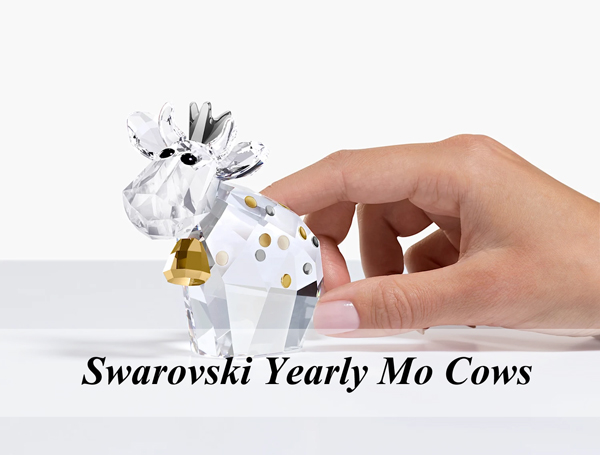 While the 'Mo' Swarovski series by no means is antique, with the first of the series produced during 2005, they are indeed collectibles. Many of the earlier Mo's are now retired, meaning those that have hung onto their originals, and kept them in pristine condition may find that they have even doubled or tripled in price. In this article, we will delve into why many go crazy for these tiny crystal cows!
---
What is a Swarovski Mo?
As the name suggests, a Mo is a moo-cow figurine produced by the Swarovski company. Crafted out of crystal, the company releases different Mo ornaments each year that keen collectors can display on a shelf perhaps in a cabinet alongside their other Swarovski pieces. These colorful crystals appeal to a range of collectors similar to the Disney Swarovski ornaments. While Swarovski has many fine crystal ornaments, the Mo collection is one of their most popular.
---
Original Mo by Swarovski Crystal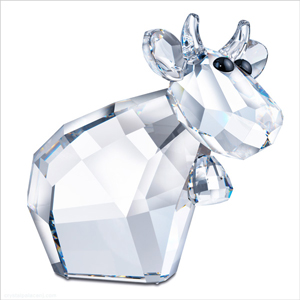 The company has recently celebrated 15 years of 'Mos' and if you have been a keen collector since the beginning of time, you may even own the very first Swarovski Mo: "Missy Mo". Missy Mo was released as part of the Lovlots Pioneer collection among other crystal animal ornaments including a giraffe, lion, dinosaur, mouse, cat, moose, snail, turtle, sheep, camel, pig, and donkey. Of the singular 'Pioneer Lovlot' ornaments produced by Swarovski, the 'Missy Mo' often fetches the highest price in the current market alongside the also valuable Shady Sheep ornament.
Designed by Edith Mair, released to the public in 2006, this clear crystal moo-cow was the first of her kind made by the company. The eye of the crystal stands out from the body as they were crafted from Jet Hematite crystal. The 'Missy Mo' original crystal ornaments can fetch roughly $70.00 – $80.00 USD. She was retired in 2012 meaning that the only way one can get their hands on this rare piece is through a second-hand sale such as an online antique website.
After the popularity of 'Missy Mo', the Swarovski company released Pinky Mo and then Soccer Mo which represented the EU Cup Football held at the time. No surprise, these two Mo's were just as loved by Swarovski collectors and so the Mo Collection began. These days, the company releases a number of Mo's every year with the collection now in the hundreds.
What is a Swarovski Crystal Lovlot Mo?
With the range of different crystal Mo's now in the collection, it can become somewhat confusing. The Lovlots was a name given to the collection that 'Missy Mo' was a part of. This collection only features one cow (Missy Mo) along with a range of other animals/ornaments. The majority of ornaments in this collection were crafted of clear crystal, with the exception of Shady Sheep who was black crystal, and Piggy Sue who was pink crystal.
The 'Lovlot' Mo's were packaged in a vibrant box which differed from the generic silver or blue Swarovski packaging. Like all genuine Swarovski pieces, the Lovlot Mo's came with a certificate but furthermore came with a Lovlot pamphlet.
The ornaments that were apart of 'The Lovlots' series are now known as 'Pioneers' as they were the first of their kind produced by the company. It was the Pioneer's that pathed the way for other small crystal animals and figurines produced by Swarovski.
The original Lovlot Mo retailed for $120.00 USD.
---
Swarovski Mo Cow Family
No two Mo's in the collection are the same making collectors excited for new Mo releases. When speaking about a large Mo, you can expect them to stand 6 7/8 inches tall (7 1/4 x 3 7/8 x 6 7/8 inches), a medium Mo stands 3 3/8 inches tall (3 5/8 x 1 7/8 x 3 3/8 inches) and those titled Mini Mo's only measure 1 inch tall (1 1/8 x 5/8 x 1 inch).
In the table below you can find a number of the first Mo's released by Swarovski crystal, the year in which they were released and a reference image.
Name of Mo
Year Released
Image
Pinky Mo
2007
By E. Mair
Swarovski Alabaster Mo (Alabaster Pinky Mo)
2007
Soccer Mo
2008
By E. Mair
Flower Mo
2009
By E. Mair
Halloween Mo
2009
By E. Mair
Country Mos
(Two in Collection)
2010
By E. Mair
Glamour Mos
(Two in Collection)
2010
By E. Mair
Belle Mo
2010-2011
By E. Mair
Charming Mo
2011
By E. Mair
Sunshine Mo
2011
By E. Mair
Santa Mo
2011
By S. Nederegger
Lucky Mo
2012
By E. Mair
Bubble Mo
2012
By E. Mair
Angel Mo
2012
Magic Mo
2012
Hot Chilli Mo
2013
Disco Mo
2013
Flower Power Mo
2013
Champion Soccer Mo
2014
The Mo collection is extensive, bright, and colorful. There is a Mo for almost every event and one that appeals to whatever your heart may desire. Some of the other popular Mo's can be found in the list below:

2019
Fairy Mo's (Retail Roughly $100.00 USD)
Winter Mo (Retail Roughly $100.00 USD)
2018
Party Mo (Retail Roughly $60.00 USD)
Gingerbread Mo's (Retail Roughly $170.00 USD)
2017
King and Queen Mo (Retail Roughly $100.00 USD)
Sailor Mo (Retail Roughly $60.00 USD)
Santa's Helper Mo (Retail Roughly $60.00 USD)
2016
Santa Country Mo (Retail Roughly $70.00 USD)
2015
Love Mo (Retail Roughly $65.00 USD)
Ice Mo (Retail Roughly $65.00 USD)
2014
Reindeer Mo (Retail Roughly $80.00 USD)
Cowboy and Cowgirl Mo's ((Retail Roughly $130.00 USD)
Bumblebee and Ladybird Mo's (Retail Roughly $110.00 USD)
2010
Country Mo's (Retail Roughly $180.00 USD)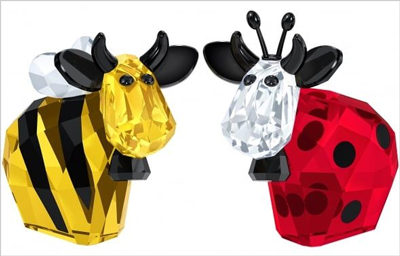 ---
Mini Mo's
Of the Mo's released by Swarovski, the minis are among the most affordable, and many love the small sizing especially if they are an avid collector of the adorable moo cows and wish to display them side by side on a cabinet shelf. Standing 5/8 inches in height (2.7 x 1.6 x 2.6 cm), the 'Mini Mo's' are petite, full of color and personality. With 15 Mini Mo's to choose from, it can be a hard decision to select just one! For those that found it hard to choose between the Mini Mo's, Swarovski sold the set of 15 which came in a special packaging. The Mini Mo's released during 2015 consisted of the following:
Sparkling White (Mini Mo)
Deep Red (Mini Mo)
Tender Pink (Mini Mo)
Deep Orange (Mini Mo)
Tender Green (Mini Mo)
Platinum White (Mini Mo)
Shiny Black (Mini Mo)
Tender Yellow (Mini Mo)
Blue Violet (Mini Mo)
Golden Shadow (Mini Mo)
Scuba Blue (Mini Mo)
Vibrant Yellow (Mini Mo)
Capri Blue (Mini Mo)
Intense Fuchsia (Mini Mo)
Kakadu Red (Mini Mo)
The set originally retailed for $489.00 USD. As this set was only sold by the company during 2015, the price of the collection is steadily rising on the collectors market. In many years to come, this collection in mint condition has the potential to be worth a small fortune.
---
Most Expensive Mo Cows
Within the collection, the Swarovski Jubilee Mo (2015) and the Birthday Princess Mo (2020) are among the most expensive.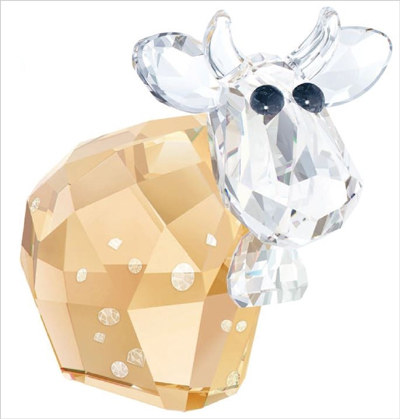 The Swarovski Jubilee Mo is known as a 'giant Mo' as it stands 7 inches tall. This Mo is transparent with a golden color to the body of the cow. Within the body floating Chaton's which have been laser engraved can be noted. The Jubilee Mo was only available during 2015, to celebrate 10 years of the Mo collection.
This Mo is now valued between $800.00-$1000.00 USD.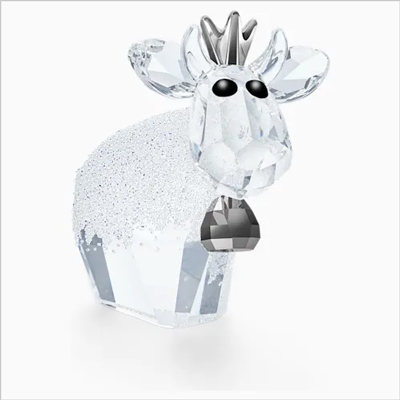 The Birthday Princess Large-sized Mo was released in 2020. This Mo features 203 crystal facets and 3500 crystals. The crown and bell of this Mo match in a silver-tone. This is another limited edition Mo which was released to celebrate 15 years of the collection.
This Mo is currently sold from the US Swarovski website for $1100.00 USD.
---
How Can I Ensure My Swarovski Mo is Authentic?
If you have been gifted a Mo or perhaps you are looking to purchase one from an auction house or online marketplace, you may be wondering if there are any ways to determine whether or not it is an authentic Swarovski crystal ornament. Due to the popularity of the Swarovski Mo collection, there are a number of copies so it is important to verify the item you wish to purchase is indeed Swarovski branded prior to transferring any funds.
To spot a genuine Swarovski Mo, scan the item for the 'Swan' logo. For the majority of real Swarovski ornaments produced after 1989, the swan is lasered into generally the base of the ornament. It can often blend in with the overall piece, so you will need to scan the piece carefully.
The technology used to cut the crystals made by the Swarovski company is advanced meaning all points are even. The crystal has a smooth finish and should sparkle under the light. Often copies will have imperfections or bubbles, unlike a real Swarovski ornament.
Prior to purchasing a Mo ensure it is being sold with the original box and certificate.
You can find out more on determining the authenticity of your Swarovski Crystal here.
---