I get asked the following questions a lot so I decided to write an article to answer these questions.
Should I sell my Hummel figurines on eBay?
Where should I sell my Hummel figurines?
Where is the best place to sell my Hummel figurines?
Should I sell my Hummel figurines on eBay?
My answer to this is never. I am strongly against eBay for selling any kind of collectible or antique item. Most of the time on eBay you will not get the true value of the item being sold. Remember most people on eBay are looking for a bargain and expects to find one. You can read more about eBay and selling items in the following article effects of eBay on the collectible market.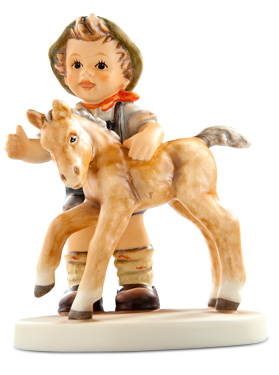 Where should I sell my Hummel figurines?
There are many places you can sell your Hummels. Here is a shortlist of ideal places to sell them.
Auction House
Internet site such as RubyLane
Hummel collector club publications (these usually have a for sale or classified ads section you can advertise your Hummels in)
Well know antique/collectible publications (classified ads section)
Where is the best place to sell my Hummel figurines?
In this section I have listed some of the best places to sell your Hummels.
Auction Houses
The best place by far is an auction house that specializes in Hummels or collectibles. While researching this article I came across only one auction house in the USA that has regular Hummel specialty auctions so I recommend using them.
Note: Most auction houses have collectible auctions. You can find more information in the following article best auction houses in the United States (see the up and coming auction houses section)
Internet Sites
If I had to pick an internet site to sell my Hummels on it would be RubyLane.
I would use RubyLane for the following reasons:
You can set your own price (this is not an internet auction site)
They are one of the largest internet antique selling sites
Many collectors know and trust RubyLane
Antique/Collectible Trade Magazines and Publications
Many collector groups and organizations have publications, you can usually advertise what you have for sale in their classified ads for a small fee. Just like a classified ad in a newspaper.
Here are some popular trade publications.
Note: The above publications are some of many that I found while researching this article. The only one I have dealt with personally is Antique Weekly.
Important things to remember when buying or selling antiques/collectibles
I can never say this enough, when you are buying or selling antiques/collectibles knowledge is the most important thing to remember. Having knowledge about the item can save you from making a big mistake. When selling you can under sell your items by not knowing what you have and pricing it wrong. When buy this will help protect you from over paying for an item or purchasing an item that is damaged or a fake.
This should give you a good idea on where to sell your Hummels you can also used the guide to sell any of your antiques and collectibles. If you have a favorite place to sell your Hummels, antiques or collectibles please leave it in the comment section below.