Royal Doulton is a brand that has become world-renowned for its high-quality tableware, ornaments, and fine china. Yet despite the quality of their wares, they still owe part of their success to some of the world's most influential people.
Here within this one simple article, we will be going over a few of the celebrities and artists that have helped Royal Doulton to design and develop their wears. From Tv personalities to street artists, and renowned designers, Royal Doulton has collaborated with many talented people over the years to bring us some of the most stunning pieces that have ever been released.
---
Who Was the First Famous Person to Officially Endorse Royal Doulton?
During the 1880s, one of the world's most powerful and influential leaders just so happened to be a huge fan of the wares being produced by Doulton & Co, as they were known at the time.
Queen Victoria was such a huge fan in fact, that she even knighted Sir Henry Doulton for his services to the ceramic arts and for the advancement of ceramics. A move that helped to propel the company's brand recognition to new levels, as even more members of high society sort to emulate Queen Victoria's taste and style.
---
When Were the First Artist Collaborations Made?
Technically speaking, the first external artists that were engaged to help develop new designs and patterns for the Doulton brand, were actually students from the Lambeth School of Arts. During the 1860s, unknown and aspiring artists were taught how to develop their skills in exchange for developing new and innovative ideas. Students who displayed potential were even offered ongoing work within the company itself.
When it comes to the first pieces that can be attributed to a specific artist and have become collectibles in of their own right, these were first produced in or around the 1880s.
One such artist was Robert Allen, a renowned landscape artist that was well known for his castle and field paintings. Royal Doulton pieces that were produced by Robert Allen can be identifiable by the "Ra" serial numbers that he placed on each of his works.
---
Modern Artists and Designers
Royal Doulton has never had to resort to cheap gimmicky endorsements. Each of the artists, designers, and celebrities that have worked with Royal Doulton, have all contributed towards the design of their collections in one way or another.
Artists
Over the years, there have been several artists who have work alongside Royal Doulton to produce some of the finest collections ever seen. Artists, like Karolin Schnoor, who has designed several patterns and color pallets for various collections, and artists such as Nick Walker, who allowed limited reproductions of their works to be produced; have all contributed towards designing the patterns for the collections that are uniquely their own.
1) Sir Eduardo Paolozzi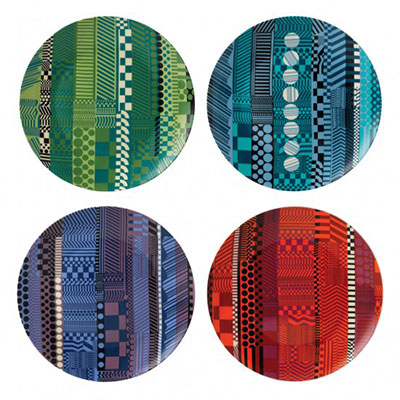 Born 1924 – 2005, Sir Eduardo Paolozzi was considered to be the father of Pop Art by many within the art community. He was a pivotal artistic figure of the 20th century and known for his use of flamboyant and contrasting colors.
Royal Doulton released their "Paolozzi Accent Collection" in 2012. The design they used drew inspiration from the use of lines and dots seen in Sir Eduardo Paolozzi's vividly dazzling graphic screen prints.
2) Nick Walker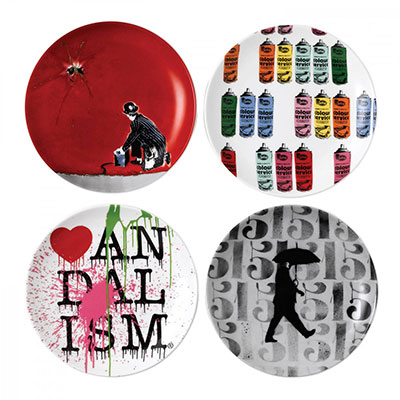 One of Bristol's leading contemporary graffiti artists, Nick Walker is well known for his use of stencils and ironic imagery to convey political and risque messages. Many of his works often feature a depiction of the bowler-hatted gentleman "vandal".
Royal Doulton's Street Art by Nick Walker collection, features several reprints of some of his original works, as well as some designs that were made specifically for the collection.
3) Charles Uzzell Edwards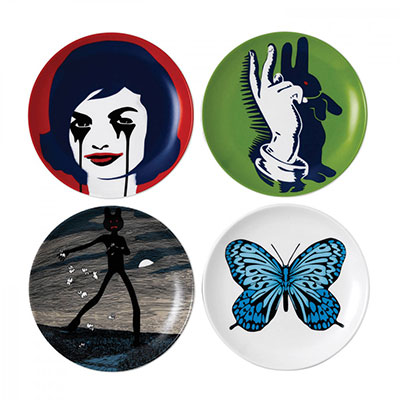 Going by the moniker "Pure Evil", Charles Uzzell Edwards is yet another street artist that collaborated with Royal Doulton to help produce their Street Art series. When asked what was his inspiration for collaborating with Royal Doulton, Charles Edwards simple replied "The reason I want to work with Royal Doulton, is I want to have my plate on Antiques Roadshow"
Selecting several pieces from his Deconstructed Nightmare series and signature Evil Bunny character, Royal Doulton was given some of his best works at the time to use as part of their Limited edition street art collection.
4) Karolin Schnoor

Karolin Schnoor is a London-based illustrator that was handpicked by Royal Doulton for her unique artistic style. Drawing inspiration from folk art and children's books, and consisting of primarily bold colors and clean lines, Karolin Schnoor's vibrant illustrations have been featured in many of London's prominent lifestyles and fashion magazines.
5) Charlene Mullen

London-based textile designer Charlene Mullen has been collaborating with Royal Doulton to help produce stylish pieces that are both bold and full of character. Heavily featuring two-tone soft geometric embroidery textile patterns, her collections range from depictions of the London City skyline; to intricate patterns that have no obvious beginning or an end.
Designers and Design Studios
From texture to shape and finish, Designers and Design Studios have collaborated with Royal Doulton over the years to produce some truly unique collections.
1) Barber Osgerby

The Olio series, that was designed by Royal Designers for Industry, Edward Barber and Jay Osegerby, incorporates textural elements found in Gloss, Matt, and unglazed finishes. The duo's successful mastery of a multidisciplinary portfolio that incorporates furniture, architecture, industrial and product design, is on clear display with this collection.
Featuring whites, browns, or grays, many of the pieces feature two-tone, if not three-tone textures. Jugs, mugs, and bowls can be found with an unglazed base, a matt finish outside, and a glossy glaze finishes inside. The collection is completed with timber trays that add to the mix and match finish and style that gives the series its name, Olio – "A Miscellaneous Collection of Things".
2) Hemingway Design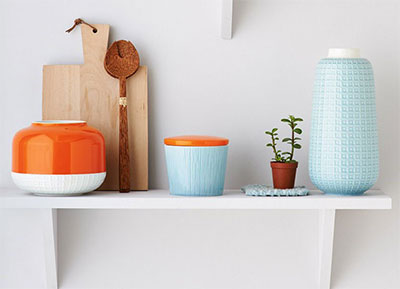 Following one simple philosophy in their designs, "To Improve things that matter in life", HemingwayDesign is a design studio that perfectly designs modern quirky and contemporary collections for Royal Doulton.
From their use of colors to the textural finishes of their pieces, right down to the very shape of their plates and jugs, each piece that has been designed and developed by this design studio is striking in its subtlety.
Celebrities
From TV personalities to Celebrity Chefs and Magazine Columnist, Royal Doulton has collaborated with them all. The difference between what these collaborators can offer and what designers and artists can is generally star power and recognition.
This isn't to say that its just their name that makes their series worth collecting. In fact, each and every celebrity that has collaborated with Royal Doulton has been selected because they had something to offer.
Celebrity chefs may not know much about artist design, but they know first hand what makes a quality cookware or dinner plate. From Donna Hey to Gordan Ramsey, each chef has had an input as to what they like to use in their own restaurants and kitchens at home.
Similarly, a Tv personality or columnist may very well be a budding artist or have a flair for interior decorating. It is their very taste and style that drives Royal Doulton to seek out these personalities, and to work alongside them to come up with new design ideas and innovations.
1) Gordan Ramsay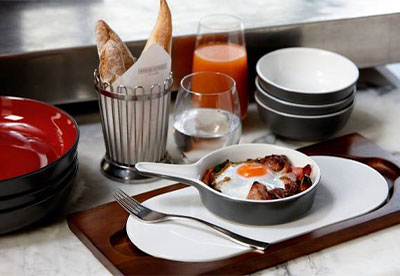 Britsh chef, Gordan Ramsey, is well known for his fiery temper, and foul-mouthed outburst. But he is also a world remound chef that is highly respected within his field of expertise. By working with Royal Doulton, he has been able to provide them with valuable feedback as to what shapes, sizes, and finishes work best in a commercial setting.
Royal Doulton has taken this information and used it to improve upon their series of home cookware and tableware. By incorporating the theme and style of his many restaurants Royal Doulton has been able to produce restaurant quality collections for the average consumer.
2) Ellen DeGeneres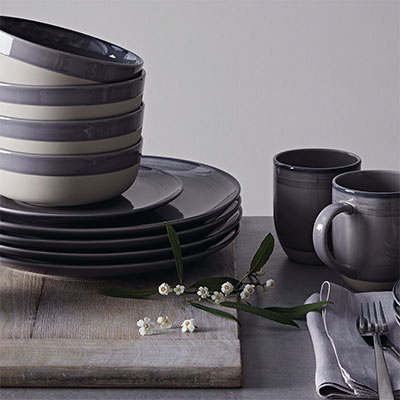 Talk show host Ellen DeGeneres is now one of, if not the leading collaborator for Royal Doulton. Inspired by mid-century artists and designers, natural materials, and handcraft African wares, Ellen likes to design her series based on themes of love, beauty, and positive sentiments.